Climate targets and foreign policy converge in India's hydropower push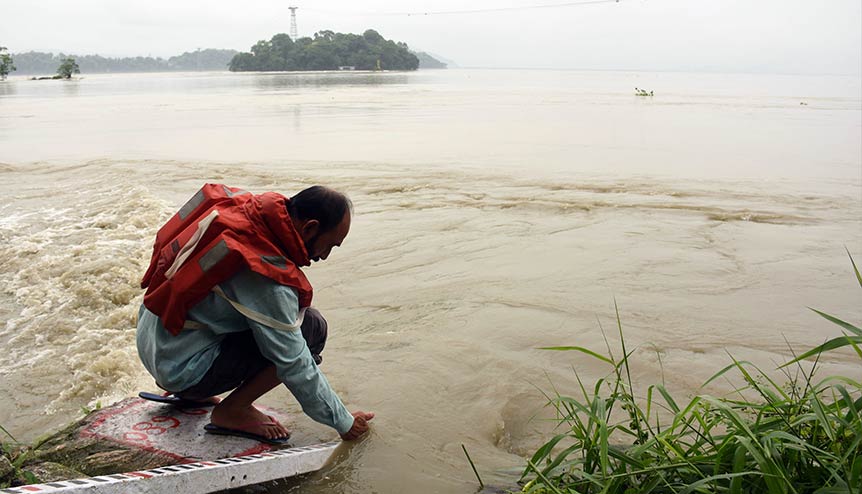 India's plans to grow its hydroelectric power generation are in line with a broader push to achieve its Paris Accord goals. These projects are also strategic in nature, fitting into the country's foreign policy matrix.
Refocusing on hydropower
India's aggressive wind and solar buildout is set to raise the demand for flexible clean energy generation. Hydropower has proven to effectively adjust for variability in power supply from renewables and act as a useful backup for the grid.
On April 5th, 2020, Prime Minister Modi encouraged Indians to turn off the power in their homes and light a candle or lamp in tribute to the frontline healthcare workers battling the Wuhan Virus. Electricity demand dropped some 31 GW, and much of the balancing was done by hydroelectric plants.
Currently, nearly two hundred hydroelectric projects (HEPs) with capacities of over 25 MW together contribute a total of 45.7 GW of the country's total hydro capacity of 50.7 GW. While India is the world's fifth largest generator of hydropower, it is significantly underutilizing its potential. River flows from just the Indian Himalayan Range (IHR) can be used for 149 GW of generation. Arunachal Pradesh, with 47 GW potential has a mere 1% utilization with a single, 470 MW HEP dam. The figure is marginally better for Jammu and Kashmir where 3.3 GW has been harnessed out of a possible 16.5 GW. Meanwhile, Uttarakhand has exploited 3.9 GW out of a possible 20 GW.
The government noted that only 10 GW had been added over the last decade and many under-construction dams remain stymied by environment-related litigation, protests by special interest groups, and cost overruns.
To incentivise hydro projects, a "renewable energy status" was given to large-scale (>25 MW) projects in 2019. These HEPs can now avail of green financing and concessions previously reserved only for traditional renewables and small HEPs. By accessing the Renewable Purchase Obligation (RPO), these projects can ensure offtake by state utilities. Reducing the financial burden on developers, this move is expected to help promoters tap financing from a range of domestic and international investors.
Water wars
Earlier this month, the Chinese Communist Party (CCP) made its intentions clear by announcing the construction of a "mega dam" on the Yarlung Zangbo river in Occupied Tibet. Located on the "great bend," a topographical feature near the border with Arunachal Pradesh where water volumes are maximal, the dam is expected to have a capacity of up to 60 GW. To put that figure in context, the power generation can be up to three times that of the Three Gorges.
The upper riparian flows originate in western Tibet in the Angsi glacier near Mount Kailash. The water then flows eastwards into Arunachal Pradesh as the Siang and then into Assam as the Brahmaputra. This mighty river is undoubtedly the lifeline for agriculture in India's East and Northeast during the non-monsoon months, when 80% of its flows are dependent on the Himalayan glacial melt.
By controlling the river that feeds into the Siang and Brahmaputra, the CCP intends to gain leverage over India by threatening water scarcity and flash floods. This comes on the heels of the People's Liberation Army's aggression on the Line of Actual Control in Ladakh, and this has set off alarm bells in New Delhi.
India has now set into motion a drive to build its own 10 GW multipurpose dam in Arunachal Pradesh to mitigate the risk of flooding. This is expected to be in addition to the state's proposed 2.9 GW, $4 billion Dibang Dam which remains entangled in environmental red tape. These will address the risks of flooding while also store water which can be used in the event of temporary water diversion.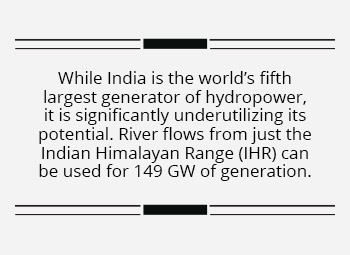 China has been accused of diverting water from the upper reaches of the Mekong for domestic use, depriving Southeast Asian nations and arm-twisting states like Laos, Cambodia and Thailand into unfavourable bilateral arrangements. In a similar attempt in 2014, the CCP began building a 740 MW dam north of Sikkim. It blocked a tributary to the Brahmaputra for that purpose, diverting 0.15% of India's water flow. It was a small but telling step.
During the Doklam crisis in 2017, China refused to share hydrological data with India, reneging on one of the few agreements signed by both countries. In 2018, China contaminated the flow into the Siang in Arunachal Pradesh, where farmers looked on with horror as their crops were flooded with black coloured water. Considering that China has refused to sign an internationally binding water sharing agreement with India, these remain useful lessons when planning for a future fraught with geopolitical tensions.
Managing the flows into the Indus River will be equally important as damming the Siang. Under the current Indus Water Treaty (IWT), India utilizes 93-94% of its allocation. While it may seem high, having the option of curtailing 6-7% of Pakistan's main water supply lends India useful leverage. Any water diversion by India away from the rentier state hosting the illegal China-Pakistan Economic Corridor (CPEC), will put pressure on Chinese interests.
India's plans for the newly formed Union Territory of Jammu & Kashmir involve the construction of the $1.2 billion Ujh Multipurpose Project in Jammu, which received environmental clearance in May this year. While Its main purpose is to support irrigation in the region, it will also generate 200 MW of hydropower and withhold water from the Ravi to utilize India's allocation.
Meanwhile, the Punjab government restarted work on the Shahpur Kandi dam which will divert water to both Punjab (5,000 hectares) and Jammu (32,000 hectares) while producing 200 MW of electricity. They will be built in part to counter the Daimer-Bhasha dam being constructed by China in Pakistan Occupied Ladakh/Gilgit Baltistan which risks depriving Ladakh of flows from the Indus. From an ecological standpoint, Punjab has suffered a depletion of groundwater and the dams come as a relief for farmers.
The road ahead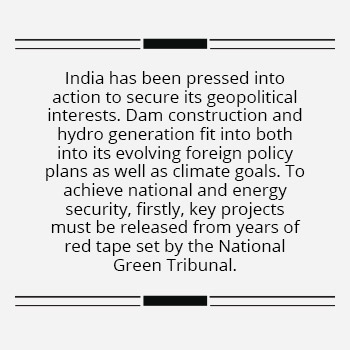 India has been pressed into action to secure its geopolitical interests. Dam construction and hydro generation fit into both into its evolving foreign policy plans as well as climate goals. To achieve national and energy security, firstly, key projects must be released from years of red tape set by the National Green Tribunal.
Secondly, the multibillion funding can be completed under a public-private partnership (PPP) model, incentivised by the RPO.
Thirdly, by linking generation projects with the development of manufacturing hubs through power purchase agreements, cash flows are guaranteed and capital can be raised easily at the outset. Considering the emerging threat posed by the CCP to the lives of hundreds of millions of Indians, the government must act swiftly to mitigate risks and create the necessary checks and balances.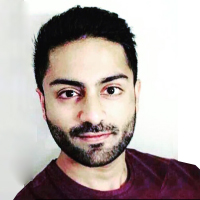 Surya Kanegaonkar is a commodities professional with ten years of experience in research and trading for a hedge fund, utility and miner.