A year of peace, prosperity, possibilities and opportunities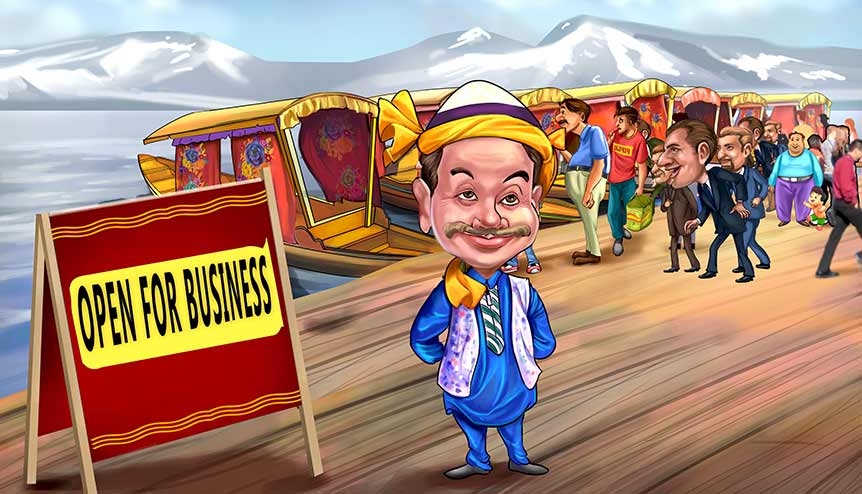 From ushering in an era of investment, development and employment, to improving education and health sectors and empowering local youth, the past year, since the end of Article 370 and Article 35A, has been a journey of transformation in Jammu and Kashmir, emerging from the shadows of an anachronistic provision.
Next week will mark one year to the day since the Indian government redefined the status of Jammu and Kashmir in a bold decision – abrogating the long-held Article 370 and Article 35A of the constitution and introducing a bill to reorganise the state. With the end of the special status that had been in place for 70 years, Jammu and Kashmir was bifurcated to became a Union Territory with a legislature, while the adjoining Ladakh region became a Union Territory without a legislature.
Have you read: The Kashmir factor in UK-India relations
Modi uses soft power in G7 to disarm critics on Kashmir
For a "temporary" provision of the Indian constitution that had been in place since 1949 and had prevented the application of most national legislation to the state of Jammu and Kashmir without the consent of local politicians, it was therefore expected that its abrogation would rob several political constituents and their cross-border sympathisers of the very instrument of continued disruption of peace and progress that they had wielded for decades in a place widely recalled as Heaven on Earth.
Full integration with India
Contrary to the domestic political fracas and some murmurs of global concern, the decision on Kashmir was based on not only initiating the process of its full integration with the rest of India, but also helping rediscover the state's full economic and social potential.
From ushering in an era of investment, development and employment, to improving education and health sectors, empowering local youth, benefitting land owners, refugees and backward sections of the local population, to strengthening local self-governing institutions, the past year has been a journey of transformation in Jammu and Kashmir – a milestone that has silenced the cacophony of critics.

As articulated by Indian Foreign Minister Dr S. Jaishankar, in a column he wrote for the Financial Times last year, the anachronistic provision of Article 370 was explicitly acknowledged by the Indian constitution as "temporary". "By any standards, 70 years is a long definition of that term. The reason why it is being changed now lies in why the situation lasted so long. The earlier provision created a cosy arrangement of local ownerships that served the state's political elite well. But it denied economic opportunities and social gains for the masses. The resulting separatist sentiments in some quarters were then exploited by neighbouring Pakistan to conduct cross-border terrorism," Dr Jaishankar said.
Checking cross-border terrorism
While cross-border terrorism has claimed thousands of innocent lives in the past several decades, this was not the only concern that raised the heckles of the Indian government when it came to Kashmir. The misuse of the state's special status for decades also artificially raised the costs of doing business there and local ownership rules discouraged outside investment, Dr Jaishankar said.
"Although the central government spent 10 times more on the average resident of the province than in the rest of the country, that investment did not show up on the ground. Infrastructure projects slowed down amid concerns about irregularities in public finance. Recent reports of corruption in banking and recruitment underlined this situation. Residents have had to seek education, medical access and employment in other provinces," the foreign minister wrote.
Also read: International organisations not fit to handle 21st century crisis says Syed Akbaruddin
US support for Modi on Kashmir, opens trade talks
Indeed, a cursory glance at the conflict-ridden experience of Jammu and Kashmir in the decades since India's independence demonstrate beyond doubt that the average Kashmiri has always got the short shrift amid the political elite's guise of maintaining special provision in the state under the pretext of maintaining status quo for Article 370.
The long-drawn armed conflict in Kashmir not only made its economy bleed, but also emerged as a grave threat to India's national security – forcing New Delhi to notify the state as a "disturbed area" and invoke laws like the Armed Forces Special Powers Act (AFSPA) to maintain peace.
India's initial peace overtures
Successive overtures of peace and trust with Pakistan were invariably met with acts of betrayal and treachery. Right from the beginning of his swearing-in ceremony in 2014, Prime Minister Modi made several overtures to find a peaceful resolution to the conflict over Kashmir. He invited then Pakistan Prime Minister Nawaz Sharif for his swearing-in ceremony on May 26 that year, and gifted Sharif a shawl for his mother. Modi also made an unscheduled landing in Lahore on Christmas 2015 to greet Nawaz Sharif on his birthday.
In the context of Pakistan's avowed hostility to India, these were unprecedented gestures of goodwill and bonhomie, defying diplomatic convention and stunning foreign policy experts. But the reciprocation from Pakistan came in the form of Pathankot and Uri.
The 2016 terror attack on the Pathankot Air Force Station involved five Jaish-e-Mohammed terrorists. The killing of militant leader Burhan Wani in an anti-insurgency operation in the valley in August the same year was exploited by Pakistan to step up the infiltration of trained terrorists and carry out attacks on Indian military installations, while provoking ordinary Kashmiri youth to indulge in violent protests and stone-pelting and arming them for homegrown insurgency.
Pakistan's weapon of mass distraction
Of course India retaliated effectively with the Balakot surgical strikes, but the fatigue on the streets of Kashmir was undeniable – the average Kashmiri was tired of being exploited as Pakistan's weapon of mass distraction away from its own economic and political failures, and of his homeland being misused as the theatre for a proxy conflict with India. Even as the state continued to nosedive on every development index and its economy turned to a shambles, what flourished was the unbridled growth of separatist politicians and terrorist groups sponsored by Pakistan.
The abrogation of Article 370 changed all that in one fell swoop.
As enunciated by Indian Home Minister Amit Shah in his address to parliament shortly after tabling the Jammu and Kashmir Reorganisation Bill on August 5 last year, "As long as there is Article 370, terrorism cannot be wiped out… This Article is the creator of terrorism. We want to embrace the youth of Kashmir. Due to Article 370, democracy did not percolate in Jammu and Kashmir. Due to it, corruption flourished and grew in the state and reached its zenith, poverty grew while the rest of the country progressed."
Changing ground reality
That hopeless and tragic ground reality has begun to change in the past year, and Kashmir is gradually regaining its lost glory – even though a lot of challenges remain to be surmounted.
From Dubai to Dallas, people all over the world today have had the chance to bite into a delicious apple from Kashmir or its famed walnuts and enjoy the fragrant beauty of a tulip from Asia's largest tulip garden – because the Indian government has made exports a key fulcrum of Kashmir's economic resurgence.
It has also engaged in finding ways of promoting Kashmir's vast natural resource base – whether for developing land for cultivating major fruit, modernizing horticulture practices, boosting food processing and agro-based industries or helping its floriculture industry fully bloom.
While Kashmir remains one of India's least industrialised regions, with a per capita income of $870 in 2016-2017 compared to the national average of $1,100, the focus in the past has also moved from talking about anti-terror operations and stone-pelting to talking about industrial growth.
Vast land banks, small-scale and cottage industries
The region's handicrafts are famed around the world and the legendary demand for a Pashmina shawl has helped propel the traditional handicraft sector to a large industry status – receiving priority attention of the government due to its large employment base and export potential. Other small-scale and cottage industries such as carpet weaving, silk, basketry, pottery, copper and silverware, papier-mâché and walnut wood also have a crucial role to play in the region's economic revival, and already provide direct employment to more than 350,000 skilled artisans.
According to Manoj Kumar Dwivedi, the region's Commissioner Secretary in charge of industry, commerce and tourism, India has offered a vast bank of land along with tax breaks and insurance cover to draw businesses there, and the response from domestic and global investors has been very encouraging. Earlier this year, Reuters reported that the land bank on offer was a mind-boggling 6,000 acres – with more than 1,300 acres of it being in the scenic Kashmir valley.
While a planned Jammu and Kashmir Global Investment Summit had to be rescheduled for next year due to the coronavirus pandemic, there are already scores of companies who have shown interest in investing in Jammu and Kashmir. "We have started the process of contacting these companies who had shown interest early this year. Till now 70 of them have shown good interest," said Dwivedi, who also holds the charge of managing director of J&K Trade Promotion Organisation.
Global expressions of interest
According to officials, the companies have shown interest in investing over $2 billion in the region in the form of 61 Expression of Interest (EOIs). Some of the sectors that these companies intend to invest in include, information technology, infrastructure, renewable energy, manufacturing, hospitality, defence, skills education and tourism, and the companies that have shown interest include Jackson Group, Indo American Synergy, HCH Pvt Ltd and Atmiya Fieldcon Pvt Ltd.
The steady flow of interest from global investors amid the coronavirus pandemic has also been the result of concerted efforts by the Modi government to project the potential of the region for commerce and industry. Even in the midst of international criticism of the abrogation last year, India took a group of foreign diplomats – including the Ambassadors and High Commissioners to India of 15 nations – on an official visit to Jammu and Kashmir. They included diplomats from the US, South Korea, Vietnam, Bangladesh, Fiji, Maldives, Norway, the Philippines, Morocco, Argentina and Nigeria.
According to Excelsior, a favourable crisis management following the scrapping of Article 370 – such as the first-hand viewing of the valley as mentioned above – is also one of the key factors why many foreign countries have sent expressions of interest, including from the UAE, the UK, Singapore, Japan and others from the Middle East and South-East Asia.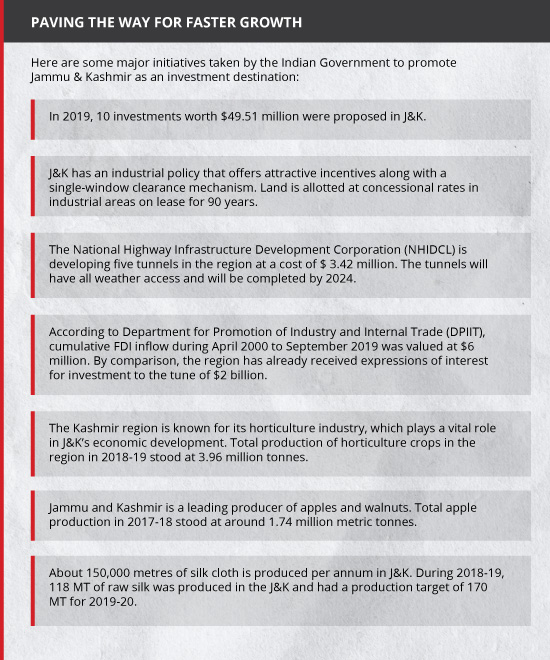 Tax holiday and other incentives
The overwhelming interest to invest in Kashmir has also prompted the government to think about offering some concessions to make the business environment further attractive. Among the proposals being considered are providing security and higher insurance cover to comfort investors in some conflict-ridden areas, along with a tax holiday of 10-15 years for strategic investments. "If we want somebody to come and do business here, taking care of the interest of the businessman is definitely our responsibility," said Dwivedi.
The government is planning to set up 12 new industrial estates in Jammu and Kashmir to provide a robust investment environment and boost the region's economy – a move that will help distribute the balance of businesses across the territory and away from Srinagar and Jammu.
Also under discussion is whether companies would acquire the land in Kashmir or it would be provided on a lease. "These things are under deliberations. Some companies have given us MoUs about what kind of business units and what kind of investment they will bring to the region," one official familiar with the discussions told Economic Times.
With more than 100,000 new jobs on the anvil, companies have assured the government of hiring at least 80 per cent staff locally at all industrial units set up by them in the region.
As Jammu and Kashmir marks a year of liberation from the oppressive shadow of Article 370, it is evident that the region has begun to catch up with the development curve, even though on-the-ground challenges and geopolitical risks will continue to linger for quite some time, given the enormous magnitude of the decision last year. Those who seek to play the victim card for the Muslims of Kashmir and seek to exploit it to build anti-national sentiments and trigger a constant state of unrest will find their task nearly impossible now – thanks to the strengthening of grass-roots democracy in the region where Panchayats get direct funding and people decide their own developmental priorities.
A bold game-changer in the valley
Further, as the recent Chinese aggressive action in Galwan Valley demonstrates, it is better to take pre-emptive action and work for the redevelopment of the region rather than playing catch-up with forces of geopolitical instability and religious radicalism. As the routine political violence of the valley gradually fades into oblivion and life slowly returns to normalcy, the calm and stability of the past 12 months is further proof that the status quo in Kashmir under Article 370 was only helping the valley become a fertile playground for Pakistan's military and spy agencies.
The average Kashmiri can now look forward to the application of progressive Indian laws in the state – like in any other part of the country, the creation of mechanisms to implement welfare schemes, and the opening up of economic opportunities.
The abrogation of Article 370 will therefore go down in history as a bold game-changer that helped deliver Jammu and Kashmir from the clutches of permanent misery created by a temporary constitutional provision to a future full of possibilities, peace and prosperity.