Chinese dams on Brahmaputra in Tibet pose serious security threat to India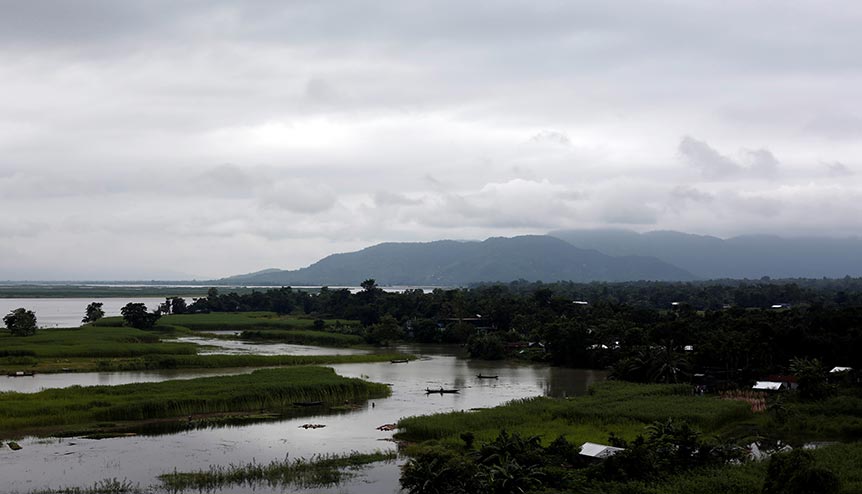 China is building dams, hydro-electric projects and underground tunnels along the upper reaches of the Brahmaputra to serve its mainland and provide water to its parched regions in Xinjiang. Unless India can counter this quickly, it will give Beijing another ace to trump New Delhi with.
India is planning a 10,000 MW hydropower project on the Brahmaputra river in Arunachal Pradesh. The river, which flows into India from Tibet has seen China constructing or planning to construct several large dams in close proximity to the Indian border.
Have you read?/span>
India's water woes – need for global partnerships and investment
India sends a subtle message to China through the 2+2 dialogue
India-Japan-Australia supply chain plan to check China's dominance
International cooperation key to solving India's water crisis
A senior Chinese official said recently that Beijing plans to construct 60,000 MW of hydropower projects on those parts of the Brahmaputra that flow through Tibet.
India is concerned that the hectic pace of dam building in China could choke the flow of water to the river that flows through Assam into Bangladesh. There are also very real fears that China could, if it wants to, trigger flash floods in India (and Bangladesh) by releasing humungous quantities of water it has stored in the many dams on its side of the border.
India needs a big dam in Arunachal Pradesh to counter Chinese designs
"The need of the hour is to have a big dam in Arunachal Pradesh to mitigate the adverse impact of the Chinese dam projects," T.S. Mehra, an official in India's Water Ministry, told Reuters. "Our proposal is under consideration at the highest level in the government. Our plan will create a large water storage capacity to offset the impact of Chinese dams on flows."
3 dams in 10 years
Over the past 10 years alone, China has built three dams that are only 24 km apart. These dams give China the ability to control India's water supply – and poses a serious threat to Indian food, military and social security.
With ties between India and China hitting a new low following the unprovoked Chinese aggression along the Line of Actual Control (LAC), which is the de facto border between the two countries, such a situation is a cause of serious concern.
Water can become another flashpoint in India-China ties

Many security specialists aver that Chinese dam building in the upper reaches of the Brahmaputra can develop into yet another friction point for the two Asian giants.
"India is facing China's terrestrial aggression in the Himalayas, maritime encroachments on its backyard and, as the latest news is a reminder, even water wars," tweeted Brahma Chellaney, a leading Indian strategic expert and specialist on India-China relations.
Huge populations, not enough water
China, which is home to a fifth of the global population, has only 7 per cent of the world's water resources. For India, the comparable figures are a sixth of humanity and 4 per cent of global water supplies.
So, China, being an upper riparian state, has a huge advantage in this regard and is suspected to be planning massive projects to divert water from the resource-rich Tibetan plateau to its parched region in northern China and the Xinjiang region.
It is also believed to be planning electricity exports from Tibet to mainland China.

Satellite images show that India's northern neighbour has three dams – Zangmo, Gyatsa and Dagu – on the Brahmaputra, which are built unusually close to each other. These three dams will be able to store about a billion cubic metres of water in their reservoirs. The only village in that remote area is Gyatsa, which has a population of only 150 households.
Also read:
Modi's high-power diplomacy blocks China's attempt to blame India for Karachi terror attack
India's strength QUAD-ruples against China
India and Iran find themselves in the crosshairs of US-China bipolarity
China's Great Wall showing signs of wear and tear
UK calls time on China's 'bullying behaviour' with India
Dagu dam could be used to divert water away from India

The first dam has already been commissioned, the second is ready and could be commissioned any time soon. But it is the third, Dagu, which has been under construction since 2017 that the main cause of concern. Its two inlets and two outlets have given rise to speculation – fanned by rumours picked up by India's security agencies – that these waters may be diverted to the desert regions of Xinjiang through underground tunnels. That means India (and Bangladesh) will get that much less water.
China not providing information
Feeding the suspicion in India is China's studied silence on the issue. Despite treaties on sharing information and data on water flows and storage plans, China has been reluctant to provide any meaningful information.
"Formally, we are telling them (the Chinese) that any project you undertake should not cause an adverse impact on India. They have given an assurance, but we don't know how long their assurance will last," said Mehra.
Past experience shows China can deprive lower riparian states of water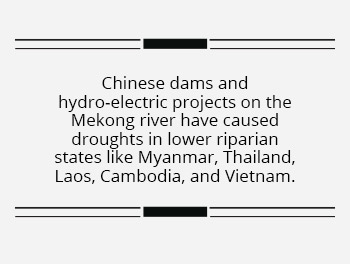 In the past, Chinese dams and hydro-electric projects on the Mekong river have caused droughts in lower riparian states like Myanmar, Thailand, Laos, Cambodia, and Vietnam. China has, expectedly, denied such allegations.
As India and China continue to grow demographically and economically, their demand for water will rise. Given the fragile state of their bilateral relations, this is another issue – the other being the undemarcated and disputed border – that the two countries urgently need to resolve.
Failing that, it will remain a festering wound that can erupt into conflict at the slightest miscalculation on either side.