India's solar energy achievements a shining example to the world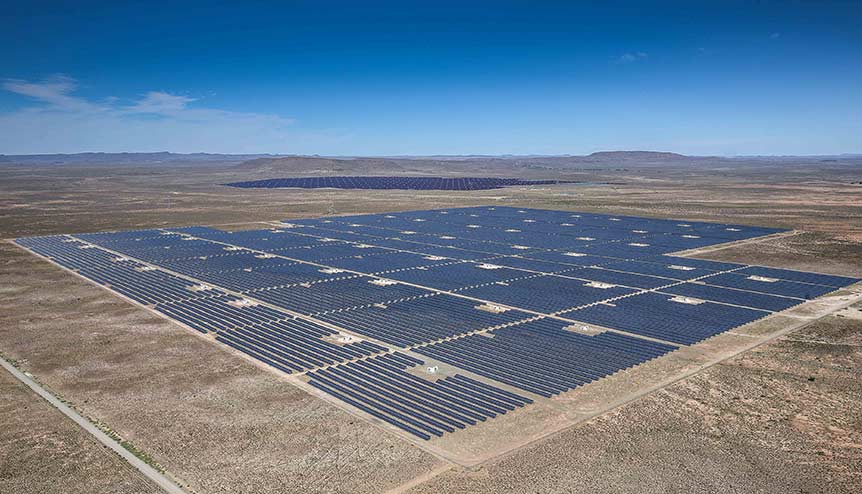 The Modi government has received expressions of interest to set up 35 GW of solar equipment manufacturing capacity even as solar tariffs have fallen below 3 cents per unit. These two developments could help propel India to the top of the global charts in solar power.
The Centra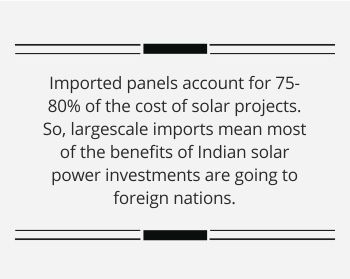 l Electricity Authority (CEA) website says India has 36,317.57 MW of solar power capacity as on October 31, 2020. But more than 80 per cent of the solar panels and modules used by Indian solar power producers are imported – mainly from China but also from Malaysia, Vietnam and the US.
Since these panels and modules account for 75-80 per cent of the cost of a solar power project, largescale imports mean most of the benefits of Indian solar power investments are going to foreign manufacturers of these goods.

Have you read?
We are striving to unleash a rooftop solar power revolution in the country
India's solar goals are the most ambitious in the world
Solar assets should be sustainable, replicable, bankable
The International Solar Alliance: From promise to action
India 🇮🇳 is the only country in the world which's hosts an all solar airport and an all solar rail station. Kochi airport in Kerala and Guwahati rail station in Assam are global first's. India gives great leadership to the solar revolution! 👍

— Erik Solheim (@ErikSolheim) October 19, 2020
Not enough domestic solar equipment manufacturing capacity at present
India currently has a domestic manufacturing capacity of just 11 GW for panels and 3 GW for cells. However, only about half this capacity is being utilised because of price and quality concerns.
The good news is that the government has expressions of interest (EoIs) from Indian and foreign players to set up facilities to manufacture about 35 GW of these critical components in India.
"We have expressions of interest for setting up manufacturing capacity for 20,000 MW of solar modules, 15,000 MW of solar cells, and a similar quantity of ingots, wafers, etc," India's Power and Renewable Energy Minister R.K. Singh told the media recently.
Price gap between Chinese, Indian manufacturers narrowing
There is an additional incentive for manufacturers: The gap between the landed cost of local product and its Chinese counterpart has fallen to a low of 1.5 cents per unit. This gap will almost certainly be bridged if the government levies the safeguard import duties as demanded by the Ministry of Renewable Energy.
"I have reminded the finance minister that we are waiting for the customs duty to come. They (domestic industry) are all waiting for the customs duty," Singh said.
Tariffs drop to record low
This becomes all the more urgent as the Indian solar energy sector is getting back its mojo after a brief Covid-induced lull over the last couple of quarters. At the last auctions conducted by the Solar Energy Corporation of India (Seci), the tariff dropped to an all-time low of Rs 2 (less than 3 cents per unit).
Saudi Arabia-based Aljoemaih Energy & Water Company and Sembcorp Energy India-backed Green Infra Wind Energy submitted the bids for 200MW and 400MW capacities, respectively, the Press Trust of India reported. The state-owned National Thermal Power Corporation (NTPC) bid one paise more for the entire 600 MW capacity.
Earlier this year, solar power tariffs had dropped to Rs 2.36 (3.3 cents) per unit for 2 GW power capacity auctioned by Seci.
On track to meet 175 GW renewable energy capacity by 2022
These two developments – the interest of foreign and domestic investors to set up solar equipment manufacturing facilities in India and the fall in tariffs are critical for India to attain the ambitious target of achieving 175 GW of renewable energy capacity by 2022.
It may be recalled that soon after coming to power in 2014, Indian Prime Minister Narendra Modi had set this target, which includes setting up 100 GW of solar energy capacity.
Despite several challenges, India seems to be on track to meet that target. In the process, the country has emerged as one of the global leaders in solar energy. It has emerged from nowhere over the last five years to become the fifth largest country in the world – after China, the US, Japan and Germany – in terms of total installed solar power capacity and the second largest in the world, after China, in terms of new capacity additions.
Huge untapped potential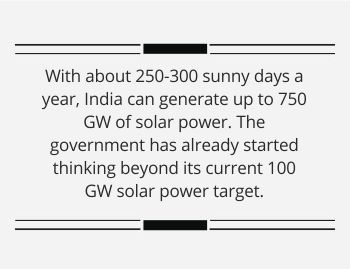 With about 250-300 sunny days a year on average, India can potentially generate up to 750 GW of solar power. The government has already started thinking beyond its very ambitious target of achieving 100 GW of solar power capacity and 175 GW of renewable energy capacity by 2022.
According to IBEF, a Ministry of Commerce-run trust that disseminates news about the Indian economy, business and related topics, the government has set a target of 500 GW of renewable energy by 2030. With prices of solar power falling to record lows, it can emerge as a viable alternative to thermal power.
A shining example to the world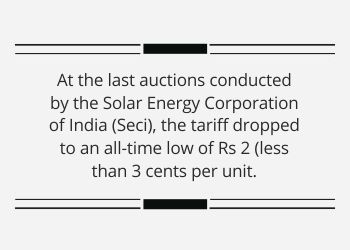 India's success in ramping up its solar energy capacity over such a short period of time has demonstrated to the world that an energy decarbonisation strategy is not only financially viable but can also be profitable.
It is cheaper, faster and more environmentally friendly to run solar energy farms than thermal power plants that emit greenhouse gases and cause lasting damage to the ecology. Renewable energy such as solar power (and wind energy), on the other hand, help countries meet their carbon reduction targets in the fight against climate change.
With India's power demand projected to surge in the coming years, adoption of solar power is an ideal way to balance the requirements of economic expansion and sustainable growth.