For the love of neighbours and crude oil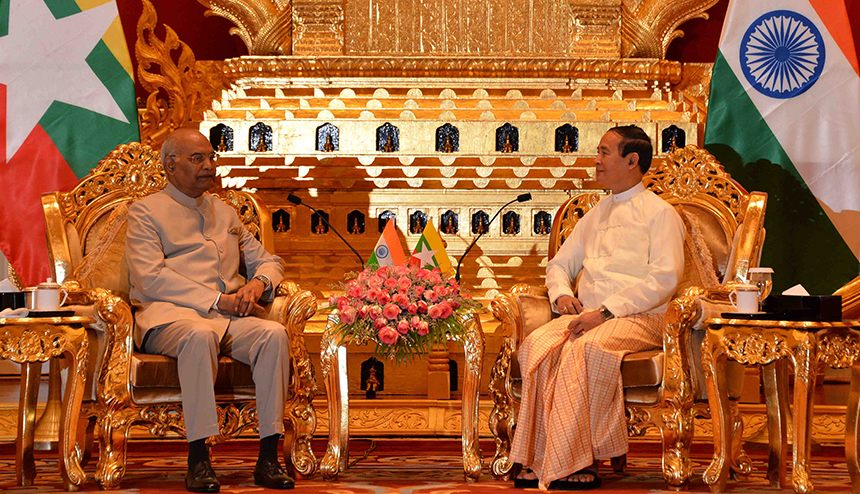 As 2018 comes to a close, 'India Global Business' reviews some of the major foreign visits, inbound and outbound, as a base to assess the course of India's foreign policy for the New Year.
India's overall foreign policy underwent a significant and dramatic shift in stance in 2018. It was dictated by two major developments — the ones in the immediate neighborhood and the need to secure energy in light of the US sanctions on Iran.
While in the first four years of its tenure, the Narendra Modi led administration wanted to expand its horizons with the aim of getting India its rightful place in the world order, this year the focus  was towards more pressing issues of reclaiming the neighborhood and strengthening ties in the Indian subcontinent.
The nature of the trips made by the Indian Prime Minister, who regularly doubles up as India's brand ambassador overseas, is a testimony to that. By his own high standards, Modi has been very active on the road in 2018. So far, he has made 23 trips outside India in this year and before the year draws to a close, he will make at least one more trip to participate in the 20th SAARC summit scheduled in Sri Lanka. This year ranks second in terms of number of visits in a year after 2015, his first full year as the Prime Minister, when he made an unprecedented 28 trips.
While in previous years, he would regularly travel to the US, Germany, France, China and Japan — countries that he has travelled to at least three times or more since May 2014, this year he has made two trips to Nepal, besides visiting Indonesia, Malaysia and Maldives. Modi has made the customary trips to annual bilateral summits like the World Economic Forum in Davos in January, BRICS summit in South Africa in July and the just concluded G-20 summit in Argentina last month. But compared to previous years, 2018 is an outlier with an out of proportion attention bestowed to the country's immediate neighborhood.
India's re-focusing its attention towards the Indian subcontinent and India Oceania region was most evident early in the year when the heads of state of nine countries that are part of the ASEAN block — Vietnam, Cambodia, Myanmar, Philippines, Singapore, Laos, Indonesia, Brunei and Thailand – came as the chief guests at India's Republic Day parade in January.
This was also much needed. India goes to polls next year and though matters of foreign policy seldom make a good copy at the hustings, the country's pride and stature is decided to a large extent on how the neighbours perceive it. India, flanked by China on one side and Pakistan on the other, always had difficult neighbours but the importance of others is perhaps more now than in recent times.
Historically, China's expansionist actions were more confined in the deep Pacific Ocean of the South China Sea but in the last couple of years it has tried to flex its muscles in the Indian subcontinent. The Dragon has been trying to increase its influence in Bhutan, Bangladesh and Nepal — countries that have been traditionally friendly with India. In Sri Lanka and the Maldives, it has gone a few steps further, extending substantial financial aid to Sri Lanka for rebuilding infrastructure and signing a free trade agreement with the Maldives. Another agreement involves the Maldives joining the China-led Belt and Road initiative (BRI).
At the same time, there has been no change in the Pakistan's stance towards India despite fresh elections brought a regime change there. In fact, its poor economic health has only pushed it further towards China, bolstering the Dragon's anti-India axis. Pakistan's presence in SAARC has often been blamed for the lack of the desired cohesiveness in the region and the relative failure of the multilateral forum but of late Of late, India has been more active on another regional multilateral forum – the Bay of Bengal Initiative for Multi-Sectoral Technical and Economic Cooperation (BIMSTEC), which groups Bangladesh, India, Myanmar, Sri Lanka, Thailand , Nepal and Bhutan, to compensate for that.
The overarching strategy of India's foreign policy in 2018 was to juxtapose its soft power diplomacy against China's economic and military might and to deftly manage its countries in the Middle East to secure its energy requirements.
Sri Lanka and the Maldives
The two island nations provided the toughest challenge to India's diplomatic stratagem in 2018. By the end of last year, China had made decisive strides in Sri Lanka by winning a long-term lease contract for the Hambantota Port. Similarly, in the Maldives, it brought about much instability courtesy former President Abdulla Yameen, who is known to be on friendly terms with Chinese premier Xi Jinping. The free trade agreement was a result of that bonhomie. But India has managed to recover a lot of ground this year following the formation of a new government under President Ibrahim Mohamed Solih in the Maldives.
Modi attended Soli's swearing-in ceremony last month and the latter will be visiting India as per tradition in mid-December. A number of other high-ranking Maldivian ministers and officials including Foreign Minister Abdulla Shahid, Finance Minister Ibrahim Ameer, Economic Development Minister Fayyaz Ismail, Minister of State for Foreign Affairs Ahmed Khaleel, and Foreign Secretary Abdul Ghafoor Mohamed, have already visited India, signaling a fresh start in ties between the two nations.
Sri Lanka has proved to be more tangled but a thaw in ties has been achieved. Following the Hambantota Port incident, India stepped up its investments in the country — it has forever been Sri Lanka's biggest trade partner, and talks were initiated with the Sirisena government in Sri Lanka towards developing Trincomalee port into a naval and commercial base. There were also indications that Sri Lanka was getting weary of China and the debt that it brings to the table for the investment it makes. The cancellation of a $300-million housing deal to China Railway Beijing Engineering Group Co. and awarding it to Indian company ND Enterprises was an example of that. Yet, the political instability in Sri Lanka — President Maithripala Sirisena fired Prime Minister Ranil Wikremesinghe in October and appointed Mahinda Rajapakse in his place – and the intent of all major political leaders to engage both with India as well as China means there is still work to be done.
Bangladesh and Afghanistan
One in the far west and the other in the East, the two Islamic countries have been traditionally India's most solid allies, besides the small Himalayan kingdom of Bhutan. India's prominence in the formation of Bangladesh means it remains an integral part of its existence. Flanked from three sides, Bangladesh shares much of its border with India.
That, however, has not deterred China from trying to cosy up to Bangladesh. Under its Belt and Road Initiative, China intends to spend $30 billion on infrastructure in Bangladesh – including the $2.86 billion Sitakundu-Cox's Bazar marine drive motorway – and is contributing $753 million to the dual-gauge rail track between Joydevpur and Ishwardi as well as $1.4 billion to the Dhaka airport to Ashulia motorway. This makes Bangladesh the second-biggest recipient of Chinese money from the belt and road plan in South Asia, after Pakistan.
India has also stepped up its investment in the country sinking in $ 7 billion on infrastructure projects since current Prime Minister Sheikh Hasina came to power. A lot has also been done towards improving connectivity to Bangladesh from India's North-eastern states that always yields diplomatic and economic dividends. The country, however, goes to polls on December 30 and a lot hinges on Hasina's re-election as a pro-India Head of the State.
India's ties with Afghanistan are dictated by both countries' mutual distrust for Pakistan. Both countries have suffered from global terrorism and, like in the case of other smaller countries in the subcontinent, India has invested much in Afghanistan. The overall diplomacy, however, is largely dictated by the US administration and that has not changed much.
Nepal
Traditionally a reliable friend of India, Nepal got a new government headed by K.P. Oli in April this year, which presented a diplomatic headache for the country. Traditionally the two nations have been extremely close. Both nations have a Hindu majority, share an open border, customs and cultures.
In recent times however, relations have deteriorated partly due to India's foreign policy ambivalence on Nepal, a gradual distrust that has built up over time and the emergence of China which is intent on playing a role in the tiny nation. The Madhesi crisis of 2015 where India tacitly supported the demands of people from 22 of the 75 districts of Nepal that comprises the plains and the border areas of the country alienated the more influential people in the hills. The disgruntlement brought China, which was already looking for an opening into the mix.
Prime Minister Modi's two visits to Nepal and Oli's visit to India has managed to undo some of the damage of the past. At the same time, India has also increased investments into Nepal. The annual grant to Nepal has been hiked by 73 percent in fiscal 2019 from Rs 375 crore to Rs 650 crore. "While China has definitely become a more important partner for the Maldives and Nepal, it is an exaggeration to say India will end up losing its neighbors to China. Despite challenges it would be hard for China to replace India throughout South Asia for geographic and economic reasons," says Dhruva Jaishankar, fellow, Foreign Policy studies, Brookings India. "After all, majority of Nepal's exports are through nearby ports in India, over a million Nepalese work in India, and Gurkhas serve in the Indian army. The particular nature of this relationship cannot be replicated by China."
China
As far as India's direct relations with China is concerned, no news is good news and 2018 has been a year of no news. A repeat of the Doklam flashpoint of 2017 has been avoided and while Indian and Chinese bureaucrats and diplomats shadow boxed their way through various consulates across the world through the year, there was no stand-off between the two countries. Bilateral trade between the two Asian giants remained as strong and as lop sided towards China as ever as more and more Chinese firms set up shop in India. Since the Doklam stand-off of 2017, there have been multiple engagements between the Chinese and Indian military establishments. In this context China's Defense minister and state councilor Wei Fengshe made a trip to Delhi in August.
Modi himself made two trips to China this year. There has been no breakthrough in relations—China remains opposed to India's candidature in the Nuclear Supplier's Group or for its permanent seat in the UN, but there has been no deterioration in relations either.
The Middle East
Ever since the US administration decided to walk out of the Iran nuclear deal in May this year and impose economic sanctions, not only on the Middle Eastern country but on anybody who transacts with it, the issue of energy security and crude oil became hot in India. In the last few months running up to the deadline of November 5, Indian officials in the ministry of finance, commerce, oil and gas, hosted and in turn visited most of the critical crude oil suppliers of India including Saudi Arabia, Iraq, UAE, Qatar and Kuwait. India imports over 80 per cent of its crude oil requirement every year and is the world's third largest oil consumer. Iran has traditionally been a big supplier. In 2017-18, India imported nearly 22 million metric tonnes or roughly 10 percent of its annual consumption of crude from Iran. The task of filling up for it from other sources was daunting.
In the end, the diplomatic parleys bore fruit and India managed to source more oil from Saudi Arabia, Iraq, Kuwait and Qatar as also US and Russia. While Iran has been a big ally offering lengthier credit periods to Indian refiners for crude, its isolation on the global scale was beyond India's bandwidth. Yet, it can also act as a blessing in disguise helping it strengthen its ties with other middle eastern nations like Saudi Arabia and UAE.
The United States
Often touted as a natural ally, India's relations with US retained status quo with very little to suggest any fundamental change in the dynamics. President Trump's maverick nature of governance did rock the boat a few times — his referring to India as tariff king on numerous occasions were obvious pressure points, but it never became anything more than a friendly sparring session. Trump's turning down the invitation to become the chief guest at the Republic Day parade was also being billed as a diplomatic failure but US held firm where it mattered. After walking out of the Iran nuclear deal in May, US granted waivers to India to enable it to continue to import from Iran beyond the November 5 deadline recognizing India's dependence on Iran for crude. More importantly, it indicated that US treated India differently if not necessarily preferentially compared to the rest of the world.
Another example was India's purchase of Russia's S400 Triumf long range air defence system and the US choosing to look the other way and not enforce Countering American Adversaries Through Sanctions Act (CAATSA), a special legislation in the US that seeks to dissuade neutral parties from doing business with its direct adversaries. In a similar deal that involved China, the US was quick to enforce the legislation for the first time just a few weeks before India's deal. The two countries also held the first 2+2 dialogue in New Delhi in September where India's defense and foreign ministers Nirmala Sitharaman and Sushma Swaraj respectively, sat face to face with US Secretary of state Mike Pompeo and Defense secretary Jim Mattis to conclude the Communications Compatibility and Security Agreement (COMCASA) which enables India to buy sensitive American military equipment. While there may be a lack of inherent personal vibrancy for India between the US under Obama administration and US under Trump, on the ground ties have only strengthened.