TOP OF THE CROP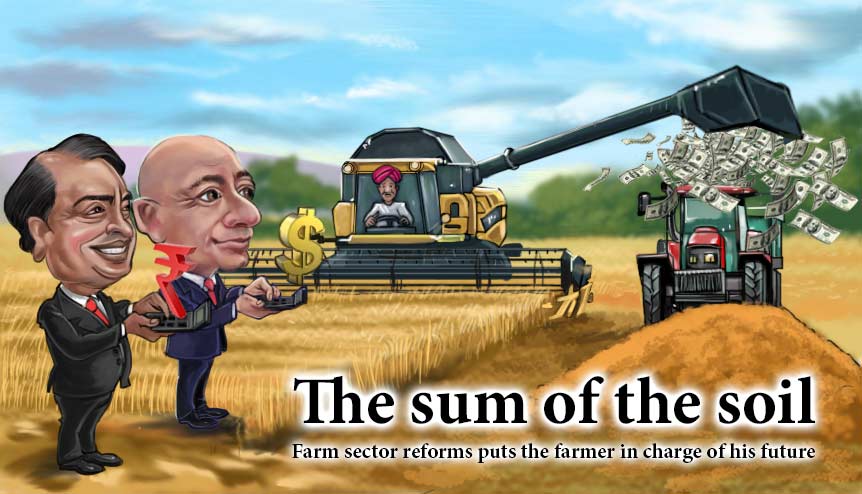 The Modi government has taken a bold political step by ushering in far reaching reforms that will free the Indian farmers from socialist-era regulations that hinder price discovery and open up the sector to foreign and domestic investments that can bring in billions of dollars and new technology to India's farms.

 NEWS IN BRIEF
The acquisition will enhance HCL's contribution to digital initiatives in Australia and New Zealand.
Doodle Kids focuses on advanced creative learning and readiness through a sound, and cordial condition to help kids in causing the smooth change from Home to Pre-School.
Private equity firm KKR & Co Inc will invest $755 million in the retail unit of Reliance Industries Ltd , the Indian conglomerate said on Wednesday, bringing the total funding in Reliance Retail to $1.78 billion within a month.

India Global Business Staff
Indian Commerce and Industry Minister Piyush Goyal has indicated that healthcare tie-ups can form a strong basis for a preferential trade agreement between the UK and India.
A visa game changer for UK-India education ties
Saloni Shah
Saloni Shah
An influential new study wants the UK to double its post-study work visa offer to four years as a means to double the number of Indian students at British universities by 2024.
India Global Business Staff
Britain's decision to enforce its new points-based student visa regime from October is a promising move for Indian student numbers.
India Global Business Staff
As the latest round of negotiations between the UK and EU to thrash out a post-Brexit trade agreement faces some hurdles, it is crucial for Britain not to take its foot off the pedal with other important trading partners – including India.
India Global Business Staff
India has increasingly looked as an attractive destination for British businesses and vice versa seeking to relocate their operations from China. Ironically, it's the pandemic that has brought both countries closer than ever before, thanks to collaborations in key areas such as vaccine development, innovation and manufacturing.