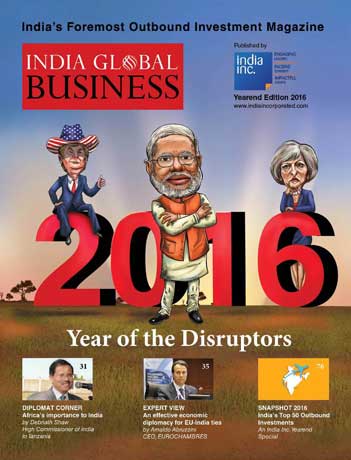 Yearend 2016
India Inc. Staff
Indian companies created over 100,000 jobs in the US in recent months, which will define the relationship into the New [...]
As we come to the end of 2016, 'India Global Business' takes stock of a year packed with some major shockwaves but also one that holds lots of promise for the New Year. In this Yearend Edition, we take a wide sweep across the globe to analyse the twists and turns in India's globalisation story over the year and what we can expect from 2017.
India Inc. Staff
Indian companies created over 100,000 jobs in the US in recent months, which will define the relationship into the New Year. Biocon widens BristolMyers Squibb tie-up Biocon's contract research arm, Syngene International, has expanded its ongoing drug discovery and development [...]
India Inc. Staff
From someone who vigorously campaigned for the UK to remain in the European Union, Alok Sharma now finds himself on a rather different kind of pitch as the Foreign Office Minister charged with Asia. His post-Brexit appointment led to a [...]
India Inc. Staff
To say that the year 2016 shook up the very foundations of the European Union (EU) would not be an exaggeration. The reverberations from the Brexit vote in Britain aside, the economic bloc is undergoing its biggest existential crises that [...]
India Inc. Staff
London attracts many of India's new adventurers looking to expand globally. A trade and investment expert from the mayor's team tells 'India Global Business' why that will continue to be the case in the New Year. It is crucial London [...]
India Inc. Staff
India has got its electricity under control but still does not have an answer to its unrelenting thirst for imported crude. India has invested heavily in building up power plants to the extent there is a glut-like situation today. This [...]
India Inc. Staff
The underlying mood may be tetchy, but overall India-China relations covered some important ground in 2016. In 2016, particularly following the Nuclear Suppliers' Group (NSG) plenary in Seoul in June, India-China relations became decidedly testy. Several reasons were attributed to [...]
India Inc. Staff
India's bilateral trade with Cambodia, Laos, Myanmar and Vietnam has grown exponentially from $460 million in 2000 to almost $12 billion in 2014. Till recently, they were considered the poor cousins of ASEAN's more prosperous members, but the four countries [...]
India Inc. Staff
Indian companies are collectively the third largest foreign investor in the UK and the largest employer in its manufacturing sector. Then, Indian IT companies employ about 100,000 US citizens in that country. No wonder countries across the world are inviting [...]
India Inc. Staff
The cancellation of the 2016 SAARC summit in Islamabad, Pakistan, marks a major turning point in the geopolitical configurations in South Asia. Bimstec wasn't a term many people outside of government circles in Bangladesh, India, Myanmar, Sri Lanka, Thailand, Nepal [...]
India Inc. Staff
Japanese Prime Minister Shinzo Abe, with whom Modi shares close ties, is close to becoming India's "all weather friend". Japanese Prime Minister Shinzo Abe has spoken of the "Arc of Democracy", with Tokyo and New Delhi as its two ends [...]
India Inc. Staff
India will adopt a wait and watch policy on the new US President-elect until there is greater clarity on issues of importance. The world is still trying to come with a Donald Trump presidency in the US. Pick up any [...]
India Inc. Staff
Of all the foreign policy challenges facing the Modi government, the one on how to deal with China is, arguably, the most difficult and vexed problem. China's rise to the top league of the world's leading nations has been accompanied [...]
India Inc. Staff
India-Russia ties have been rooted in history but 2016 marked a shift in gears to give the relationship a solid 21st century dimension. President Vladimir Putin's visit to India in October marked a boost for the Make in India programme [...]
India Inc. Staff
India's proactive Act East policy hinges heavily on the ASEAN free trade group and it is the many emerging economies in this collective that offer growth opportunities for Indian companies. The Association of South-East Asian Nations (ASEAN) comprises of the [...]
India Inc. Staff
The chief executive of Brussels-based trade group Eurochambres analyses whether the traditional trade agreement format is viable any more when it comes to India's relationship with the European Union (EU). India has become the world's fastest-growing large economy. It is [...]
India Inc. Staff
Trade deals are about more than just tariffs, they are about relationships and the movement of people, writes Lord Bilimoria. I came to the UK as a student in the early 1980s, where I knew I would receive a world-class [...]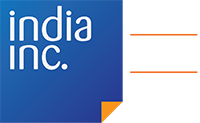 Sign-up to receive
FREE newsletters and regular
updates from India Inc.