Africa's importance to India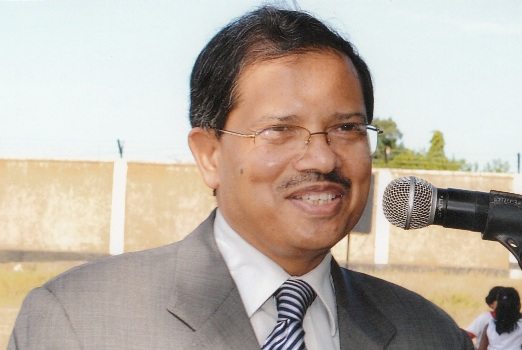 A leading Indian diplomat based in Africa shares his views on why the continent is important to India.
Any observer of Indian foreign and strategic policy may well raise the question: Why Africa? Why should a developing country like India expend its limited political, diplomatic, human and financial resources on Africa when there are myriad problems to be resolved within the country. Moreover, given India's limited resources spent primarily cultivating the P-5 and other great powers like Germany and Japan, our immediate neighbourhood (SAARC, ASEAN, CIS) and on crucial multilateral systems like the UN, why should the country's initiatives be spread thinly across the 54 countries that make up continental Africa.
To answer this question, let us dig a bit into history. India is not a new entrant in the huge and diversified continent of Africa. Indian workers, professionals, and traders have been travelling to and settling in vast swathes of Africa, particularly in the English speaking areas, over the last two centuries. The relationship was nurtured in the first half of the 20th century on the basis of shared history and ideological empathy. Since the middle of the last century, after India gained independence from colonial rule as did many parts of Africa, the relationship was driven by south-south cooperation. However, this relationship based on the 20th century concepts of non-alignment, anti-apartheid and decolonisation could no longer bind India and Africa together in this century.
This change in the global environment was recognized by the partners on both continents. The reassessment in India's dealings with Africa led to the birth of the First India-Africa Forum Summit (IAFS-I) in 2008 in New Delhi. The shared political outlook with Africa, which till then had been the main driver, took a back seat to the developmental partnership at the bilateral, regional and continental (African Union) levels.
Today, Africa is home to over half a dozen of the fastest growing countries of this decade. Despite a few lingering ethnic and religious conflicts, and governance issues in some countries, the people of this vast region are demanding and getting better governance, democracy, the rule of law and transparency like never before. Most of Africa is experiencing moderate to healthy economic growth rates that is fuelling the growth of its middle class and demand for more goods and services. Poverty rates are also on the decline.
This growth, which is widespread through Sub-Saharan Africa, is expected to continue in the medium term. As a result of improved macroeconomic policies coupled with rapid expansion in sectors like tourism, banking, telecommunications, manufacturing and agriculture. Africa's collective GDP is expected to touch $3.6 trillion in 2020 up from $2.1 trillion in 2011. Africa's growing middle class, already bigger than India's, continues to boost consumption, construction and private investment.
In the economic and commercial sphere, Africa is obviously a region India cannot afford to take lightly. India is Africa's fourth largest trading partner (about $ 72 billion in 2014-15) after China, the UK and France. Our exposure in terms of investments is also considerable, estimated to be about $30 billion cumulatively. Even if we ignore all other reasons, bilateral trade and investment compels us to pay attention to the African market. Indian oil and gas E&P majors have a substantial presence in the Sudan, Ivory Coast, Libya, Egypt, Nigeria, Gabon, and Mozambique. Indian interests in coal and other minerals exist in South Africa, Mozambique, Tanzania, Zimbabwe, Botswana etc. Africa provides an alternative destination to such manufactures from India whose exports to traditional destinations in Europe and North America are on the decline, and helps to prop up the 'Make in India' campaign.
Africa today is definitely a 'happening Continent'. All major powers across the globe have recognized this significant positive change across most of sub-Saharan Africa, once the 'basket case' and a 'dark continent'.
India's interests in Africa include, inter-alia, support of the 54-member group for its regional and global power ambitions, and access to Africa's natural resources and markets. A large and growing power like India has no alternative but to be engaged with this region, even if it calls for some sacrifices and allocation of scarce resources on the part of India.
Multilateral and cross border global issues such as terrorism, UN reforms, public health, peace keeping and security issues, climate change and the international trading regime (WTO) all require Africa's active participation. African countries tend to take a unified stand on such issues after discussions and deliberations at the AU. African reaction to climate change issues is also AU influenced, where the majority seems to be backing the western agenda that all major polluters, including China and India, must commit to take mitigation measures along with the western industrialized countries. India has to engage with African countries individually and collectively to get its points across.
On tackling terror, which is not subject to national or regional boundaries, there is not much sensitivity in Africa that what happens on the continent has repercussions on our part of the world also. Peacekeeping under UN aegis is one area where India's role has been appreciated in Africa and we need to step up our role in consultation with our African partners. Food security, high oil prices and climate change are the top concerns of developing countries today. India and Africa are destined to walk together along the path of development, prosperity and the welfares of its peoples for a long time to come.
What does Africa expect from India? While policy makers are fairly clear about what India expects from the continent – need to project and retain India's traditional political ties and influence in the region, protection of its core interests including that of the 2.7 million diaspora, and access to Africa's natural resources and markets, it is not clear if India has an understanding of what Africa expects from India. Even African governments and civil society may not be able to answer this question with any degree of clarity.
At the Third India-Africa Forum Summit (IAFS-III) in New Delhi in October 2015, a few pointers were visible. India's development partnership with Africa, primarily through capacity building programmes, appropriate technology transfer and access to soft credit for infrastructure projects, should be dovetailed to Africa's developmental vision as outlined in Agenda 2063, a document adopted by AU members at its summit last year. The Delhi Declaration issued at the IAFS-III has accepted this linkage. Country statements made at the Summit and bilateral talks held by the Prime Minister and the External Affairs Minister with African leaders reveals Africa's desire to move up the global value chain at a time when India's role in the global trade and investment chain is growing.
While acknowledging India's substantial role in assisting Africa's developmental process particularly through ITEC and other training and educational programmes, and Lines of Credit (LOCs) for specific projects in Africa, African leaders advised India to close the gap between promises made and results achieved. Africa's expectation from India in the field of public health is beyond just supply of affordable medicine. Partner countries want India's assistance in developing the continent's public health services capacity.
Africa has traditionally depended on its former colonial masters, mainly western European countries, and major powers like the US, Japan and Russia for partnership in its path of growth, development and political maturity. While China has emerged as a substantial partner in the last two decades, there is a yearning in Africa for India to take its rightful place in the continent.
Debnath Shaw is the Former High Commissioner of India to Tanzania, based in Dar-es-Salaam.