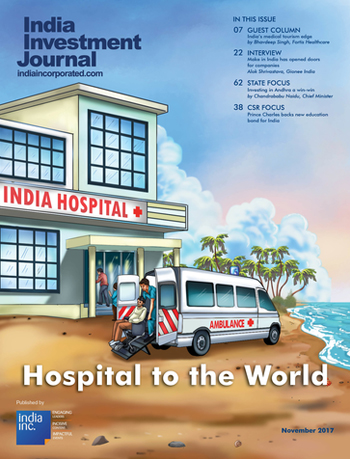 November 2017
Manoj Ladwa
Charles, Prince of Wales threw his weight behind a new Education Development Impact Bond (DIB) for India during a recent tour [...]
The November edition of 'India Investment Journal' explores India's pitch to be the hospital of the world, the vibrant mobile phone market and the State Focus is on Andhra Pradesh.
Manoj Ladwa
The last few weeks have brought some cheer for those tracking the investment climate in India. Credit rating firm Moody's [...]
Manoj Ladwa
The old Sanskrit saying 'Atithi Devo Bhava', which has been loosely translated in the headline, is paying India rich dividends [...]
Manoj Ladwa
India Inc. property expert analyses the pattern shifts in the Indian real estate sector due to changing laws and market [...]
Manoj Ladwa
The state claims to be the best one to invest in India but does not make the mistake of resting [...]
Manoj Ladwa
Medical travel assistance experts elaborate on the co-dependence of medical tourism and the healthcare industry in India. It is not [...]
Manoj Ladwa
India has an opportunity to take a leadership role in technology and innovation in a changing global landscape, writes a [...]
Manoj Ladwa
The country will hit 530 million smartphone users by 2018, behind China's 1.3 billion but ahead of the US figure [...]
Manoj Ladwa
Reliance Industries' telecom giant is exploring a collaboration with Birmingham City University experts for a new virtual reality (VR) app [...]
Manoj Ladwa
Digital India in sync with Make in India will enable local innovation in the mobile phone market, writes a telecom [...]
Manoj Ladwa
A platform to attract UK's small and medium enterprises (SMEs) to invest in India is set to transform the economic [...]
Manoj Ladwa
How yoga breathing techniques can help modern day professionals manage stress, improve productivity and luck. Fifteen years ago, in a [...]
Manoj Ladwa
The Mayor of London, Sadiq Khan, will be in Delhi, Mumbai and Amritsar at the start of December to stress that companies [...]
Manoj Ladwa
India's diverse holiday destinations have thousands of locked second homes that can become fully managed vacation rentals, writes an Indian [...]
Manoj Ladwa
Expenditure by Indian tourists visiting London is set for a 180 per cent spike by 2025, a latest report reveals. [...]
Manoj Ladwa
The month of November has been earmarked for a focus on cooperation between India and Britain in the field of [...]
Manoj Ladwa
In recent years, Foreign Direct Investment (FDI) into India has been on the rise, with a significant percentage of such [...]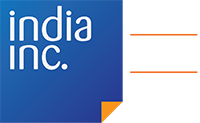 Sign-up to receive
FREE newsletters and regular
updates from India Inc.