Access India: A new trade & investment window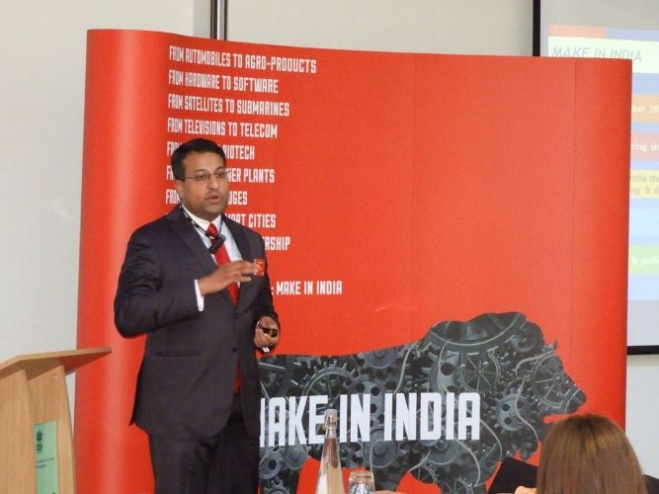 A platform to attract UK's small and medium enterprises (SMEs) to invest in India is set to transform the economic partnership.
India and the UK traditionally have had strong economic linkages, both on the trade and investment front. According to official statistics from the Department of Industrial Policy and Promotion, Government of India, the UK has, until recently, been the third-largest investor in India, just behind Mauritius and Singapore.
The quantum of UK investment in India has been large, but what it has boosted greatly is employment in India. It has created more than 371,000 jobs between 2000 and 2016, and the total employment generated by British companies in India is about 788,000, which forms 5.3 per cent of the total organised private sector jobs in India. Invest India, the national investment promotion and facilitation agency of India, has been working closely with UK companies to set their investments up in India.
Recently, however, the UK dropped one rank to fourth place behind Japan on the list of countries investing into India, and now has cumulative investments of $24.7 billion since April 2000. The trade between India and the UK has also seen a similar dip in the recent past. From $15.8 billion by the end of FY 2014, the total trade has come down to $12.2 billion by the end of 2017.
India is perceived as a preferred destination for investments due to multiple factors: a huge market, availability of a skilled talent pool, a stable political system and a widespread prevalence of the English language. Apart from this, many British brands such as JCB or Horlicks have been in India for so long that they are now household names.
Most large companies from the UK already have a significant presence in India. Now, they are building long-term plans to further invest in India as their strategy shifts towards focussing on India.
Focus on SMEs required
However, the British small and medium enterprise (SME) sector, which forms 99 per cent of the British private sector, has mostly not explored its options outside the UK, let alone India. These SMEs possess the core high-end technologies and innovative products. If India is to ensure a steady growth in investment and employment generation in India from UK investments, it must focus on the British SME sector.
The British SME sector must also start looking outward. They need to build a strategy to expand or insulate themselves from global vagaries to survive, especially in the context of Brexit. British SMEs must seriously consider investing in India to guarantee their survival and avoid being left behind other competitive economies who have been investing in India.
Access India Programme
Those SMEs considering entering India now have the Access India Programme (AIP) to provide substantial support to their market entry. This programme, recently launched by the High Commission of India in the UK and the UK-India Business Council (UKIBC), is aimed at British SMEs looking to invest in India.
The Access India Programme will identify high-potential UK SMEs and assist them in establishing themselves in India.
As part of the programme, a wide range of information, workshops, networking and business support services under a single platform will be available to the SMEs. The programme will also provide mentoring support to make their first steps in India strong and effective.
The services under the programme include strategy advisory, operational market entry support, tax & legal support, financial services, project financing, mergers and acquisitions (M&A), partner search, location services, technology collaboration, facilitation of approvals from central & state agencies and access to government agencies. The market entry of the selected companies shall be closely supervised to ensure success.
The Access India Programme will support a select group of high potential UK SMEs that are at an advanced stage of market entry planning, with a clear intent for localisation. However, companies that are still at an early stage of market entry but possess medium to long term potential for localisation and manufacturing in India shall also be considered for support. Technology companies interested in partnering with Indian companies/institutions for technology tie-ups will also be supported under the programme.
The programme will be delivered by the High Commission of India in London along with the UKIBC and selected empanelled expert programme partners and mentors. Invest India is the lead facilitation partner in India, and large British companies invested in India, such as Rolls Royce and JCB, are the programme mentors.
Key banks, law firms and consultants active on the UK-India business corridor have also been recruited to the Programme. SMEs, part of this programme, have the advantage of availing detailed support at no cost.
However, specific advice for a client, like market study for a specific product or partner identification and due diligence, can be availed from the partners, at a subsidised cost. Alternatively, any client can seek advice from their own advisors.
Separately, Invest India, as part of its mandate, also hand-holds investors in India through the entire investment journey, and their teams of domain experts have been working with UK companies to facilitate their expansion.
The Access India team, in the High Commission of India and UKIBC, is currently organising several outreach events across the UK to create awareness of the programme among the SMEs. Recently, the Consul General of India, Birmingham, along with Invest India, and the British Deputy High Commissioner at Chennai, spent five days doing presentations across seven locations in the Midlands. The delegation presented on the India opportunity, the Access India Programme and its benefits. The reception in these outreach events was very positive, with encouraging feedback mentioning that this programme is much needed to support the SMEs who have not been able to transition into the next level of growth.
Next Phase of Growth
India and the UK remain committed to working together to substantially increase trade and investment opportunities. During Indian Prime Minister Narendra Modi's visit to the UK in 2015, and British Prime Minister Theresa May's visit to India in 2016, the two Heads of State agreed to continue working towards strong, sustainable, and balanced growth, and agreed on continuance importance of structural reforms and pursuing credible fiscal policies in order to raise living standards.
Supporting SMEs in both countries is essential to our countries' common objectives, as SMEs have the ability to transform lives at the bottom of the pyramid. The Access India Programme, through its objectives, will in a large part contribute to the two PMs' visions of the countries' relationship, and will drive further growth in our economies for years to come.
Vivek Sonny Abraham is Assistant Vice-President of Invest India, the country's main foreign investment promotion body.