Editor's Note
The last few weeks have brought some cheer for those tracking the investment climate in India.
Credit rating firm Moody's upgraded India's sovereign rating by one notch, a move seen as a clear endorsement of the economic reform agenda underway in the country. A key plank of this agenda has been the ambition to improve the ease of doing business in the country, which also received a major boost with India moving into the top 100 in the World Bank's Doing Business 2018: Reforming to Create Jobs report. This marked a convincing jump of 30 spots from last year's rank of 130th to this year's 100th. The report notes that India has adopted 37 reforms since 2003 and nearly half of these reforms have been implemented in the last four years.
There was more good news in store as the country moved up in the International Monetary Fund (IMF) GDP per capita index. India saw its per capita GDP rise to $7,170 in 2017, up from $6,690 in 2016, improving its rank by one position to 126th.
All these indicators put together paint a broadly positive picture for the inward investment landscape in the country. This edition of 'India Investment Journal' analyses many of the trends that have led to this economic bounce through the prism of specific sectors.
The Cover theme explores India's vibrant tourism sector with a range of insider views on medical tourism by Fortis Healthcare and Vaidam as well as the relatively new market of second homes as an alternative to homestays by Oyo.
The Big Story for this month is the country's booming mobile phone market and what makes it attractive to global giants. We explore how India is set to hit 530 million smartphone users, way ahead of the US figure of 229 million, by 2018 and a telecom expert explains how Digital India in sync with Make in India will enable local innovation in the mobile phone market.
We take regular stock of some of the Indian government flagship schemes, with strides in Digital India captured under our regular Tech Speak column as well as an update on the UK-India Future Tech Month. Invest India elaborates on the details of a new Access India programme to hand-hold small and medium enterprises (SMEs) for their entry into one of the fastest growing markets in the world.
The CSR Focus is on a new social development bond launched to meet enhanced education goals in India and the State Focus this time is on Andhra Pradesh, which includes a sneak-peak into the new state capital of Amaravati and a first-hand account of Chief Minister Chandrababu Naidu's investment scouting mission to the UK.
To round off the edition, Realty Corner provides a broad sweep of the Indian property market and Yoga Corner focuses on the art of breathing.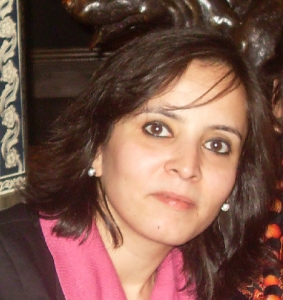 Aditi Khanna is the Senior Editor of India Inc.