Born-again Andhra Pradesh in a league of its own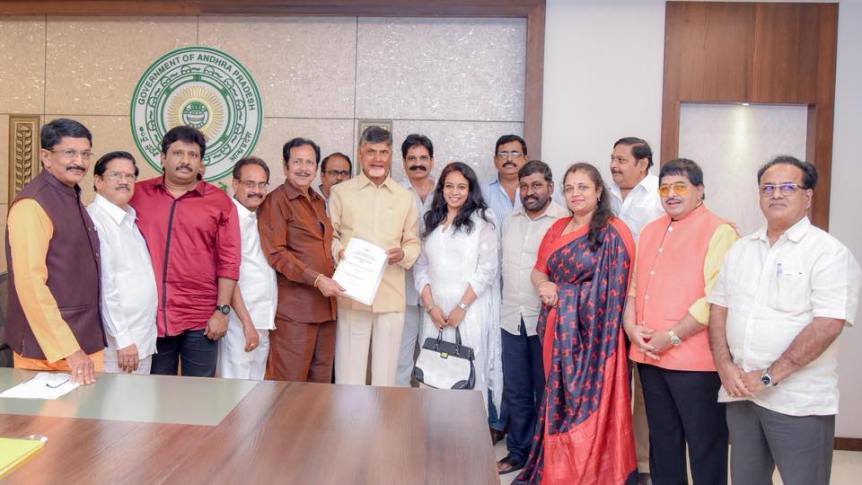 The state claims to be the best one to invest in India but does not make the mistake of resting on its laurels.
Andhra Pradesh Chief Minister Chandrababu Naidu is forever a busy man. His media advisor, Srinivasa Rao, says keeping pace with him is no mean task. He claims he has lost at least 5 kgs in the last one year. Ever since Telangana was carved out of the erstwhile state in June 2014, it will not be incorrect to say that Andhra Pradesh has started its journey afresh. For Naidu too, it means a repeat of all the hard work he had put in to establish Hyderabad as one of the information technology (IT) hubs of country. That was more than two decades ago.
"In 1977, I heard that Bill Gates was coming to Delhi. I requested the US ambassador in Delhi to fix an appointment with Gates for me. Gates said that was not possible. I desperately requested for a 10-minute slot. It was then granted. When I went inside, we talked for a full 45 minutes about my vision.
"I made only one request: I asked him to open a Microsoft centre in Hyderabad. To which he said, he would consider the request, in due course. This was the beginning of Hyderabad's journey to an IT-hub," recalled Naidu at an investor's meet  in Vishakhapatnam in January 2016.
Telangana has scalped Hyderabad too and a bulk of Naidu's time is devoted in looking after the progress of his new capital at Amaravati on the banks of the state's biggest river Krishna. Yet, while in most cases the division of a state takes a toll on the incumbent — Uttarakhand and Uttar Pradesh, Jharkhand and Bihar are cases in point — the rise of Telangana has not been at the cost of Andhra Pradesh. The latter regularly figures among the top three best states to live in and invest in the country.
As per the World Bank, the state was among the leading states for ease of doing business in 2016, a rank it shared jointly with Telangana. Both the states had a 98.78 per cent timely project implementation rate against the national average of just 48.93 per cent. The annual state investment potential index prepared by National  Council of Applied Economic Research gives a more in-depth and holistic view of the state's edge over its peers. Based on six broad parameters – labour, infrastructure, economic climate, governance and political stability, perceptions and land — and 51 sub-indicators, Andhra Pradesh gained one spot to become the third most attractive for investment behind Gujarat and Delhi. The state emerged as the best in the ease of acquiring large tracts of land for industrial purposes — a critical problem in many states. The smoothness of the acquisition of 35,000 acres of farm land for the development of Amaravati is an example of that.
"The state was in a difficult and challenging position after the bifurcation but even then it has managed to grow every year," says Indian Finance Minister Arun Jaitley. "Already, several central educational institutions have been sanctioned for the State and the Centre would provide help in the construction of the new capital, Amaravati. I have no doubt that it will become one of the best cities not only in the country but the world."
Naidu was quick to put the disappointment of losing Hyderabad to Telangana behind and has drafted an industrial policy often touted as the best in the country. In 2015-16, the first full fiscal after the bifurcation of the state, its state gross domestic product (GDP) grew by 10.99 per cent, higher than all others. Earlier this year, he unveiled the new policy, which among incentives lays a commitment of granting all state level clearances within 21 days. With any other leader, this would have gone down as a necessary bit of showmanship but given Naidu's track record, it did not take much to convince investors. The very next day, a clutch of 46 business houses signed memoranda of understanding (MoUs) with the state government to invest a cumulative Rs 35,745 crore ($5.3 billion).
The government has identified 10 areas for greater focus, including agro and food processing, aerospace, mineral-based industries, leather, automobiles, textile and energy. Land is allocated on a 99-year lease and outright sale for investments exceeding Rs 100 crore ($15 million). Steps have been taken to increase the plant load factor in the power plants from 70 per cent to 84 per cent, while transmission and distribution losses have been reduced to 12.5 per cent ensuring adequate power availability. T&D losses are targeted to be brought down further to 6 per cent by 2022 and an additional power capacity of 16,484 MW is coming up in the same time frame.
"We were impressed by Mr Naidu's forthright manner and no-nonsense demeanour. He does not talk like a politician but like a CEO," says Han Woo Park, President, Kia Motors India, which is building a 300,000 unit per annum factory in the state with an investment of Rs 12,800 crore ($2 billion).
Park, a former chief executive at India's second-largest car maker Hyundai Motors which is also Kia's parent firm, side-stepped neighboring Tamil Nadu where Hyundai has two single location factories.
He adds: "Andhra Pradesh ticks all the boxes. It is centrally located, has a long coast line, abundant availability of skilled manpower and a fast-developing supply chain network.
"Just like us, it is also a young state. We want to be part of this mutually successful story."
The state does not bank just on its leader's charisma alone. Among the string of incentives offered in the industrial policy include reimbursement of 100 per cent stamp duty and transfer duty paid by the industry on purchase or lease of land and 50 per cent of SGST for a period of seven years for large units. It also includes special packages for MSMEs and SC/ST/BC entrepreneurs, including 100 per cent reimbursement of net VAT/ CST/ SGST for micro and small enterprises for a period of five years.
The policy lays a special thrust on start-ups, committing to handhold world class incubation centres. An Industrial Area Development Authority has been set up to encourage investments into specific investment zones. Another special package for women entrepreneurs envisages 25 per cent investment subsidy on fixed capital investments with a maximum limit of Rs 300,000 ($5,000) per unit and seed capital assistance to first generation entrepreneurs at the rate of 15 per cent of the machinery cost.
The biggest reform however is the single desk clearance system, with the State Commissioner of Industries heading it. Based on an e-platform, integrating pre-establishment and pre-operation stage clearances, the commissioner of industries is being vested with special powers to even give deemed clearances to projects on self-certification basis so that investors lose no time in setting up their units.
Naidu's new policy aims at attracting investments to the tune of Rs 12.5 lakh crores ($18 billion) and creating employment opportunities for 10,00,000 people by 2020 while also increasing the contribution of manufacturing to the State GDP from 9.95 per cent in 2013-14 to 25 per cent by 2020.
The results are there for all to see. At the state's investment summit in January 2017, 665 MoUs worth Rs 10.54 trillion were signed. This was more than the anticipated Rs 7 trillion investment as also a quantum jump from the Rs 6.21 lakh investment promised at the summit's previous edition in 2015.
Back in 2014, Naidu spoke of growing fast in the next five years to overcome the setback of the bifurcation and the loss of its capital city. After achieving much more than that in a shorter span and having established Andhra Pradesh as the state to be in, he is now aiming big.
"By 2050, I want to see Andhra Pradesh as the world's most preferred destination for investment," Naidu says. "Amaravati will be one of world's top 10 cities."
It may sound like wishful thinking had anybody else said it but when Naidu says it, it is tough to disagree. Andhra Pradesh is thinking global.