India and Bangladesh reset ties with seven agreements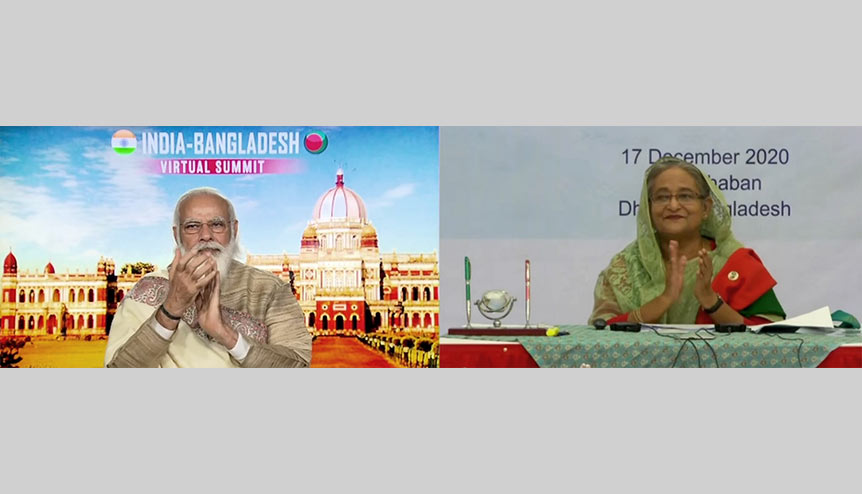 The two nations emphasised that their existing bilateral relations were being reenergized with Modi and Hasina detailing their future strategic and commercial blueprints.
Despite the occasional optics that force regional and global observers to think to the contrary there is enough fact to observe the principle that Bangladesh and India share a very important strategic relationship.
This was in ample evidence on Thursday when Indian prime minister Narendra Modi stated that his country was pushing ahead with the strategy that Bangladesh was an important pillar of India's 'Neighbourhood Policy', something which his Bangladeshi counterpart Sheikh Hasina supported wholeheartedly. The significance of the occasion was also not lost on observers coming as it did on December 16, the day Bangladesh marked the day of its liberation against the Pakistan army.
There is little doubt that relations between the two countries needed a reset and in this context Modi and Hasina did not disappoint.
Resetting the balance in ties
"To strengthen relations with Bangladesh has been a priority for me since the first day," Modi said. "This year has been full of challenges due to the COVID-19 pandemic. During this time, there has been good cooperation between our countries in the sphere of working with health professions, COVID-19 vaccine etc," he noted. And in Bangladesh's handling of the pandemic Modi stated, "I must commend you for the manner in which your government has countered COVID-19."
Bangladesh is a major pillar in our neighbourhood-first policy and strengthening our relations has been a priority.

Even during the pandemic, our efforts have continuously moved ahead in several field apart from the health sector. We've also reduced hurdles in land-border trade. pic.twitter.com/YQNjWAnwy2

— BJP (@BJP4India) December 17, 2020
In keeping with the diplomatic geniality that was being generated from New Delhi, Sheikh Hasina highlighted New Delhi's stellar role as a neighbour hailing India as a true friend of Bangladesh. She did not forget the sacrifices of the past made by the Indian armed forces in ensuring Bangladesh's liberation.
"I pay tribute to the members of the Indian armed forces martyred in the 1971 war. I pay my gratitude to the Government and people of India who extended wholehearted support for the cause of our liberation," the Bangladeshi PM said.
A generous invitation was issued to Modi by Hasina on the occasion of Bangladesh's 50 years of independence next year and the Indian premier accepted.
India and Bangladesh did not waste time in just expressing diplomatic courtesies. A total of seven agreements were signed in the areas of hydrocarbon, culture, agriculture, high impact community development projects, and conservation of wildlife. Additionally, sharing the waters of the Teesta and other rivers and issues related to fisheries were discussed.
Dhaka is a priority trade partner
Bangladesh is India's largest trading partner in South Asia. Between 2009-10 and 2015-16, the trade deficit grew in India's favour at a staggering 164.4%. Foreign Direct Investment (FDI) from India to Bangladesh is $3.11 billion, including Reliance's $642-million 745 MW gas-fired project and Adani's $400 million in Mirsarai Economic Zone. Despite the close relations there is a possibility that New Delhi will re-examine India's Consolidated FDI policy 2017 which places Bangladesh in the same category as Pakistan. The FDI policy's para 3.1.1 says, "A non-resident entity can invest in India…However, a citizen of Bangladesh/Pakistan or an entity incorporated in Bangladesh/Pakistan can invest only under the Government route." Revisiting this clause could perhaps send all the right signal across the border to Dhaka and prepare the platform for greater engagement across multiple sectors.
Despite the pain points that exist in the borders that separate the two countries India and Bangladesh are today better connected in other platforms road, rail and river routes through which goods are transported using Bangladeshi trucks, vessels and railway. Recent arrangements gives India the opportunity to move their merchandise through Mongla port road, rail, and water routes.
The first Indian container train carrying FMCG products and other items arrived at Bangladesh's Benapole railway station in August this year, marking the resumption of rail links between the two countries for the first time since the Indo-Pak war of 1965. Prior to Independence, the North East of the country was connected to the rest of India via a network of rail and waterway links passing through what was then called East Bengal.
Strategic import in ties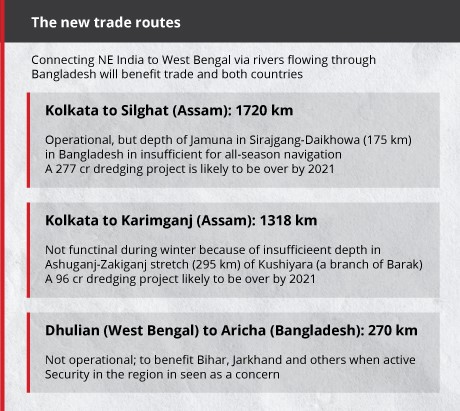 There is a strategic import to this from Kolkata to Karimganj in Assam and Agartala in Tripura via Chittagong in Bangladesh this will not only connect this remote region more easily with the mainland, it will also provide a boost to regional economic and logistics cooperation under the Bangladesh-Bhutan-India-Nepal (BBIN) framework that Indian Prime Minister Narendra Modi has pushed for following the intransigence of Pakistan and its non-cooperation on regional issues under the aegis of the South Asian Association of Regional Cooperation (SAARC).
India and Bangladesh had signed an agreement on 17 railway projects costing about $2.4 billion. As part of its regional outreach programme and also to counter China's offers of assistance, the Modi government has offered this amount at a concessional interest rate of 1 per cent per annum. The money is repayable over 20 years with a moratorium on payments for the first five years.
Of these projects, nine have been completed. A 12 km link between Agartala in India (Tripura) and Akhaura in Bangladesh should be operational in March next year. It will help is expected to be ready by March next year. This will enable freight and passenger connectivity between the Indian mainland and the North East. Among other projects, the $78-million link between Kulaura and Shahbazpur will be ready by the end of this year and the $389-million Khulna-Mongla line should be completed by June next year.
Proactive engagements
New Delhi will need to be more forceful in their engagements with Dhaka given that China are already moving ahead with speed and precision in setting up strong ties with them as well. Bangladesh's status as one of Asia's fastest growing economies is not lost to anyone and Beijing responded with a tariff exemption for 97 per cent of Bangladeshi products effective from 1 July this year.
Having been hit hard during the pandemic Bangladesh is one of the first countries to benefit from China's generosity and it boosts the list of goods from Bangladesh that attract zero duty to China from 3,095 to 8,256. It is also part of China's overall strategy to grant duty-free access to least developed countries with which it has diplomatic ties for 97 per cent of tariff lines. Dhaka is, however, well aware that conditions always apply when business deals are struck with China and it is here that the dependability of India comes through even as Bangladesh seriously requires foreign investment to boost their development. Examples of the double-edged sword which hangs over the head of every nation that does business with China abounds in the region.
Selective friendship that are China's hallmark while pushing forth their foreign policy goals can be blunted by India's promise of being a friend for all occasions. India is secular and is home to the world's third largest population of Muslims after Pakistan and Indonesia.
There is every possibility that the virtual exchanges between Modi and Hasina will be ramped up further in a more hybrid setting when the former visits Dhaka next year. India has already been solidifying its ties with nations across its borders with great effectiveness. With its actions speaking louder. This consistency would go a long way in reassuring Bangladesh that when it comes to choosing between an unprincipled China and a constant India the choice is a no-brainer.