China's imperialist eye turns to Bangladesh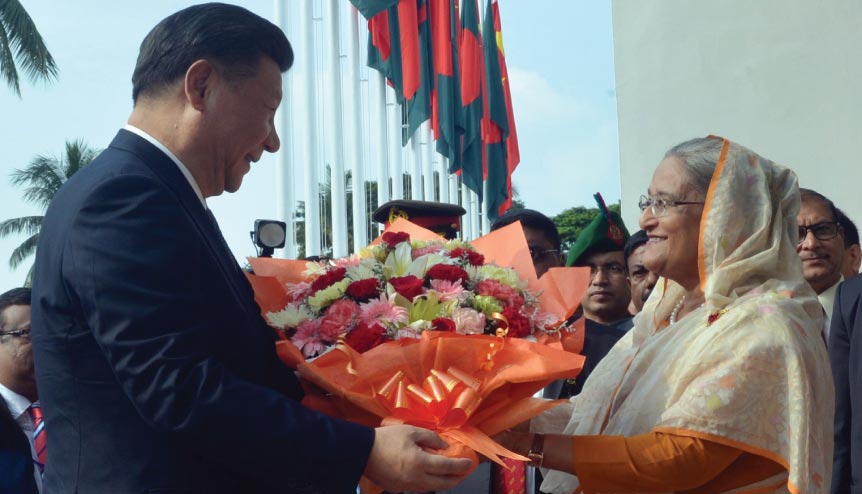 Beijing is acting rogue in South Asia and its latest attempt to stir the pot is to woo Bangladesh, one of Asia's fastest growing economies. But will its opportunism match India's all weather appeal with Dhaka?
All the major powers in the world are gradually uniting to isolate and punish China for its role in the origin and spread of the coronavirus pandemic across the globe, but that has not deterred the dragon's imperialistic plans.
The latest country that China is trying to woo is Bangladesh, one of Asia's fastest-growing economies. Last week, China provided a huge trade boost to the country by announcing a tariff exemption for 97 per cent of Bangladeshi products effective from 1 July.
Related stories: Absolute power is making Xi Jinping an arrogant and irresponsible global bully
How neighbours can become good friends
The coronavirus conundrum
The decision came a month after Bangladesh Prime Minister Sheikh Hasina and Chinese President Xi Jinping discussed upgrading their bilateral relations during the Covid-19 pandemic. This trade boost effectively increases the list of goods from Bangladesh that attract zero duty to China from 3,095 to 8,256. It is also part of China's overall strategy to grant duty-free access to least developed countries with which it has diplomatic ties for 97 per cent of tariff lines. It is similar to what the European Union, the world's largest trading bloc, also offers. Bangladesh is one of the first countries to benefit from China's largesse which is expected to help it in managing the economic impact of the coronavirus pandemic. The irony is blatant.
Providing a solution for a problem it created
The pandemic that originated from China's Wuhan province is the biggest health crisis in the world for over 100 years. It is projected to result in a 5.2 per cent contraction in the world economy in 2020-21. It has not spared Bangladesh either where the number of cases overtook those in China in the first half of June. So far, the country that has a population of 170 million has reported over 110,000 cases and 1,425 deaths. It is still doubling at a fast rate– first 50,000 cases in 87 days while the next in just 16 days, as the peak is yet to come.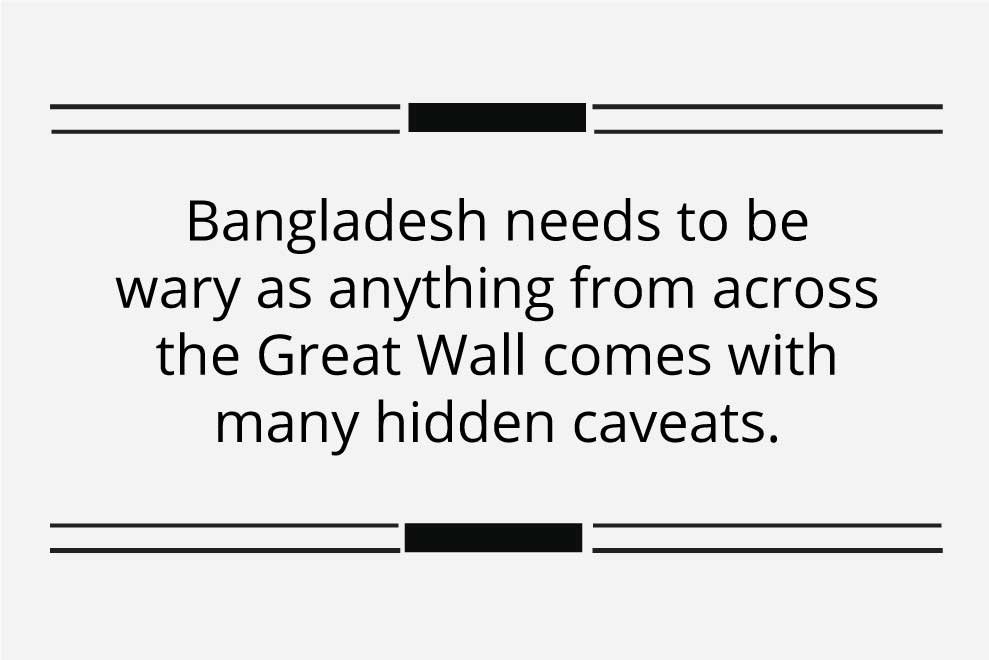 The impact on its economy has also been substantial. Before the outbreak, Bangladesh was set to become the fastest-growing economy in the world in fiscal 2020 and retain the position in fiscal 2021. The projections have been severely revised now.
The World Bank (WB) has projected Bangladesh's gross domestic product (GDP) to grow at just 1.6 per cent in the current fiscal year, which ends on June 30. This is a steep downward revision from the projection of 7.2 per cent made in January this year. For the next fiscal 2021 also, the World Bank has revised growth projections from the earlier 7.3 per cent to just 1 per cent. There is a risk of a significant downside to this given that the full extent of the virus' impact in Bangladesh is not known yet. In the context of how it has ravaged Bangladesh's fledgling economy, the concessions made on trade being offered by China are a pittance.
With China- conditions always apply
As a growing economy, Bangladesh needs foreign investment, especially to fund infrastructure development, to realise its true potential. It is one area where China can offer help but Bangladesh needs to be wary as anything from across the Great Wall comes with many hidden caveats.
In a push to gain rapid political and economic ascendency, China has spent huge capital in the form of concessional loans to developing countries, mostly for large-scale infrastructure projects. These countries– primarily low or middle-income economies like Bangladesh have often found themselves unable to keep up with the repayments giving Beijing the chance to demand concessions or advantages in exchange for debt relief. Bangladesh need not look afar to find such examples.
A parasitic approach
In Sri Lanka, China took control of its Hambantota port with a 99-year lease after Sri Lanka struggled to repay around $ 8 billion that it owed to China. It tried, in 2015, to seek a review of the project but in the face of economic and financing difficulties had to eventually yield. Similarly, in exchange for relief, China constructed its first military base in Djibouti while Angola's economy is further strained due to the multibillion-dollar debt it owes to China which it is repaying with crude oil. Public opinion is fast turning against China in Kenya as well over suspicion of China eyeing some of the strategic seaports in return for the debt it owes.
These examples have highlighted the perils of trusting China. Countries on the receiving end of Chinese cash have started to realise the vicious cycle where the infrastructure for which loans are taken in the first place may ultimately have to be ceded to China. A study done by the Centre for Global Development, a non-profit research organisation, says eight countries are vulnerable to an unmanageable debt situation due to China's Belt and Road Initiative. These countries are Djibouti, Kyrgyzstan, Laos, Maldives, Mongolia, Montenegro, Pakistan and Tajikistan.
China's biases
Not surprisingly, some like Nepal and Pakistan have already started to turn down China's offer for fresh infrastructure loans. While Bangladesh does not figure in the BRI, China's modus operandi will be similar – to lure it with soft loans to eventually make it perpetually indebted to it. With India as its main adversary in the region, it would give China a decisive in road deep into the subcontinent.
Another reason for Bangladesh to be wary of China is the latter's disdain for minorities something that has manifested itself on numerous occasions. The indoctrination camps for Uyghur Muslims run by the communist government have grabbed headlines in international media. For an islamic country like Bangladesh to expect fair treatment from China beyond its own interests, in the long run, is wishful thinking.
India, Bangladesh's friend in need
In contrast, Bangladesh has an all-weather friend in India which has always treated it fairly and responsibly. India's central role in Bangladesh's struggle for Independence, when it went to war against Pakistan in 1971 is well chronicled. Beyond that, both countries have always shared a common faith in democracy with similar value systems, beliefs and culture. As the world's largest secular democracy, India is home to the third-largest population of Muslims around the world after Indonesia and Pakistan.
Economically too, the two countries have robust ties. Bilateral trade has grown from $ 7 billion in 2016-17 to $ 9.4 billion in 2019-20, making India-Bangladesh the biggest trading partners in South Asia.
Under the leadership of Narendra Modi, ties between the two countries in the last few years have only become stronger. In 2015, the two countries resolved their 68-year-old border disputes benefitting around 50,000 people who had been stateless for decades. It marked the beginning of greater bilateral ties. The same year, Bangladesh also approved a revised trade deal with India that allowed both countries to access each other's land and water routes for sending goods to a third country. Similarly, the country has allowed construction of a railway network that will reduce the distance between Kolkata and Agartala to almost a third and bring down travel time by 21 hours.
 In 2017, a defence agreement was signed that will let the two armies conduct joint exercises–a first for India with any of its neighbours. Other steps that have boosted bilateral relations include Bangladesh allowing India to use its seaports in Chittagong and Mongla for transporting goods to and from India's north-eastern states in 2018.
The two countries are also working on finalising a comprehensive economic partnership agreement that will further boost bilateral trade ties. It is another indicator of how India, despite its relatively larger economy and trade surplus, sees Bangladesh as an equal partner. As exemplified by Nepal, Pakistan, Sri Lanka or a host of countries in Africa, this is something it can never expect from Beijing.
For Bangladesh, the choice between a consistent India and an opportunistic China is an obvious one.