India-UK-Bangladesh tied together since genesis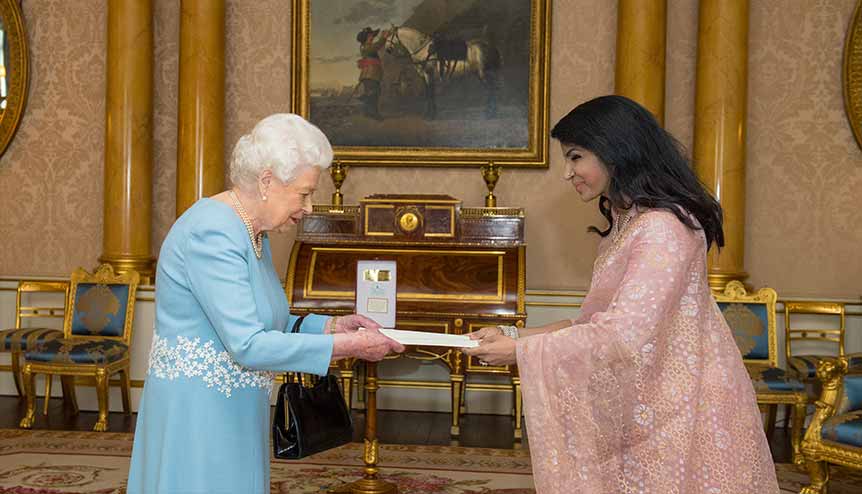 Saida Muna Tasneem, the High Commissioner of Bangladesh to the UK talks to 'India Global Business' about what ties India and the UK together in their developmental mission for the South Asian nation.
Indian Prime Minister Narendra Modi was among the special guests invited for the centenary celebrations for Bangladesh founder Sheikh Mujibur Rahman in Dhaka in March because India had an intrinsic role to play in the country's liberation, according to Bangladesh High Commissioner to the UK Saida Muna Tasneem.
However, that visit along with a host of other international visits were cancelled as the coronavirus pandemic threw worldwide itineraries into disarray. The celebrations on 17 March, which coincide with the 100th birth anniversary of Sheikh Mujib – referred to as Bangabandhu, or Father of the Bengali Nation – were to kick off a year-long series of events in Bangladesh as well as the UK. And as those stalled with the world focussed on dealing with the outbreak, the envoy was keen to highlight the message the events were set to send out.
India-UK coordination
"The roadmap of Bangabandhu's journey is that he first stopped in London after his release from Karachi Jail in 1971, where he was officially recognised as the President of the independent state of Bangladesh and had bilateral meetings at 10 Downing Street. Then he was flown to Delhi, where he held a public gathering with the then Prime Minister Indira Gandhi," said Tasneem.
The diplomat traced the active role played by Indira Gandhi at the time alongside the then UK Prime Minister Edward Heath to seek Sheikh Mujib's release from Pakistan.
"They collectively played a very proactive role in the release of Bangabandhu and to ensure he wasn't harmed in any way. So, at the very genesis of Bangladesh, the relationships were clear and co-related and Bangladesh-India ties remain as strong till date, as do UK-Bangladesh ties," she said.
Diaspora connect
Tasneem explains how the UK marked the first destination for the Bangladeshi diaspora as Bengalis started heading to Britain even during the Raj era, when Bangladesh was still a part of undivided India.
"They had tea plantations in Sylhet and most of them came on cargo ships as they were recruited to work for the British," she recalls.
It was this diaspora which played an active role in the country's self-determination movement and liberation from Pakistan, assisted by the Indian government. "We call them Bengali British diaspora because they really associated themselves with the Bengali nationalism movement," the envoy explains.
Even today, the 800,000-strong diaspora continues to be a very important factor in Bangladesh-UK relations and are well-known for their curry houses up and down Britain.
"Last year, they sent $1.2 billion in remittances back to Bangladesh and this year, it is expected to be even higher. They are extremely patriotic, demonstrated in the fact that almost all of them have a dual passport. This keeps that connect with Bangladesh very strong and they are very actively involved in every sphere of society in Bangladesh," she said.
Post-Brexit reality
Bangladesh is on the path to graduate from its United Nations designated Least Developed Country (LDC) status but still has some way to go until it can qualify as a middle-income country. It has therefore enjoyed a Duty-Free, Quota-Free (DFQF) Generalised Scheme of Preferences (GSP) trading arrangement with the UK. However, with the UK exiting the European Union (EU) in January this year, there is some concern over how that arrangement will play out in the future.
In reference to Bangladesh's central post-Brexit demand, Tasneem explains: "We should be eligible for graduation in 2024, with a grace period of another few years. From our side, what we are seeking from the UK is that 2030 is the SDGs [Sustainable Development Goals] cut-off point, and Bangladesh is performing very well on the SDGs.
"Because we are getting the Duty-Free status, our exports are strong, and manufacturing is strong. We would want the UK to continue the DFQF until 2030, until the SDG cut-off point."
At the same time, the country is keen to negotiate a GSP-plus arrangement in a post-LDC situation.
"And we have been assured that our request will be considered, and the rug will not just be pulled from under our feet. They will give us a transition period to get used to the new tariffs," she said.
Laboratory for development
Bangladesh prides itself with one of the highest GDPs in Asia with its growth rate at 8.13 per cent. While its relationship with the UK was seen through the prism of aid diplomacy between 1970 and 1990, that relationship gradually transformed towards a more developmental partnership.
"The UK found Bangladesh to be an excellent laboratory for development. It's a laboratory where they provide development assistance and it does really well. Performance-wise, Bangladesh was always seen as a top performer in development. The collaboration has got deeper to cover women empowerment, education, climate change," explains the envoy.
As the country shares a similar connect with India, this three-way India-UK-Bangladesh tie-up is expected to play out in the coming years as the country gradually moves towards its graduation out of the LDC label.