Bangladesh opens up new avenues of trade, strategic cooperation in South Asia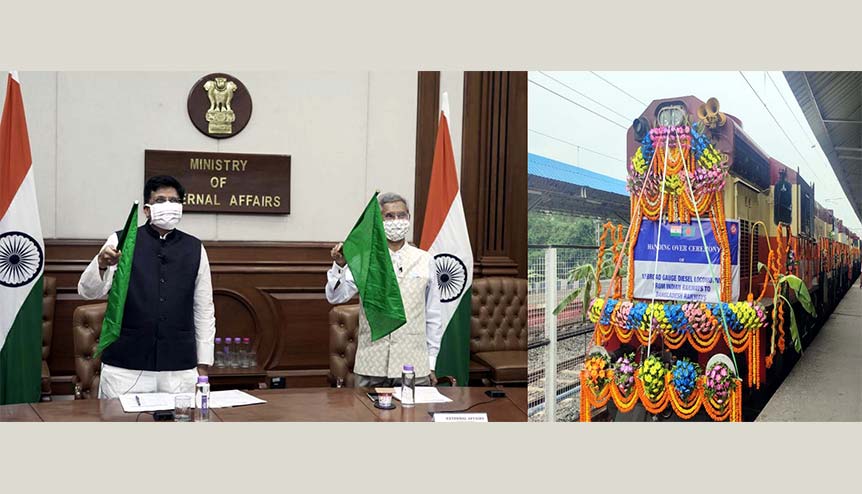 India's $2.4-bn assistance to Bangladesh railways and the initiative to link the NE via rivers and rail links through the neighbouring country are opening new frontiers in cooperation between the two countries.
The first Indian container train carrying FMCG products and other items arrived at Bangladesh's Benapole railway station on Sunday, marking the resumption of rail links between the two countries for the first time since the Indo-Pak war of 1965. Prior to Independence, the North East of the country was connected to the rest of India via a network of rail and waterway links passing through what was then called East Bengal. After Partition, this region became East Pakistan and these links were disrupted though not completely severed till the 1965 war.
Related stories:
China's imperialist eye turns to Bangladesh
A new strategic drama unfolds in the Himalayan theatre
How neighbours can become good friends
Make in India moves a step closer to greener railways
India's Buddhist Circuit: A pillar of the Act East Policy
New routes to prosperity
– from Kolkata to Karimganj in Assam and Agartala in Tripura via Chittagong in Bangladesh – will not only connect this remote region more easily with the mainland, it will also provide a boost to regional economic and logistics cooperation under the Bangladesh-Bhutan-India-Nepal (BBIN) framework that Indian Prime Minister Narendra Modi has pushed for following the intransigence of Pakistan and its non-cooperation on regional issues under the aegis of the South Asian Association of Regional Cooperation (SAARC).
Routes resolve India's Chicken's Neck dilemma
The revival of these links also has a strategic import. It means the narrow "Chicken's Neck" near Siliguri, which is only 22 km wide, the only link between the NE and the rest of India will no longer remain the albatross on the back of India's strategic planners. Indian military planners have been concerned that in case of hostilities, China can cut off access to the area.
River links to facilitate trade
The reopening of the overland route over Bangladesh and the reopening of the river links between West Bengal and the NE via Bangladesh will not only provide strategic relief to India, it will also boost trade and people-to-people links between the two countries.
In keeping with this spirit of cooperation and in line with Indian Prime Minister Narendra Modi's "neighbourhood first" mantra, India handed over 10 railway locomotives to Bangladesh on Monday.
Keeping an eye on the dragon
The railway and waterway links with Bangladesh and the handing over the locomotives will help India counter Chinese attempts at making diplomatic inroads in Dhaka as part of its string of pearls strategy to encircle India and keep it enmeshed within South Asia.
In addition to these initiatives, there is also an initiative to connect Agartala, the capital of Tripura by road to Bangladeshi ocean ports such as Chittagong and Mongla. Not only will this open up India's landlocked North East to international trade and give a fillip to Prime Minister Modi's Act East foreign policy paradigm but also give Bangladesh easy and cheap access to fly ash, a key ingredient in the manufacture of cement to help its own frenetic pace of construction.
More than half of $2.4-bn deals operationalised
India and Bangladesh have signed an agreement on 17 railway projects costing about $2.4 billion. As part of its regional outreach programme and also to counter China's offers of assistance, the Modi government has offered this amount at a concessional interest rate of 1 per cent per annum. The money is repayable over 20 years with a moratorium on payments for the first five years.
Of these projects, more than half – nine – have been completed. A 12 km link between Agartala in India (Tripura) and Akhaura in Bangladesh is expected to be ready by March next year. This will facilitate both freight and passenger connectivity between the Indian mainland and the North East. Among other projects, the $78-million link between Kulaura and Shahbazpur will be ready by the end of this calendar year and the $389-million Khulna-Mongla line is expected to be completed by June next year.