Indian bid for US Navy's jet trainer deal a shot in the arm for Make in India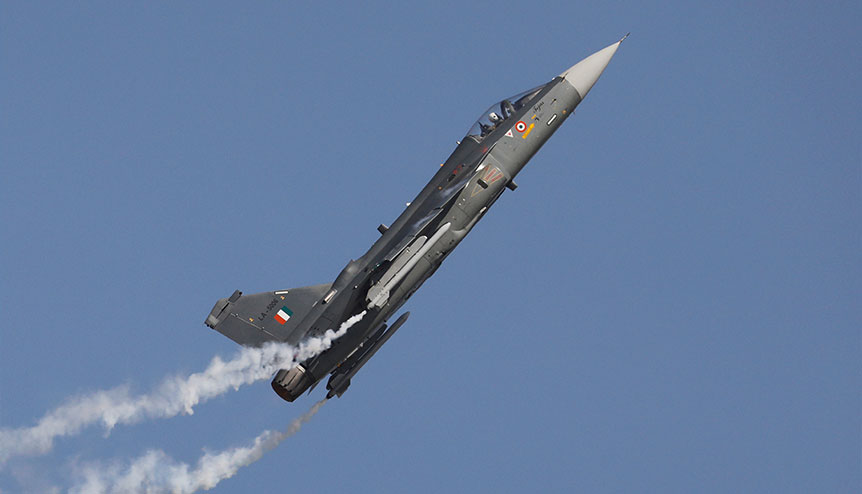 HAL has pitched the Tejas Mark 1A to the US Navy, which is looking for a replacement for its existing trainer planes. Even if it doesn't win the contract, being shortlisted for the next stage will provide a huge leg up for India's ambitions of becoming a major defence exporter.
In a major reversal of traditional roles, India has, for the first time, made a sales pitch for a large defence US contract. A report in The Economic Times, a leading financial daily, said New Delhi has offered the Lead in Fighter Trainer (LIFT) version of its light combat aircraft (LCA) Tejas to the US Navy, which has launched a global search for Undergraduate Jet Training System (UJTS) to replace its ageing Boeing T-45 Goshawk fleet.
The US looking for a non-developmental, land-based jet trainer suitable for field carrier landing practice and nuclear aircraft carrier touch-and-go landings.
Have you read?
Defence becomes the new building block for UK-India ties
FDI in defence set to make a big bang
Negative list of imports to provide a leg up for Made in India defence platforms
LCA mark 1A could be sporting US colours in future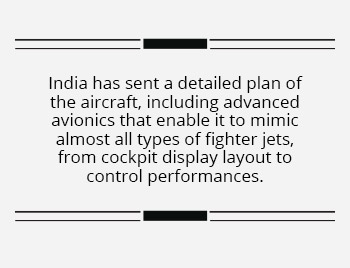 The offered aircraft is based on the LCA MK1A, developed by the public sector Hindustan Aeronautics Ltd (HAL) that is on order by the Indian Air Force.
"India has sent in a detailed project plan of the aircraft, including advanced avionics that enable the LIFT LCA to mimic almost all types of fighter jets, from cockpit display layout to control performances," the newspaper reported.
Indian officials believe the offered plan meets all the requirements specified in the US Navy's Request for Information (RFI). The offer is being evaluated by the US Navy. If the latter shortlists the Indian aircraft, HAL will produce a demonstrator version.
Stiff competition from large defence multinationals
It will, however, face stiff competition from entrenched global players such as Boeing, SAAB, Lockheed Martin and Leonardo, each of which is vying for this prestigious and lucrative contract. The aircraft should be available by 2028 or sooner, the US Navy has specified.
HAL is confident that the LCA Mark 1 has a good chance of success in getting shortlisted as there is no other aircraft of this type currently in existence.
Do you know the overall cost to procure and their support package for 83 Tejas Mark 1A for #IAF will be Rs 39000 crore ?

Pic courtesy: Deb Rana pic.twitter.com/fnPGk2Zo4x

— Indian Defence (@IndianDefenceRA) March 26, 2020
Massive boost for India's defence export ambitions
Whether or not the Tejas ultimately flies in US colours or not will be known in the years ahead. But even being shortlisted for the next step – known as Request for Proposal – will be a huge shot in the arm for India's fledgling defence sector and its ambitions of emerging as a defence equipment exporter.
Demonstration effect can lift image of Indian defence equipment
The demonstration effect of the world's most powerful navy shortlisting and testing the capabilities of the Tejas alongside rival offerings from the world's biggest defence contractors, can become a big selling point for HAL, which is pitching the LCA as well as other aircraft such as the Light Combat Helicopter, attack helicopter Rudra and advanced light helicopter Dhruv to countries in South East Asia, West Asia and elsewhere.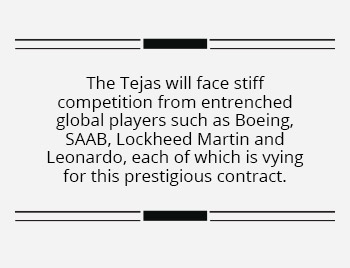 The Tejas has already been shortlisted by the Malaysian Air Force and countries such as the United Arab Emirates and a few others have reportedly made enquiries about it.
India is currently the world's second-largest arms importer, after Saudi Arabia. This is clearly not in sync with the country's ambitions of emerging as a major power, first in the Indo-Pacific region and then across the world.
Not having its own armaments development and manufacturing capacity is a major strategic drawback that the Modi government is determined to overcome.
I would like to congratulate Dynamatic and HAL LCA team who've made this joint partnership greatly successful. I think this is the model for PSU Private Industry partnership in Defence Aerospace sector and we hope that this example will hold good stead for others @drajaykumar_ias pic.twitter.com/4q3sMa0bAq

— 😷 ᴜᴅᴀʏᴀɴᴛ ᴛᴏʙʏ ᴍᴀʟʜᴏᴜᴛʀᴀ 🇮🇳 (@UTobyM) November 2, 2020
Modi sets $5-billion target for defence exports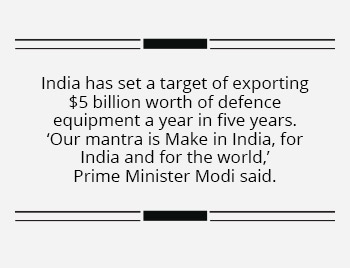 It is with this in mind that India has set a target of exporting $5 billion worth of defence equipment a year in five years. Addressing the Defence Expo held in India earlier this year, Prime Minister Narendra Modi set the target, saying: "Our mantra is Make in India, for India and for the world. In 2014 (when he was first elected Prime Minister), the export of defence equipment from India was about Rs 2,000 crore ($310 million at the then prevailing exchange rate). In the last two years, it has gone up to Rs 17,000 crore ($2.25 billion). In the next five years our target is export of $5 billion…"
India exports mostly to countries such as Myanmar, Nepal, Sri Lanka and Mauritius.
HAL and Indian defence manufacturers are, thus, keeping their fingers crossed as a shortlisting for the RFP stage could be the first step towards India developing an indigenous and viable defence-industrial complex in the country.