The Modi govt is walking the talk of loosening control over PSUs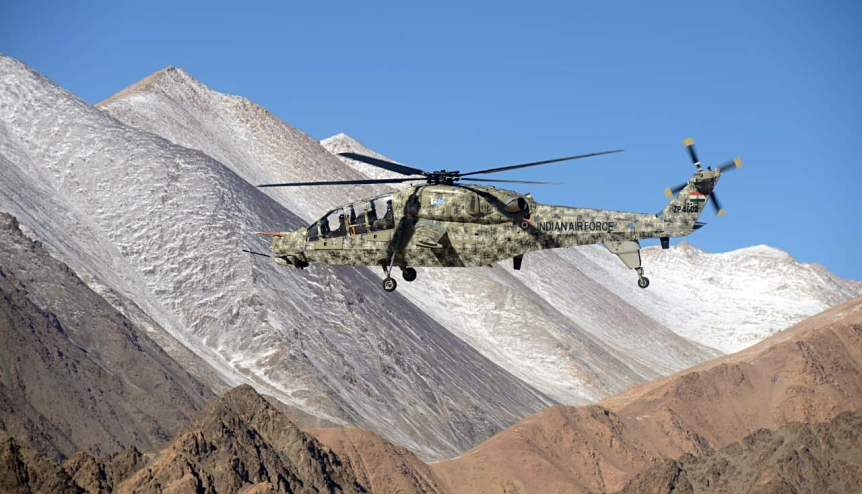 By bringing the public shareholding in Hindustan Aeronautics Ltd (HAL) to a tad over 25 per cent, the Indian government is facilitating greater public scrutiny of defence public sector undertakings. This is expected to improve efficiency and help India more than double defence exports by 2025.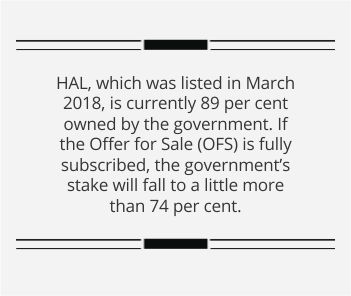 The Indian government has announced that Hindustan Aeronautics Ltd (HAL), India's only aircraft maker, which makes and maintains India's entire military aircraft fleet, will issue 15 per cent of its shares to the public to raise an estimated $667 million.
This is in keeping with the Modi government's promise to slowly get out of business and allow private investors to own shares in defence PSUs. It also indicates that the government is walking the talk on loosening its vice-like control over the defence manufacturing sector.
Read more:
Negative list of imports to provide a leg up for Made in India defence platforms
Private sector should push for level playing field in domestic defence production
India draws up an exhaustive defence shopping list
Reforms to uncork 'Make in India' defence contracts worth billions
AI to take cyber defence to the next level
India emerges as world's big defence spender
Attended the 'Atmanirbhar Bharat-Defence Industry Outreach' Webinar today. Under the leadership of Prime Minister Shri @narendramodi our dependency on imports of defence equipment and weapons is now reducing considerably. #AtmaNirbharBharat pic.twitter.com/19brzpy8Hb

— Rajnath Singh (@rajnathsingh) August 27, 2020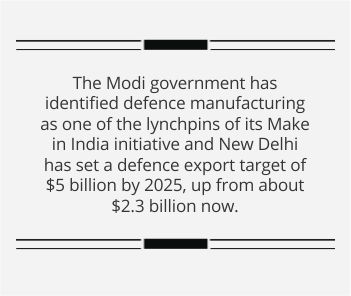 Greater accountability
HAL, which was listed in March 2018, is currently 89 per cent owned by the government. If the Offer for Sale (OFS) is fully subscribed, the government's stake will fall to a little more than 74 per cent. The authorities have set aside 20 per cent of the issue for retail investors.
With a larger public holding in the company will come greater accountability and this is increased public scrutiny is expected to improve the workings of a company that has, traditionally, not been answerable to anyone outside the govenrment.
Improved efficiency
In the decades to come, this could rank as one of the biggest measures to open up and improve the efficiency of India's defence manufacturing sector. It will also expedite and facilitate Indian Prime Minister Narendra Modi's vision of emerging as a reliable weapons supplier to friendly nations.
Addressing a recent webinar on Atmanirbhar Bharat – Defence Industry Outreach organised by the Federation of Indian Chambers of Commerce and Industry (FICCI), a leading Indian industry body, the Prime Minister outlined his dream of India consolidating its position as a net security provider in the region.
"When we gained independence, we had a robust defence industry. But unfortunately for decades this sector was not given the attention it needed," he said.
More to read:
A new high for UK-India defence ties
Boosting India-UK defence and military ties: New thinking and emerging opportunities
India-US defence and trade ties a concert of democracies
Coming India-US 2+2 dialogue an opportunity to close gap on trade, defence
Lockheed Martin proposes defence partnership with India
India's Big Defence Juggle: Great progress, more to be done
Talks on for exports of fighter jets, attack helicopters
HAL, which is producing the indigenous Tejas Light Combat Aircraft (LCA), that is expected to become one of the mainstays of the Indian Air Force (IAF), which has ordered 40 of these planes. Another order for 83 more advanced fighters, dubbed Tejas Mark 1A are expected to be placed by the end of the year.
The company is also eyeing the export market for the fighter, which has been shortlisted by the Malaysian Air Force. Then, in March this year, the company's Chairman and Managing Director R. Madhavan said HAL is planning to set up logistics bases in Malaysia, Vietnam, Indonesia and Sri Lanka as part of an initiative to push the exports of this plane to these countries.
HAL, which also makes the Light Combat Helicopter (LCH), a multi-role attack helicopter that is the lightest in the world. The flight ceiling of this chopper, which is the highest among all attack helicopters in the world, has been ordered by the Indian Army as well as the IAF. India is also holding talks with a few unnamed African countries to export these choppers.
Ambitious defence export target
The Modi government has identified defence manufacturing as one of the lynchpins of its Make in India initiative and New Delhi has set a defence export target of $5 billion by 2025, up from about $2.3 billion now.
The increase in public scrutiny of the workings of HAL is expected to lead to help India attain that target.