FDI in defence set to make a big bang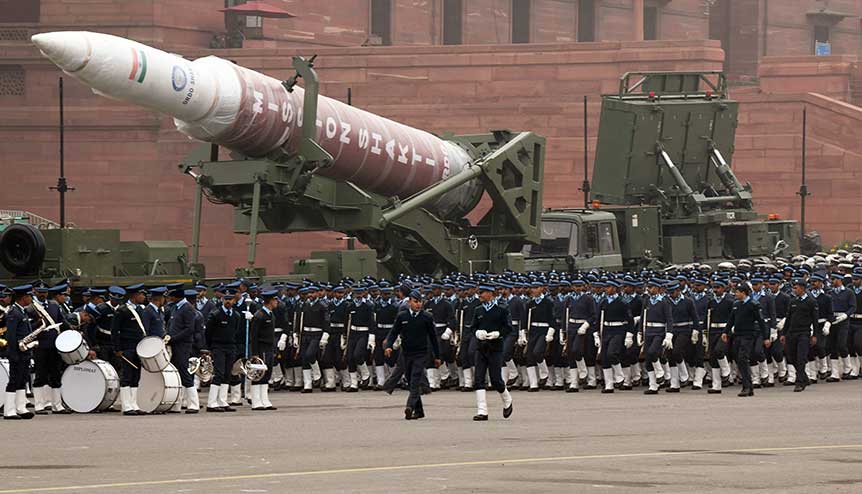 Indian government amends policy in the defence sector by increasing the foreign direct investment (FDI) from 49 to 74 percent under automatic route and beyond 74 percent through the government route.
With one swift move signalling his desire towards promoting proactivity to showcase his intentions of changing India's business environment for the better, Prime Minister Narendra Modi is set to change the landscape of the defence sector by directing the central government to increase the foreign direct investment (FDI) limit from 49 to 74 per cent under automatic route and beyond 74 per cent through the government route.
Welcome PM @NarendraModi ji's decision to amend FDI policy in Defence Sector.

Now, FDI is allowed upto 74% through automatic route & beyond 74% to be permitted through Govt route

This will enhance Ease of Doing Business & contribute to growth of investment, income & employment. pic.twitter.com/Ltstqi6Fbg

— Piyush Goyal (@PiyushGoyal) September 18, 2020
The ease of doing business
Modi's leadership is fashioned towards the ease of doing business and will directly contribute to growth of investment, income and employment. According to an order issued by the Ministry of Commerce and Industry, the FDI limited through government route has been increased to beyond 74 per cent. Minister of Commerce and Industry, Piyush Goyal tweeted out his satisfaction on Friday saying, "Foreign investments in defence sector shall be subject to scrutiny on grounds of National Security. In line with our collective vision of Aatmanirbhar Bharat, amendments will enhance self-reliance in defence production, while keeping national interests & security paramount."
Read more:
Private sector should push for level playing field in domestic defence production
Defence becomes the new building block for UK-India ties
Negative list of imports to provide a leg up for Made in India defence platforms
Private space sector gets ready to fly India to the moon and beyond
Private sector, start-ups can revolutionise India's atomic energy sector
India has for the first time emerged among the top three nations in the world in terms of military expenditure ($71.1 billion). though the US spends more than 10 times and China almost four times its defence budget.

The government, in its order, said that FDI up to 74 per cent under automatic route would be permitted for companies seeking new industrial licences. The order stated that, "Infusion of fresh foreign investment up to 49 per cent, in a company not seeking an industrial license or which already has Government approval for FDI in Defence, shall require mandatory submission of a declaration with the Ministry of Defence in case change in equity/shareholding pattern or transfer of stake by existing investor to new foreign investor for FDI up to 49%, within 30 days of such change. Proposals for raising FDI beyond 49% from such companies will require government approval."
Defence an area of convergence between nations
The defence sector is becoming one of the biggest areas of convergence between India and its strategic partners. India has been patronizing the US, Russia, France, Israel and the UK among others to satisfy its defence requirements. Despite the fact that the last Indian defence minister (George Fernandes) visited the UK on an official assignment in 2002, the ties between the two countries have been solid with a number of joint exercises and cooperation in similar fields making a statement of intent.
More to read:
Reforms to uncork 'Make in India' defence contracts worth billions
Nirmala Sitharaman announces paradigm-changing reforms in a wide range of sectors
AI to take cyber defence to the next level
A new high for UK-India defence ties
India-US defence and trade ties a concert of democracies
The UK will have to reshape its policies in a post-Brexit and post-Covid scenario and the same applies to India who are pushing for self-reliance under the Atma Nirbhar Bharat umbrella. There would be many flash points of convergence between the two countries and with national security becoming paramount in an unstable world order defence is one sector which will offer alignment for like-minded nations. The sector itself has evolved manifold from weapons systems, to information technology (IT), cyber and artificial intelligence (AI).
Getting ready for business
As India gets ready for business there will be a lot of attention on New Delhi's equation with Washington. With the US presidential elections just weeks away the significance of defence ties in the broader arc of the India-US partnership highlights itself. To this end, India enjoys bipartisan support in Washington's power centres and it must drive home the advantage to cement its connections with the US in a way where the benefits are visible at home.
Thus far the government's attempts to woo FDI into the defence sector has been modest. The unwillingness of foreign companies to share high-end knowhow with entities over whom they have no majority control has been cited as a potential deterrent. Reputation in this industry counts for a lot – price and performance guarantees being important – and this is also an area which they shy away from unless they have the authority, in terms of end-to-end control, to address such issues.
Exports see growth
That being said India's defence exports saw a staggering growth of 700% in the last three years. According to General Bipin Rawat, Chief of Defence Staff (CDS), "India reached an all-time high ranking of 19th in the list of defence exporters in 2019."
Still more to read:
India-France defence partnership takes flight
Indian aerospace and defence can be at ease in Quebec
India emerges as world's big defence spender
In defence of a strategic Make in India policy
India's Big Defence Juggle: Great progress, more to be done
Additionally, in a landmark achievement and to showcase that it is working towards a state of self-sufficiency through self-reliance, India's Defence Research and Development Organisation (DRDO) successfully flight tested the Hypersonic Technology Demonstrator Vehicle (HSTDV) from the Dr APJ Abdul Kalam Launch Complex at Wheeler Island, off the coast of Odisha, becoming only the fourth country after the United States, Russia and China to become an elite member of the hypersonic regime. Experts have stated that India must develop competencies to be able to oppose threats from its immediate neighbourhood – and that's why the development of HCMs is critical.
Walking the talk
With the government's decision to relax the FDI processes through rapid reforms foreign vendors of big ticket, high-end technology strategic projects will enter into more lasting business arrangements that have a win-win for all stakeholders involved.
The Indian government is clearly walking the talk. Earlier it had taken a decision to bar a list of 101 weapons systems from import between December this year and 2025 thereby automatically opening up a $53 billion market for foreign OEMs to tie up with Indian companies as well as local supply chain partners to make these items in India. Prime Minister Modi's decision now opens up an opportunity to manufacture these items using local design and R&D capabilities, or adopting technology from abroad.