Negative list of imports to provide a leg up for Made in India defence platforms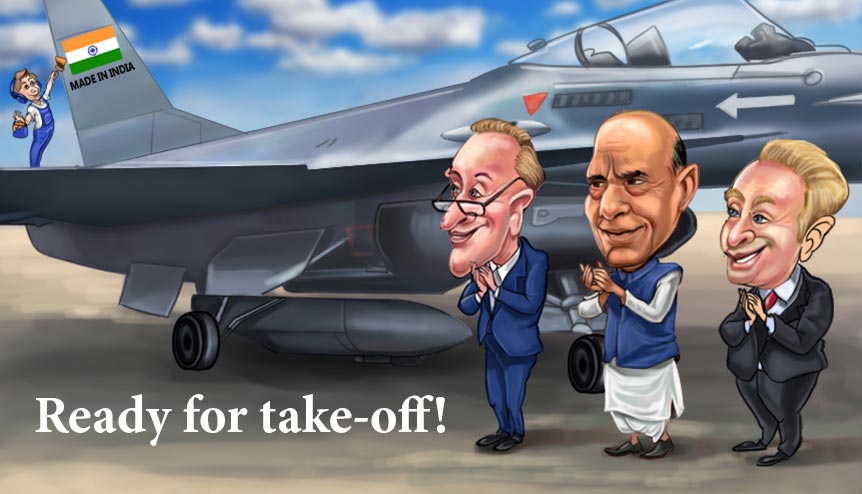 With a list of 101 weapons systems to be barred from import between December this year and 2025 the government has opened up a $53-billion market for foreign OEMs to tie up with Indian companies as well as local supply chain partners to make these items in India.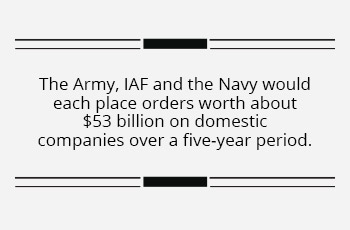 India has recently announced that it will procure 101 items used by its armed forces – the Army, the Navy, the Air Force and the Coast Guard – only from domestic manufacturers either in the private sector or in the public sector.
Indian Defence Minister Rajnath Singh recently announced a negative list of these 101 items whose imports will progressively be banned from between this year and 2025. These include an array of weapon systems and defence platforms including artillery guns, helicopters, assault rifles, corvettes, sonar systems, transport aircraft, ammunition, radars, conventional diesel-electric submarines, communication satellites and shipborne cruise missiles, among others.
Have you read? Private sector should push for level playing field in domestic defence production
India draws up an exhaustive defence shopping list
Reforms to uncork 'Make in India' defence contracts worth billions
Big push towards self-reliant India
India has held on to the dubious distinction of being among the world's three largest importers of defence equipment  despite being the world's fifth largest economy and the country having the third-largest defence budget after the US and China in 2019, according to the Stockholm International Peace Research Institute (SIPRI), which tracks the global defence trade and as well as spending by individual countries.
The other countries making this list from 2014-2019, according to the 'Trends in International Arms Transfers' report, are Saudi Arabia, India, Egypt, Australia and China, with India in second position after Saudi Arabia.
The main sources of Indian weapons were Russia, the US, France and Israel. But it also acquired some weapon systems from Denmark, Brazil, Germany, South Korea and the United Kingdom. India spent $16.75 billion on defence imports during this period.
Opportunity for private sector, foreign OEMs, defence PSUs
Calling the negative list of imports "a great opportunity to manufacture these items by using our own design and development capabilities or adopting technologies" from abroad, Rajnath Singh expressed confidence that the government's Defence Research and Development Organisation (DRDO), the defence public sector undertakings, the Ordnance Factory Board (OFB) and the private sector will be able "to meet the requirements of the Armed Forces".
The outline of this plan was first announced by Indian Finance Minister Nirmala Sitharaman in May when she unveiled the government's $260-billion stimulus-cum-reforms.
The signing of these MoUs & contracts will give impetus to Self-reliance in the technologies related to Defence Manufacturing. Self reliance in Defence manufacturing has not been envisioned only as domestic requirement but also with the perspective to build export capabilities.

— Rajnath Singh (@rajnathsingh) August 14, 2020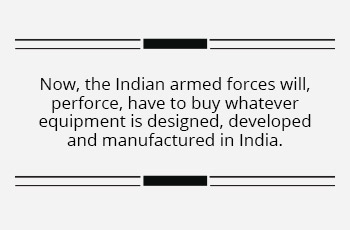 In addition to announcing that the Defence Ministry would soon come out with a negative list of imports, she had, in a massive push to the Make in India campaign, said the FDI limit in defence units was being increased from 49 per cent to 74 per cent.
But some analysts have pointed out that previous attempts at trying to build a viable defence-industrial base in India have been unsuccessful. They refer to the negligible amount of foreign direct investment (FDI) that has flowed into India's defence manufacturing sector over the last decade.
Why this policy is different from previous ones
Speaking to India Global Business in an exclusive interview, Nitin Gokhale, noted strategic affair expert and Editor-in-Chief of StratGlobal News, one of India's leading online portals on strategic affairs and foreign policy said, "This is a continuation of defence reforms unleashed in 2016-17 when Manohar Parrikar was the Defence Minister. The authorities created a new category called Indigenously Designed, Developed and Manufactured (IDDM) defence platforms. The next year, they announced the Strategic Partnership Model, where major defence platforms like helicopters, submarines, artillery guns, etc., would be manufactured in India by a joint venture between an original equipment manufacturer from a foreign country and an Indian company, whether in the public or private sector,"
Following the announcement of the negative list, the Indian armed forces will, perforce, have to buy whatever equipment is designed, developed and manufactured in India by these JVs," he added.
Foreign arms makers want management control
Gokhale added that this attempt at encouraging companies to Make in India is, however, different from the past because 49 per cent was not enough for foreign companies to set up units in India because they needed to have control over management and decision making. Giving them 74 per cent is a big step as it gives full management control to OEMs.
"This will give a leg up to Indian defence equipment manufacturers and also keep the money within India. So, you don't have to spend precious foreign exchange and it will also generate jobs. All in all, this is a very important reform in the roadmap towards defence self-sufficiency," Gokhale said.
Separate budget for Made in India defence platforms
There's another reason why the new defence procurement policy is expected to lead to the building of a vibrant defence-industrial base in India: The government had made provisions for a separate procurement budget for sourcing defence platforms from Indian companies or India-based joint ventures.
"This means the leading defence manufacturers across the world will also eye this pie. This is a separate budget. This is different from when there was no separate budget for Made in India platforms," he added.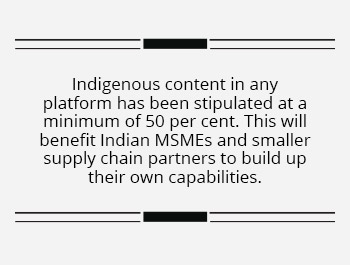 Further, the government has clarified that platforms similar to the ones on the negative list cannot be imported any longer. Imports are barred for the entire category. Thus, platforms will have to be made in India and the money will stay in India.
And finally, the indigenous content in any platform has been stipulated at a minimum of 50 per cent. This will benefit Indian micro, medium and small enterprises (MSMEs) and smaller supply chain partners to build up their own capabilities, Gokhale said.
All stakeholders on board
The government has taken care to bring all the stakeholders on board. The policy was finalised after detailed discussions with the top brass of the three services to ensure that it didn't face any resistance from the actual users of the equipment. In the past, the Army and the Air Force, in particular, have complained about technical problems encountered by domestically produced defence equipment.
For example, the Army has repeatedly rejected the replacement for the glitch prone Insas rifle designed by DRDO and the Air Force accepted the Tejas Light Combat Aircraft only after stiff resistance lasting many years. Objections from the Army has also delayed the induction of the Arjun Main Battle Tank that many experts claim is at par with or even better than the imported T-72 and T-90 MBTs that are the mainstay of the Indian Army.
A $53-billion market
Rajnath Singh stated that the Army, the Air Force and the Navy would each place orders worth about $17.5 billion, $17.5 billion and $18 billion on domestic companies over a five-year period as a result of this new policy. That's a total of $53 billion. This will open up a massive new market for foreign OEMs that set up shop in India, their Indian joint venture partners, MSMEs that become channel partners to the big boys as well as defence PSUs.