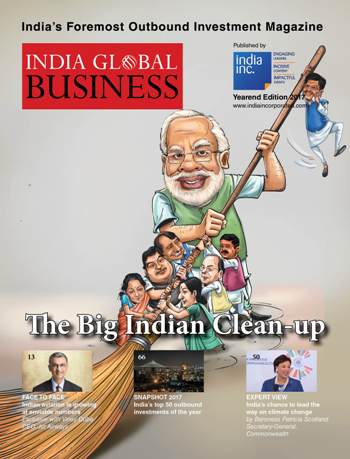 December 2017
India Inc. Staff
Indian companies, including big corporates and small and medium enterprises (SMEs), executed some ambitious expansion plans across various markets this [...]
The edition to mark the end of 2017 delves into the big clean-up undertaken by the Indian government and some of the early signs of how that is likely to unfold in the New Year. A special Rewind 2017 segment takes a look-back at some of the year's major 'India Global Business' coverage, besides a range of exclusive columns and analyses to kick-start 2018.
India Inc. Staff
India Inc. yoga expert runs through how to re-align the mind and body for the New Year with a range of poses, meditation and breathing techniques. January 1 serves as a benchmark to reflect and take stock of where we [...]
India Inc. Staff
Digital India has led to a change of mindset geared towards innovation and technology. India feels like a changed country this year. Travelling around and meeting people around Mumbai as we approach the end of 2017, I see many signs [...]
India Inc. Staff
Indian companies, including big corporates and small and medium enterprises (SMEs), executed some ambitious expansion plans across various markets this year. 'India Global Business' reviews some of the progress in its annual deal tracker. Aurobindo Pharma buys Portugal firm Hyderabad-headquartered [...]
India Inc. Staff
The BJP's recent state election wins should encourage the government as it proves that good economics is being rewarded by voters. After a month-long, fractious and often ill-tempered campaign during which some pundits forecast doom for the BJP, the ruling [...]
India Inc. Staff
The year 2017 will come to be remembered in India as the year of the big clean-up of past choke points for the economy, writes India Inc. Founder & CEO Manoj Ladwa. Indian Law Minister Ravi Shankar Prasad told Parliament recently [...]
India Inc. Staff
A series of green bond listings on the London Stock Exchange to raise funds for Indian infrastructure projects dominated the bilateral relationship in recent months. India, UK to ink pact in urban transport sector India and the UK will sign [...]
India Inc. Staff
The civil aviation sector was at the heart of the bond between India and the European Union (EU) in recent weeks. India clears aviation MoU with Poland The Union Cabinet of India, chaired by the Prime Minister Narendra Modi, has [...]
India Inc. Staff
From Bangladesh and Africa to Israel and China, the footprint of India spread far and wide in recent months. Gloster plans foray into Bangladesh Diversified jute manufacturer and exporter Gloster Limited is planning to set up a unit in Bangladesh. [...]
India Inc. Staff
Indian Prime Minister Narendra Modi made a series of strategic visits during the year, including State Visits across Europe, the US and Israel. This snapshot of his official tours around the world captures the diplomatic strides made by India in [...]
India Inc. Staff
As 2017 draws to a close, we look at a number of steps taken by the Narendra Modi government to clean up processes and lay out a roadmap for faster growth. It is never a wise thing to look back [...]
India Inc. Staff
The chief of Europe's leading industry body presents his view on how relations between India and the European Union will pan out in 2018 and the prospects of a long-pending free trade agreement (FTA). This year marks the 55th anniversary [...]
India Inc. Staff
Sumit Jamuar is the Co-Founder, Chairman and CEO of Global Gene Corp, a worldwide developer of genetic testing technology. As someone who set about fixing the lack of Indian genomics data in the world, the UK-based entrepreneur shares his insights [...]
India Inc. Staff
Vinay Dube is the Chief Executive Officer (CEO) of Jet Airways, India's leading private full-service international airlines. The aviation industry veteran took time out for 'India Global Business' during a recent London visit to explain what made Jet launch its [...]
India Inc. Staff
The UK's first-ever 'Race Disparity Audit' commissioned by PM Theresa May threw up some interesting facts about the Indian diaspora this year. When Prime Minister Theresa May assumed office in July 2016, she expressed her personal passion and commitment for [...]
India Inc. Staff
2017 will be remembered as the year in which India and the US came closer on a number of issues, yet it will also mark the year when the Trump administration frittered away some goodwill by blocking India's attempt at [...]
India Inc. Staff
The Secretary-General of the Commonwealth believes India has emerged as a natural champion to demonstrate innovation in action for the organisation. Nothing quite prepares you for the havoc caused when the power of nature strikes with destructive force. My recent [...]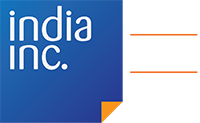 Sign-up to receive
FREE newsletters and regular
updates from India Inc.