Five-pronged approach to furthering India-UK ties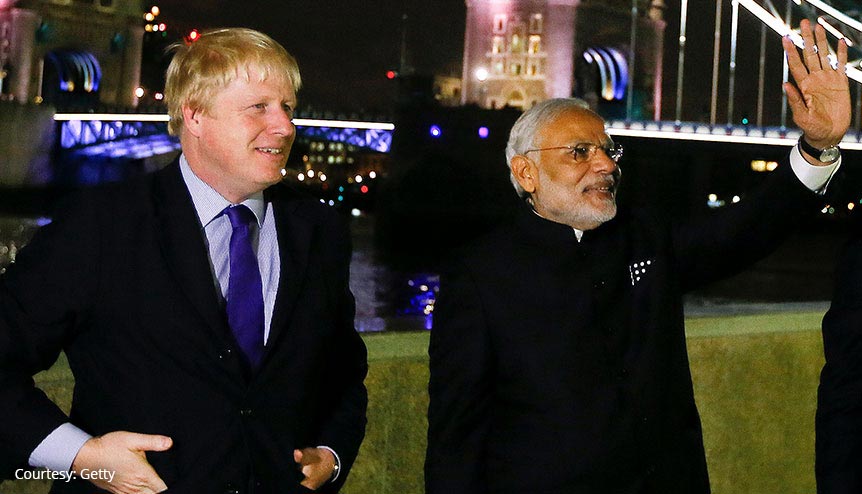 As the buzz around the first major political visit from the UK to India builds up for the New Year, Invest India fleshes out the emerging contours of opportunity to bring the two vibrant ecosystems even closer together.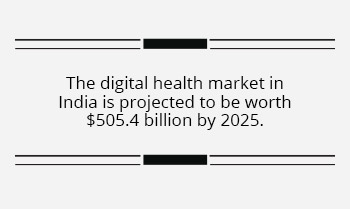 Invest India, the country's investment promotion and facilitation agency which this week bagged the coveted 2020 United Nations Investment Promotion Award for its work in the area, has zeroed in on five emerging areas that present the UK and India with opportunities for future trade and investment synergies.
In its report entitled, 'Advancing the UK-India Partnership: Business Perspectives', it notes that the government of Prime Minister Narendra Modi has eased many foreign direct investment (FDI) regulations for key sectors to make India a favoured destination for investors and drive the country's manufacturing capabilities. Both India and the UK are already among the largest investors in each other's countries, contributing actively to the economy and providing jobs to thousands. However, with talk of UK Prime Minister Boris Johnson and Foreign Secretary Dominic Raab planning visits to India in the coming weeks and months, the momentum is certainly behind propelling the relationship to the next level.
Have you read?
UK, India headed in the right direction with green finance, fintech
UK, India keep up the momentum behind Early Harvest trade deals
UK firms remain bullish on India through pandemic-hit months
India and the UK are reaping the benefits of a 'healthy' partnership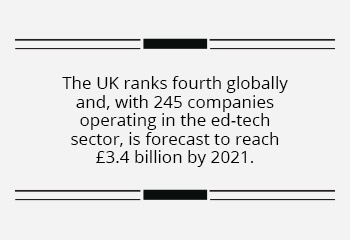 According to Invest India data, India is home to a vibrant young workforce of nearly 800 million (and projected to reach 1.14 billion by 2025). It also has 687 million internet users (735 million projected by 2021) and is the second-largest smartphone market in the world. With the availability of cheap data, the internet has become, in many ways, the driver of India's growth. As the events of 2020 have shown, the reliance on the internet have furthered emerging sectors such as artificial intelligence (AI), digital health, ed-tech, gaming and sustainable waste management and have created optimal opportunities for foreign investors.
Artificial Intelligence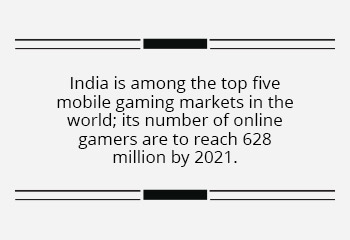 AI has the potential to add $957 billion, or 15 per cent of India's current gross value, to its projected gross value added (GVA) by 2035. India already has the third-highest penetration of AI in the workforce and also has the third-highest early AI adopting companies at 19 per cent. On the other hand, AI could add $814 billion to the British economy by 2035, increasing the annual growth rate of GVA from 2.5 to 3.9 per cent.
According to Invest India, the UK and India are working together on AI to deliver better healthcare, develop fintech to assist financial inclusion and payments solutions, and on cybersecurity to protect important personal and public assets from virtual threats.
"Both the UK and India realise the opportunity it offers and that continuing this revolution will underpin future growth and boost job creation in both economies," it notes.
Digital Health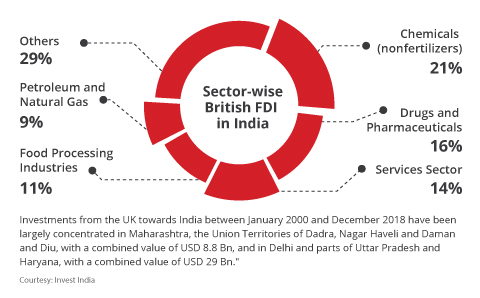 The digital health market in India is projected to be worth $505.4 billion by 2025. Future Health Index (FHI) found that 76 per cent of healthcare professionals in the country are already using Digital Health Records (DHRs) in their practice and that 87 per cent of Indians with access to their digital health record say they want their healthcare professionals to have access as well.
India aims to attain Universal Health Coverage (UHC) by 2030. Ayushman Bharat Mission with its two components – Pradhan Mantri Jan Arogya Yojana (PMJAY) and Health and Wellness Centres (HWCs) – aims to enable UHC.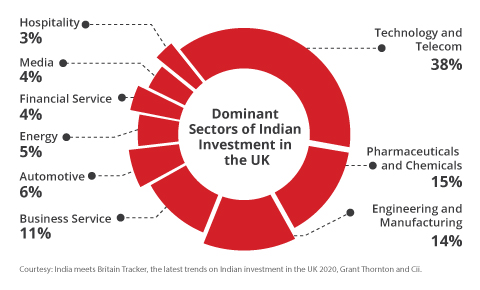 The UK, and its National Health Service (NHS) specifically, has experience in mobile health apps, and has been at the forefront of the revolution in the segment. Its market size, at over £3 billion, accounts for 7 per cent of the global market. British companies can drive investments in doctor-discovery portals, electronic health records patient data management, tele-medicine, advanced analytics for aided diagnosis, and significantly boost India's digital health standing.
"There are vast opportunities for British investors to explore in the sector and to benefit from the scope for growth," the report notes.
Ed-Tech
Education technology or ed-tech has huge potential around the world to democratise access to education and both Indian and UK companies are well-placed to provide services in this segment. Ed-tech has grown exponentially in India over the last few months. It has become the second largest market for e-learning and has the second highest number of ed-tech companies in the world (327 companies). The UK ranks fourth globally and, with 245 companies operating in the ed-tech sector, is forecast to reach £3.4 billion by 2021.
According to the report's findings, ed-tech companies in both the UK and India are in early-stage development and, therefore, tend to attract a wide range of investors.
There is also potential for growth and collaboration between the countries through the existing synergies like UK-India Education and Research Initiative (UKIERI), it points out.
Gaming
The gaming industry has witnessed a paradigm shift with the evolution of television, digital and online gaming models. India is among the top five mobile gaming markets in the world; its number of online gamers are to reach 628 million by 2021.
According to the All India Gaming Federation, online gaming grew 12 per cent during the lockdown period, with a remarkable growth in online card games and digital sports. Due to Covid-19, firms are eyeing sponsorship deals in the gaming industry because of the absence of live sports.
The British video games industry is also important economically and culturally. The video games sector in the UK is the largest in Europe, employing over 15,000 full-time game developers, and indirectly supporting 26,241 jobs.
"A combination of online gaming and ed-tech also presents underexplored areas of development and can be an exciting space for entities from both countries to explore," the report states.
Read more:
Climate change partnership at heart of UK-India ties
Why investing in waste management in India is not a waste of time
India's mega water management challenge
Waste management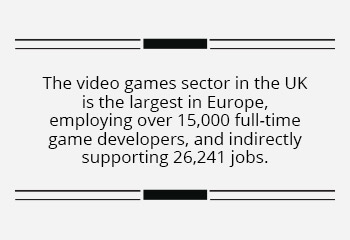 Recycling, composting and waste-to-energy go hand in hand with the UK's goals for sustainable waste management and the move towards a range of alternative waste disposal options that include recycling, composting, anaerobic digestion and the use of thermal treatment facilities to recover energy from waste.
Under current conditions, India can benefit significantly from UK's technological and administrative advancement in waste management, while the UK can benefit from the India's research market. In 2016, the seeds of collaboration were sown when Dr Richard Allan, the head of the Centre of Expertise for Waters at the James Hutton Institute, identified potential opportunities for joint UK-India collaborative activities in handling wastewater management in Indian cities.
The Newton-Bhabha Fund, a partnership between the governments of India and the UK, bring together scientific research and innovation from the two countries to find joint solutions to global challenges.
As the Acting British High Commissioner to India summarises in her foreword to the report: "The UK-India partnership is and will remain, a force for good globally. We are stronger and more prosperous together."