Self-Reliant India paves its way to the $5-trn GDP dream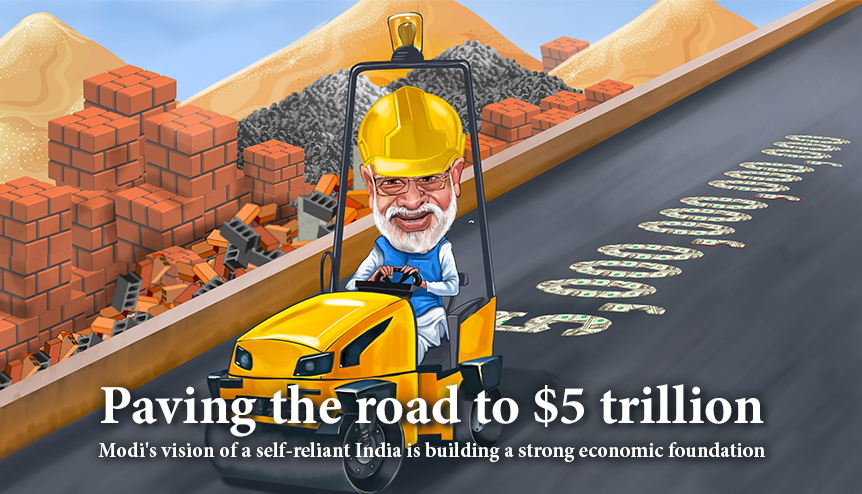 The Self-Reliant India mantra has already succeeded in attracting billions of dollars of FDI, with much more in the pipeline. This rapid ramp-up in technological and manufacturing capacities is setting the stage for rapid growth in the years ahead.
In yet another example of companies increasingly making cutting edge equipment in India for the global market, telecom behemoth Nokia has recently started the manufacture of 5G equipment in India for sale in foreign countries that are at various stages of deploying this advanced technology.
5G equipment made in India for the world
"From being the first to manufacture 5G NR in India… it demonstrates our innovative manufacturing capabilities and our belief in India's skill and talent to produce the best-in-class equipment. This will enable us to support Indian Operators as they prepare to launch 5G," said Sanjay Malik, Senior Vice President and Head of India Market in a statement.
This is just another example of Prime Minister Narendra Modi's vision of Atma Nirbhar Bharat (Self-Reliant India) translating to the country emerging as a manufacturing hub for a variety of products and technologies.
Post-Covid reforms rush to power future growth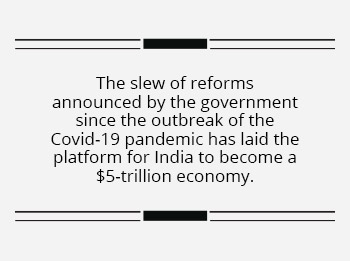 This vision and the slew of reforms announced by the government since the outbreak of the Covid-19 pandemic has laid the platform for India to achieve its goal of becoming a $5-trillion economy.
Addressing a session on "Leveraging Business Opportunities in a post-Covid Scenario" at the India e-biz Expo 2020 conclave, Sanjay Bhattacharyya, MEA Secretary (CPV&OIA), said "Covid-19 was an unprecedented disruption, at all levels, across the world. It was not only a health crisis but it also imposed socio-economic challenges. Global economy slumped, social interaction was curtailed and individuals were fearful. It was imperative for the global community to coordinate efforts in the fight against coronavirus."
Atmanirbhar Bharat vision will provide key opportunities
And as Indian businesses plan for the future, the Atmanirbhar Bharat vision will provide key opportunities for them to Make in India – Make for the World, which will help propel India's $2.7-trillion economy (estimated GDP in 2020-21, following the expected contraction of 7-8 per cent) to $5 trillion.
"This will happen through our integration with the global economy. The thrust will be on joint ventures in infrastructure and manufacturing, integrating into supply chains and tapping sovereign wealth funds," he said.
Then, the series of measures and far-reaching reforms announced by the Modi government over the last six months will help carry India towards that goal.
PLI scheme to be a gamechanger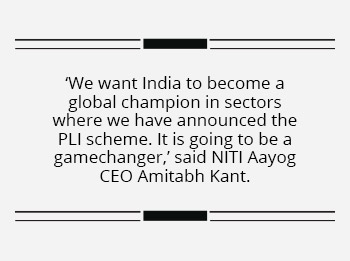 In this context, the production-linked incentive (PLI) scheme to attract investments from companies that are looking at alternatives to China could be a gamechanger.
"We want India to become a global champion in manufacturing in sectors where we have announced the PLI scheme. It is going to be a gamechanger for these sectors. Companies like Wistron and Foxconn are coming into India and Samsung is also expanding in a big way. We have also supported Indian manufacturers. This is an opportunity for Indian companies to take advantage of the changes taking place in the global supply chain. We should be able to produce cutting-edge solutions and products that will ensure our integration into the global value chains," NITI Aayog CEO Amitabh Kant said at the recently held annual general meeting of the Federation of Indian Chambers of Commerce and Industry (Ficci), a leading industry body.
Auto parts sector sees PLI scheme driving it to global destinations. The quality of Indian auto parts maker is recognised globally. They must have the aspiration to become big. –https://t.co/tkGoa29KLN

— Amitabh Kant (@amitabhk87) December 13, 2020
"There are sunrise areas of growth where India must get in. In the PLI scheme for electronic technology products, we have focused on new areas of growth like IoT devices, servers and in the PLI scheme for advanced cell chemistry battery manufacturing is actually a massive opportunity for us to look at faster adoption of electric vehicles and renewable energy solutions," he said, adding: "Batteries will be required for both mobility and grid solutions and it should bring in major international and domestic players to establish competitive and efficient manufacturing landscape in India. The PLI for telecom sector should also attract large investments from global companies as well as domestic companies to ramp up our capabilities of domestic manufacturing."
Fantastic response
This scheme is already showing splendid results. Apple's contract manufacturers Foxconn, Wistron and Pegatron have announced plans of expanding and/or setting up manufacturing facilities for making smartphones in India.
Then, in a major breakthrough for India, South Korean major Samsung has formally announced that it will invest close to $700 million to relocate its mobile and IT display unit from China to India. The company already has an existing mobile phone manufacturing facility in Uttar Pradesh, India's most populous state.
These companies and a clutch of domestic smartphone makers plan to manufacture mobile phones worth $150 billion over the next five years.
Replace China as the world's top mobile manufacturer
In this context, Indian IT and Communications Minister Ravi Shankar Prasad has declared that India, which has emerged as the world's second-largest maker of mobile phones, is now aiming to surpass China to become the world leader in this category.
"We wanted India to become the second largest mobile manufacturer in the world. Now I am pushing India to surpass China. That's my goal and I am very clearly defining it," Prasad said at the Ficci AGM.
With India now on the cusp of a 5G rollout and with Reliance Jio getting ready to unveil its homegrown 5G technology, the stage could be set for explosive growth in this sector.
Telecom sector can help integrate India into global supply chains
Writing in outlookindia.in, Gaurav Basra, Chief Strategy Officer, STL, said: "India's telecom sector has the unique advantage of large scale and wide range of rural and urban use cases. With such a wide variety of use cases and customer affordability, Indian telecom can aim to become a leading contributor to the global supply chain.
"As the second 50 per cent of the world gets access to the Internet, digital networks are getting fundamentally re-architected to become open, disaggregated and virtualised. This creates an unprecedented opportunity for Indian telecom to develop new intellectual property and technologies… Technology leadership and India-held IP… will boost the Indian economy and help to achieve the $5-trillion economy vision at an accelerated pace," he wrote.
Incentives for 10 other sectors
Then, following the tremendous response received from global smartphone makers for the PLI scheme, the Modi government has extended it to 10 other sectors such as batteries, electronics, automobiles and auto components, solar PV cells and modules, textiles, medical devices, food products, white goods, specialty steels and telecom and networking equipment.
For example, the Indian pharmaceutical industry, which is the world's third largest by volume and 14th largest by value, is overly dependent on China for the supply of critical raw materials. This makes it vulnerable to supply disruptions, especially in the light of the ongoing military stand-off on the disputed border tensions between the two countries.
What our nation has learnt through this year, in the midst of the pandemic, will help us for generations to come.

India rose together as one, and worked towards economic development. pic.twitter.com/AIOEzor1fB

— Narendra Modi (@narendramodi) December 12, 2020
Dividends in 2-3 years
Once fully operational – within an estimated time frame of two to three years – the PLI scheme will help India overcome this handicap and become more self-sufficient in this critical product. And together, these 10 sectors will add several hundred billion dollars of direct output, which will take India that much closer to the goal of achieving a GDP of $5 trillion.
The new mobile phone factories coming up under the PLI scheme are expected to generate 50,000 jobs by March. Throw all these new sectors into the mix, and it is reasonable to expect new job additions in the range of hundreds of thousands, if not millions.
Multiplier effect will generate fresh demand and growth
This will have a multiplier effect, creating demand for goods and services in unrelated sectors and is expected to set off a virtuous cycle of demand, consumption and growth that is now sorely missing in the Indian economy.
The Atmanirbhar Bharat model can, thus, become the bedrock on which to build a $5-trillion economy, and help India realise the Modi government's other dream of transforming India into a global manufacturing hub.