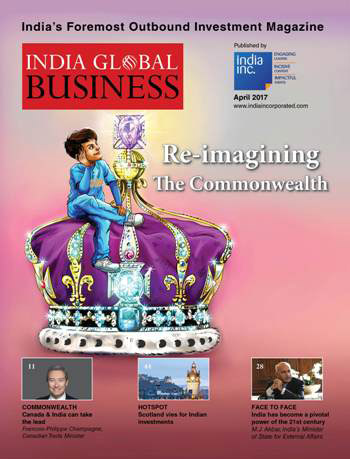 April 2017
India Inc. Staff
Vivek Gambhir is Managing Director, Godrej Consumer Products Limited (GCPL), and the key architect of the firm's 3x3 strategy to [...]
'India Global Business' this month makes a case for the Commonwealth and its relevance in a post-Brexit world. Our experts are agreed on it being time for India to take the lead within this 52-nation bloc. The usual range of high-profile interviews and analyses highlighting India's footprint around the globe make up the rest of the April edition.
India Inc. Staff
It may be time to anoint New Delhi as a hub for a reimagined Commonwealth, writes India Inc. CEO Manoj Ladwa. This week the Commonwealth Secretariat has launched a report which claims that if the UK and India sign a [...]
India Inc. Staff
India has a major stake in the political tremors around the world. Any fault line is worrying. Even more so is the fact that we seem to be living in a world criss-crossed by such fissures, some overlapping and others [...]
India Inc. Staff
A corporate governance expert explores what transparency really means for businesses. An organisation that delivers credible and timely information for all its stakeholders is transparent. Such information provides critical insights regarding the performance of a company and therefore it is [...]
India Inc. Staff
As the number of Indian students coming to study at UK universities continues to register a drop, a new report reveals just what Britain stands to lose. International students coming to study at UK universities are worth over 25 billion [...]
India Inc. Staff
Nicola Sturgeon is the outspoken First Minister of Scotland who has been campaigning for a voice for Scotland in the post-Brexit scenario. Her call for a second referendum on Scotland's independence from the United Kingdom has raised the spectre of [...]
India Inc. Staff
Baroness Usha Prashar straddles the worlds of politics and arts with comfort and ease. 'India Global Business' explores what being a Global Indian means to her. How would you say the India-UK dynamic has evolved over the years? India and [...]
India Inc. Staff
A London-based policy expert weighs up the challenges and opportunities thrown up by Brexit to strike a stronger India-UK dynamic. Talk of Brexit is never far from the headlines in the UK press. Theresa May triggering Article 50 signaled the [...]
India Inc. Staff
Our expert explains why a sedentary office-bound lifestyle is like a ticking time bomb and how yoga therapy can help counter the effects on our joints. Studies suggest we are all sitting for an average of 5.5 hours a day. [...]
India Inc. Staff
François-Philippe Champagne is Canada's Minister for International Trade with over 20 years' experience working for major companies worldwide. 'India Global Business' caught up with the minister soon after the inaugural Commonwealth Trade Ministers Meeting in London recently to explore the [...]
India Inc. Staff
Automation in the global IT industry threatens to disrupt the sector in -India but it may be a blessing in heavy disguise. For the stagnant industry, robots may pave the way for the next round of growth. On March 19, [...]
India Inc. Staff
Vivek Gambhir is Managing Director, Godrej Consumer Products Limited (GCPL), and the key architect of the firm's 3x3 strategy to drive international expansion. He talks 'India Global Business' through the strategy and the consumer giant's over-arching goals with a specific [...]
India Inc. Staff
There are seemingly insurmountable hurdles in the path of reinventing the Commonwealth as a multilateral free trade bloc but the potential upsides could make it a proposal worth pursuing. There is a superstition in some parts of India which posits [...]
India Inc. Staff
As the Donald Trump administration begins to deliver on his poll promise of cracking down on the alleged misuse of H1B visas, Indian IT companies are feeling the pinch. Donald Trump's election rhetoric is returning to bite the Indian IT [...]
India Inc. Staff
The northern part of the United Kingdom is making a strong case for Indian businesses to choose Scotland as a base for their UK expansion plans. Scotland's people are famous for the warmth of their welcome. Home to just over [...]
India Inc. Staff
It is time for the Commonwealth to introspect on its role for the 21st century and look at adding new members and acquiring a sharper financial focus. As a British citizen of Indian origin born in Uganda, I enjoy a [...]
India Inc. Staff
Cyber Security is the protection of information assets, which are highly valuable to an organisation, writes a security expert. In the early days of the internet, Cyber Security wasn't of importance since most computers linked to the internet were part [...]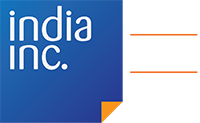 Sign-up to receive
FREE newsletters and regular
updates from India Inc.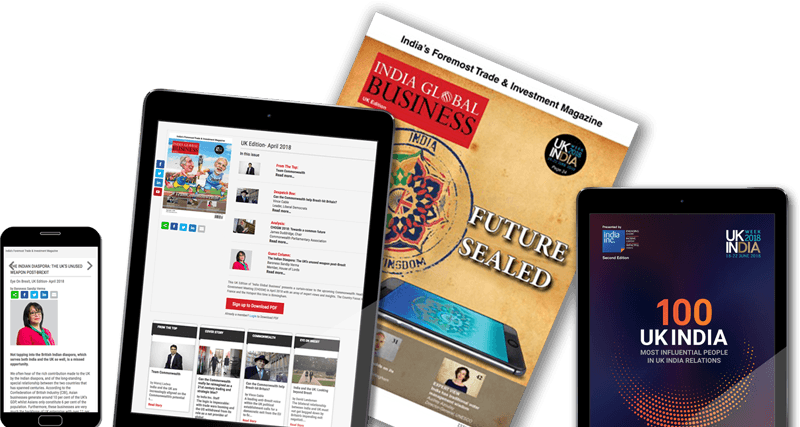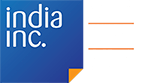 Sign-up to receive FREE newsletters
and regular updates from India Inc.