Scotland vies for Indian investments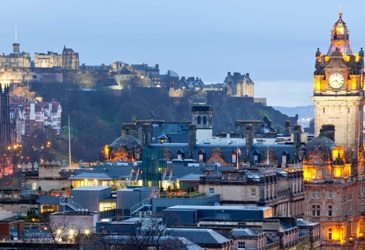 The northern part of the United Kingdom is making a strong case for Indian businesses to choose Scotland as a base for their UK expansion plans.
Scotland's people are famous for the warmth of their welcome. Home to just over five million people, it is estimated that for every person living in Scotland, another five people living across the world have Scottish ancestry. With such close and extensive connections to every corner of the world, it is no wonder that overseas visitors to Scotland are made to feel like they are returning home!
English is Scotland's main language although Gaelic is actually the country's native language. Spoken by only one per cent of the population today, you will still find road signs in Gaelic (as well as English) throughout the Highlands and Islands of Scotland. Failte is Gaelic for welcome.
Today, as throughout its history, Scots have made their impact felt on the world including in the fields of medicine, engineering and science, politics, history, the arts and sport. Scotland's legacy of great innovators includes the inventor of the telephone, Alexander Graham Bell, in the nineteenth century and John Logie Baird, an alumnus of Scotland's universities, who invented the television. Today, our great innovators include Professor Higgs, who first posited the existence of the Higgs Boson particle whilst a professor at the University of Edinburgh.
Outside of academia, famous Scots can be found in sport, acting and music. Britain's most successful Olympian, Sir Chris Hoy, the six-times gold medallist is a proud Scot as is tennis-player Andy Murray, currently ranked third in the world. Other famous Scots include actor Sean Connery, Ewan McGregor, James McAvoy (who studied at the Royal Conservatoire of Scotland), musicians Annie Lennox, Franz Ferdinand, Paulo Natini, Susan Boyle and violinist Nicola Benedetti.
There are seven cities in Scotland: the capital Edinburgh, Glasgow, Dundee, Stirling, Aberdeen, Inverness and Perth. The most densely populated area of Scotland is known as the 'central belt' which runs west to east and includes the urban areas of Glasgow and Edinburgh. Outside the central belt, the Highlands and Islands include 90 inhabited islands and the region is frequently placed in the top five most desirable places to live in the UK. Inverness, Scotland's most northerly city is reached within three hour's drive from Edinburgh or Glasgow.
TRADE & INVESTMENT
A long history of innovation and invention, easy connections, both physical and virtual, to global markets and access to dynamic industry clusters and connected supply chains makes Scotland a strong bet for international investors. According to the latest Ernst & Young Attractiveness Survey, Scotland secured 119 foreign direct investment projects in 2015. This amounted to a 51 per cent increase on the previous year and compares with 20 per cent for the UK as a whole. Indeed, Scotland has overtaken the south-east of England as a destination for foreign investment and only London beats Scotland on this count now.
Over 3,900 investors have chosen to make their home in Scotland. Many including Dexcom (medtech), Cezanne (Cloud HR), The Mortgage Lender (financial services), Televerde (telemarketing and marketing solutions), Red Rock (investment), Farmflo (software), Asystec (big data), having decided to invest and build their European operations from Scotland recently. Existing investors GSK, Semefab, Howden Compressors, Asensos, Stream Technologies and Tokheim have also announced major new investment into their current Scottish operations since the Brexit vote – all of which are clear votes of confidence in Scotland as a investment location of choice now and in the future.
Some of the top Indian companies like TCS, Wipro, Genpact, Piramal, Hinduja Global Services Limited etc. have a presence in Scotland and continue to grow their businesses successfully.
Every year for the last five years the number of expansion projects by existing investors has increased (over 200 in total) – which shows that once here investors are enjoying ongoing growth. Companies looking to internationalise can take advantage of a highly educated, skilled workforce with a strong work ethic and get access to a wide range of business support through Scotland's connected public and private sectors.
There are a few unique strengths offered by Scotland that set it apart from other investment locations around the world.
It is up to 40 per cent more cost effective to locate in Scotland than in other parts of the UK.
Scotland enjoys a highly competitive taxation environment that offers low levels of corporation tax – Scotland's 20 per cent corporation tax is a joint G20 low and there are R&D and new patent tax breaks as well.
Scotland boasts a successful talent attraction scheme, TalentScotland, which aims to bring skilled individuals to Scotland.
Scotland has 16 Enterprise Areas where investors in sectors including life sciences, low carbon, renewables and general manufacturing can benefit from financial incentives such as discounted business rates, business tax relief and enhanced capital allowances.
Scotland's cities are operating as a connected network, through the Scottish Cities Alliance, joining up Scottish Development International's approach to potential investors looking at different sites across Scotland. Scotland is home to a thriving, globally connected network of successful companies in leading industries such as oil & gas in Aberdeen, renewables R&D in Glasgow, life sciences in Edinburgh and financial services in Edinburgh/Glasgow.
Supporting the trade & Investment mandate of the Scottish government is Scottish Enterprise and Scottish Development International (SDI), the international economic development arm of Scottish government.
Scottish Development International (SDI) has had a presence in India since 2000 and its existing office is co-located within the British High Commission premises in New Delhi, the British Deputy High Commission in Mumbai and the British Deputy High Commission in Hyderabad. SDI's focus in India runs across; Water, Oil & Gas, technology and IT, Financial & Business Services, Education, Food & Drink and Life Sciences sectors.
Companies can expect support from Scottish Development International (SDI) before, during and after they locate in Scotland with support in identifying premises and investment opportunities and access to funding for employment creation, R&D and training programmes.
Starting with personal interactions with companies after gaining an understanding of their ambitions and pain points, SDI teams in India and Scotland work closely together to bring in the relevant expertise to ensure that the best package of support can be offered. This includes ongoing support through dedicated account management, innovation and international specialist support and possible reviews through Scottish manufacturing Advisory Service for those companies manufacturing in Scotland.
This package can include financial support packages through Regional Selective Assistance, Research and Development grants or training support. Regional Selective Assistance (RSA) is a discretionary grant available for businesses who want to develop a project in Scotland and is open to any company that wants to locate and grow in Scotland.
The amount offered depends upon:
The size of business
The location of the project
Scottish Enterprise's assessment of how much is needed for the project to go ahead
Regional Selective Assistance funding continues to help companies realise their ambitions while supporting investment in Scotland's economy and creates jobs for our people – in fact, Scotland now has fourth lowest economic inactivity in the whole EU and outperforms the rest of the UK both in terms of female and youth employment, unemployment and inactivity rates.
Many companies, including Indian companies have benefitted from RSA grants. A recent example is of the Global professional services firm Genpact that plans to create more than 300 new jobs in Glasgow over the next five years, following a decision to expand its European operations in Scotland.
This investment has been supported by a £3.1 million Regional Selective Assistance grant from Scottish Enterprise.
Expanding our presence in Scotland with this strong government partnership advances our strategy of strengthening both our onshore delivery and digital solutions capabilities.

"The Glasgow metro area has provided an exceptional talent base and favourable economic climate, especially for our financial services business. Our planned expansion will further leverage these benefits as we drive more digital-led transformation business impact for our clients.-Mohit Thukral, senior vice-president and business leader, Banking, Financial Services and Insurance, Genpact.
There isn't a fund that's specific to any particular geography but there are a range of incentives that are available to support businesses in the shorter term and to help them grow and succeed in a medium to longer term.
Each business has its own requirements and ambitions. Some businesses benefit more with the financial incentives, while there are others who have chosen Scotland because of the availability of skilled workforce to sustain and grow their operations. Scotland is home to 19 Higher education institutions, each one producing excellent and employable graduates for businesses to take advantage of. Hinduja Global Solutions (HGSL) and Tata Consultancy Services (TCS) are good exampled of this.
HGSL bought UK-based customer relationship management company Careline Services for £4.5 million in June 2010. HGSL operates from the following contact centres in the UK – Chiswick, London, Preston and Selkirk.
As for TCS; the company is currently operating across financial services, utilities and energy (oil & gas). Around 300 TCS employees are placed within TCS' client offices in Scotland contributing revenues of around £70 million per year.
Tata Consultancy Services (TCS) has been engaged in Scotland since the early '80s with several long standing customers. Scotland is an important market fot TCS and Scotland is our preferred location for investment and growth. Scotland offers global IT firms like TCS, a powerful combination of highly skilled talent, pro-growth regulation and a great environment in which to do business. Also, the consistent support from Scottish Enterprise and Scottish Development International supports our growth agenda immensely.– Gopalan Rajagopalan, Head – Scotland Region & UK Public Sector TCS
A lesser known advantage that is unique to Scotland is the GlobalScot network which is made up of 627 senior business leaders, entrepreneurs and executives across the globe, with a connection to Scotland, who have a strong desire to see Scottish businesses succeed locally and in the wider world.
In India, the network is made up of senior industry leaders including Mr S.K. Munjal, Joint Managing Director, Hero Motocorp; Ms Kiran Mazumdar-Shaw, Chairperson and Managing Director Biocon Limited; Mr Stuart P. Milne, India CEO, HSBC; Mr Anthony Menezes, Executive Vice President, Yes Bank; Mr Rajiv Bhatia, Director Middle East, Gulf, India Subcontinent, William Grant & Sons; Dr Pradeep Rammayya, CEO, Axsys Healthcare; Ms Kashmira Mewawala, Chief Ethics Officer, Tata Group; Mr Gopalan Rajagopalan, Head – Scotland Region & UK Public Sector, TCS; Mr Prashant Maniar, Managaing Director, Omega Diagnostics India; and Mr Ian McKenzie, CEO, Hardy Oil.
All Indian companies who decide to set up operations in Scotland or who would like to trade with Indian companies can benefit from getting connected with Globalscots through SDI.
While there are companies from India investing in Scotland there are also Scottish companies who are experiencing success in the Indian market.
Omega Diagnostics, a Scottish company that has been operating in India since 1992 inaugurated their first green-field manufacturing facility at the International Biotech Park, Pune in November last year. With an investment of USD 0.9m, the company estimates that it could be employing up to 50 people, including high quality positions in production management and technical/ Quality Control roles in the next 12 months.
With the Indian healthcare market growing rapidly over recent years, the move to establish a manufacturing base in India is a logical and exciting step forward for Omega Diagnostics Group PLC. The company sees potential for major growth, not just in the Indian domestic market but also to export products produced in Pune to their global distribution network which covers over 100 countries.
There are companies and institutions across sectors such as energy, life sciences, food & drink, technologies and education that are represented in India or have full fledged operations in India. HDFC Standard Life Insurance, Aggreko, IES, SgurrEnergy, Clydeunion Pumps, Carbon Masters, Oldbaum Services, Clintec International, Peak Scientific, Cogbooks , and Keypoint Technologies are a few examples.
Scotland's strong ecosystem, scientific excellence and collaborative community, dedicated account management support combined with the added value of financial support makes Scotland a great place to grow a business; combined with knowing that a whole team at SDI is here to help as the business grows into Europe.
Click here to view Factsheet