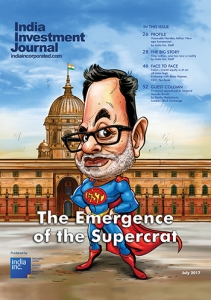 July 2017
Manoj
Hasmukh Haridas Adhia, as India's Revenue Secretary, is the unseen Goods and Services Tax (GST) super-hero. He is a bureaucrat [...]
This Global Edition of 'India Global Business' covers the one-year mark of India's landmark Goods and Services Tax (GST) with a critical take on how it has impacted the economy. Besides, there are a range of subjects such as energy efficiency, Digital India and freer movement of people that are analysed this time.
Manoj
The Indian government's resolve is to generate 175 GW of electricity from renewable energy by 2022 and increase the share [...]
Manoj
India's Revenue Secretary, Dr Hasmukh Adhia, embodies the spirit of a new-age bureaucracy, writes India Inc. CEO Manoj Ladwa. Sardar [...]
Manoj
There is a need to energise Doordarshan (DD) to become the voice of a new India, writes India Inc. founder [...]
Manoj
Nagpur is often referred to as the 'Orange city' of India because of the juiciest varieties of the fruit found [...]
Manoj
Sunil Misra, as Director-General of the Indian Electrical and Electronics Manufacturers Association (IEEMA), has an inside track on the country's [...]
Manoj
Once the darling of investors, Maharashtra seemed to have lost its way in the middle but is now charging forward [...]
Manoj
The Rural Electrification Corporation (REC) launched its first Green Bond on the London Stock Exchange's new International Securities Market (ISM) [...]
Manoj
India's ambitious renewable energy targets will help the country pick up some of the slack created by Donald Trump pulling [...]
Manoj
A new compilation of essays on India-UK ties created a cross-country buzz over the last few weeks with its launch [...]
Manoj
China's clumsy attempts to cramp India's strategic space are holding back its ties with India. The popular mood in India, [...]
Manoj
The impact of the Goods and Services Tax (GST) is set to shake up India's property markets. The Indian real [...]
Manoj
India has embarked on its biggest economic reform in living memory with a mission to implement a consistent one nation, [...]
Manoj
The notion of globalisation is not under threat as a result of Britain's vote to leave the European Union, writes [...]
Manoj
A new online tool hopes to make India's Goods and Services Tax (GST) a greener, more digitised solution. In line [...]
Manoj
The Indian High Commission in London has been lit up in energy efficient tricolour as part of a pact with [...]
Manoj
Tata Advanced Systems Limited (TASL) has signed an agreement with American aerospace giant Lockheed Martin to join hands to produce the F-16 Block 70 [...]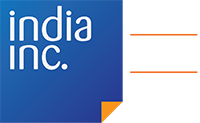 Sign-up to receive
FREE newsletters and regular
updates from India Inc.