Renewable energy shining bright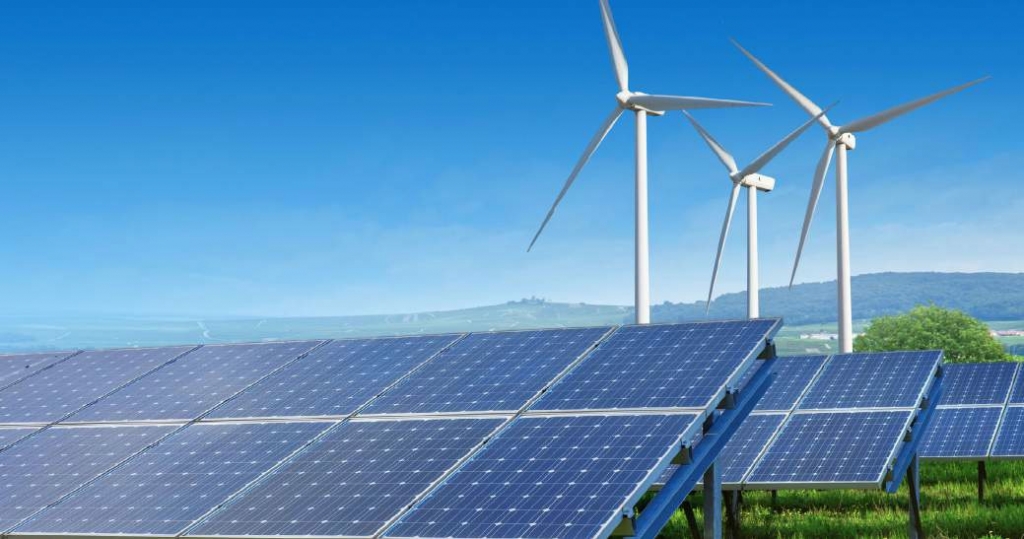 India's ambitious renewable energy targets will help the country pick up some of the slack created by Donald Trump pulling the US out of the Paris climate accord.
Early June, the world was in shock. President Donald Trump of the US announced that he was pulling out of the Paris climate pact. The news wasn't entirely unexpected, but the US withdrawal still raised question marks about the world's ability to meet the goal of capping the rise in global temperature to 2 degrees Celsius by the end of end of this century.
Two days later, there was renewed hope that the above doomsday scenario could be averted as Prime Minister Narendra Modi, on an official visit to Paris, and French President Emmanuel Macron pledged enhanced emission reduction commitments over and above what they had promised under the Paris Accord.
Modi's trump card
Donald Trump's unilateral pullout from a global climate accord may have set the cat among the pigeons internationally, but the Indian Prime Minister had another card still to play – his government's resolve to generate 175 GW (1GW = 1,000 MW) of electricity from renewable energy by 2022 and the Prime Minister's pledge to increase the share of renewables in India's energy mix to 40 per cent by 2030, in accordance with the country's intended nationally determined contribution.
Of this 175 GW, 100 GW will come from solar, 60 GW from wind, 10 GW from biomass and 5 GW from small hydro projects.
Now, there is every likelihood that India will reach this goal a full three years ahead of schedule, ie, by 2027.
Getting there
India had a renewable energy capacity of about 57 GW, or about 17 per cent of its total installed capacity (from all sources) of 330 GW in May 2017 and the plan is to ramp up RE capacity by more than 100 GW over the next five years.
About 32 GW of this currently comes from wind power, 12 GW from solar energy and the balance from biomass and small hydro. This means, India needs an additional 28 GW of wind energy capacity and 88 GW of solar capacity. The growth in solar energy capacity, in particular, has been spectacular, jumping more than 300 per cent in three years and this is expected to rise by another 100 GW over the next six years and further to 175 GW by 2030.
Too ambitious? Certainly but consider this: in the three years that solar energy capacity alone has trebled, total renewable energy capacity has more than doubled. A simple back of envelope calculation shows that despite the challenges, the admittedly stiff target is achievable if the same growth tempo is maintained.
The main drivers
India's renewable energy targets, the most ambitious in the world, is driven mainly by falling tariffs, which have touched record low levels, declining capital costs of setting up solar and wind parks, transparent auction processes and swift and hassle free land allotments and licensing procedures.
The most important driver of this steroid-charged growth, however, is the political, policy and administrative support provided by the government.
This is evident from a telling statistic: Before the Narendra Modi government announced its target of adding 100 GW of solar power capacity in the country by 2022, India's Jawaharlal Nehru Solar Mission had, in 2010, under the previous UPA regime, set a fairly modest target of 20,000 MW of solar power capacity by 2022. That figure is likely to be surpassed in the current year itself.
Powered by the sun
India is expected to overtake Japan and emerge as the world's third largest market for solar power this year. Minister of State for Power, Renewable Energy and Coal Piyush Goyal told the Rajya Sabha, India's upper house of Parliament, recently that the country would add 10,000 MW from largescale solar power projects and 5,000 MW from solar rooftop projects this year.
States like Andhra Pradesh, Rajasthan and Tamil Nadu, with cumulative capacities of 1,867 MW, 1,812 MW and 1,691 MW, respectively, are leading the charge, though others like Karnataka, Telangana, Gujarat and Madhya Pradesh are also fast catching up and providing stiff competition to the leaders in the solar race.
Solar parks an unqualified success
The auctions of solar power by the central government, conducted by the Solar Energy Corporation of India (SECI), have met with tremendous success. Buoyed by this positive response, the government has doubled the capacity of the solar parks under SECI from 20 GW to 40 GW.
These solar parks, across various states, are clearly demarcated. Bidders received land at concessional prices, ready power evacuation facilities, a 25-year power purchase agreement and several other concessions from the governments of the state in which the park is located.
Thus, execution risk is minimised and delays on account of land acquisition and land permits are eliminated altogether. Then, 25-year PPAs also reduce financial risks to a great extent and provide comfort to lenders, who can then advance money against the future assured cash flows. And incentives from state governments form the icing on the cake.
Little wonder then, that solar park auctions have emerged as the most successful part of the Modi government's plan of adding 100 GW of solar power by 2022.
State auctions a mixed bag
The states also auction licenses for solar power plants. Alternatively, investors can also approach individual states to set up solar power plants at locations of their choice.
But these are riskier than SECI's solar parks. In most cases, the investor has to identify and acquire the land for the solar plant and then undertake the exercise to change land use. This can be a tedious, long-drawn exercise and can get caught in local politics and litigation.
Then, the power evacuation facilities from such solar plants have to be built by the developer further increasing costs and risks.
And finally, only a few of these projects have PPAs with the state. The rest have long term agreements with private players, who may or may not be in a position to honour them through the term of the contract.
Not surprisingly, state auctions of solar capacities have met with less success than the ones being auctioned by SECI.
Rooftop solar a laggard
Rooftop solar units have not yet taken off the way solar parks have and experts have expressed concerns about this sub-segment of the otherwise highly successful solar power sector being able to meet its target of setting up 40 GW of installed capacity by 2022.
The main concern relates to grid integration of this capacity and poor net metering facilities that are impeding the growth of rooftop solar.
Falling tariffs
As mentioned above, the rapid expansion of India's solar power space is being driven by falling tariffs, which have plummeted from more than Rs 10 per unit a few years ago to Rs 2.44 per unit (or less than 4 US cents per kwh). This price, discovered at the reverse auction for 500 MW capacity at the Bhadla Solar Park in Rajasthan, is the lowest in the world and is a function of falling prices of solar modules imported mainly from China.
"At current rates, solar power generation cost is at par with that of thermal power generation. Solar power tariff has been declining on account of sharply declining prices of solar panels, better structuring of the project that reduces risk for project developers and better currency hedging deals that make financing available at competitive cost," said NTPC in a recent statement.
Harnessing the wind
Within the renewable energy basket, solar power takes up a disproportionate share of media space. But it should not be forgotten that wind power still accounts for almost 55 per cent of India's total renewable energy capacity.
In 2016-17, private entrepreneurs added a record 5.4 GW of wind energy capacity, easily overshooting the year's target of 4 GW by a wide margin.
"This year's achievement surpassed the previous higher capacity addition of 3,423 MW achieved in the previous year," a statement from the Ministry of New & Renewable Energy said.
This achievement was made possible by the stellar performance of states like Andhra Pradesh, which added 2,190 MW of wind power capacity, Gujarat, which added 1,275 MW and Karnataka with 882 MW.
Other states like Madhya Pradesh, Rajasthan, Tamil Nadu, Maharashtra, Telangana and Kerala also chipped in with fresh wind capacities of 357 MW, 288 MW, 262 MW, 118 MW, 23 MW and 8 MW, respectively.
As in solar power, the wind power sector has also seen a dramatic fall in tariffs. Earlier this year, wind energy tariffs fell to a record low of Rs 3.46 rupees per unit at the auction 1,000 MW projects floated by Solar Energy Corporation of India. The winning bids came from Mytrah Energy (India) Private Ltd, Inox Wind Infrastructure Ltd, Green Infra Ltd  and Ostro Kutch Wind Private Ltd.
Experts say India's wind energy capacity is just scratching the surface and that it still offers massive potential for growth. Official estimates put India's onshore wind energy potential at more than 300 GW. Initial estimates measure the wind energy potential of the Gujarat coastline alone at 106 GW and Tamil Nadu at 60 GW.
Candles in the wind
The wind sector, however, faces some serious challenges as well. The ministry is concerned that some companies and individuals are squatting on some of the best wind sites, thus, denying access to serious developers and hampering the growth of the sector.
Then, discoms, which are run by state governments have been dragging their feet on signing power purchase agreements, thus, affecting cash flows and hitting the viability of otherwise good projects. Several discoms have also been delaying payments due to the wind power developers and some have also been tardy in procuring the power generated.
The central government, though, is aware of these problems and has held several meetings with the concerned stakeholders to sort out these issues.
New challenges
While lower renewable energy tariffs are good news for consumers and will make for a more environment-friendly consumption mix, they do pose fresh challenges for the power sector, regulators and lenders.
While the falling tariffs should be welcomed, the changing dynamics of the power sector could pose several challenges.
As has been seen in several other sectors, aggressive bidding by players to win contracts often results in the so-called winner's curse – with the viability of the projects themselves being called into question. The tariffs discovered at the last few auctions have been the lowest in the world. No one is sure how much lower they will go. And it remains to be seen if such low tariffs can be sustained in the long run.
There have been reports that some discoms that had earlier signed power purchase agreements with power producers at higher prices are considering reneging on their commitments and demanding fresh negotiations to fix tariffs in the light of the lower bids. If this happens, the financial viability of the entire sector will be called into question and both investors and lenders will be wary of putting in the big bucks required to keep the sector humming.
There is, as of now, no immediate fear of such a doomsday scenario unfolding, but experts are sounding warning bells and the authorities will do well to take note.
The problem of intermittency
There is a critical difference between power generated by thermal and hydro plants on the one hand and wind and solar plants on the other. The former can generate power 24×7 if required and can be scheduled according to plan.
Wind power, however, can only be generated when wind flows are available, which is usually intermittent. Likewise, solar power can be generated only when there is sunlight. Hence, one cannot generate solar power at night or on cloudy days.
Experts warn that the stability of the Indian grid may be affected after solar power capacity crosses the 20 GW mark, as the country lacks sufficient "balancing power".
The sudden withdrawal from the grid of large volumes of solar power after sunset and wind power when the winds stop could destabilise electricity supply all over the country. Thermal plants cannot ramp up fast enough to make up for the deficit. The only two technologies that can ramp up fast are hydro and nuclear, but India lacks the capacity in both to sufficiently balance the withdrawal of solar power.
One way out of this problem is to adopt batteries in a big way to store solar power but the technology is still not sufficiently developed and it could take another five to six years for utility scale battery storage technology to be financially viable.
Goyal has repeatedly assured the country that infirm power will not affect grid stability and that the government is seized of the matter and is working to mitigate it.
In this context, Statkraft, Norway's national power company, has offered to share its expertise in balancing the power requirements of the Nordic nations with the government of India. Discussions are still at a preliminary level but this could be one way of resolving this issue.
Foreign players dominant
India's renewable energy sector has seen large doses of FDI flow from companies in the US, Europe and South East Asia.
Japan's Softbank, which has committed investments of $10 billion to India is a large player in this field.
Other large players, with significant capacities either already running or in the pipeline are international developers such as Fortum, EDF, AES, SoftBank, Engie, CLP, IBC, Sembcorp, FRV, First Solar and Skypower Global.
This is not to say that Indian business houses are absent from this sector. Tata Power Renewable, part of Tata Power, is the largest player in this sector. Other large Indian business houses that have invested in the solar sector include Adani, Shapoorji Pallonji, Aditya Birla Group, Mahindra Group, Reliance Industries, Rattan India and Hero Future Energies.
Long-term investors
India will require an estimated $100 billion over the next five years to meet its renewable energy targets. But given India's attractiveness as an investment destination and the rush of investors in the renewable energy space, several large global pension funds, which are known to be patient and long-term investors, are keen on investing in India.
Canada's top pension fund managers – Canada Pension Plan Investment Board (CPPIB), Caisse de Dépôt et Placement du Québec (CDPQ), and Ontario Teacher's Pension Plan (OTPP) – the Abu Dhabi Sovereign Wealth Fund, the California Pension Fund, Temasek and Norway's National Pension Fund are all keen on investing in Indian renewable energy, particularly solar power, companies,
Then, Dutch fund manager APG, the private equity arms of Goldman Sachs, JP Morgan, Morgan Stanley and Canada's Brookfield Asset Management are all present in India.
Ripe for consolidation
India's solar energy sector is currently highly fragmented with many small players. Even the big boys of the sector have relatively small capacities.
The smaller players, many of whom entered the sector opportunistically to gain the early bird advantage have weak balance sheets and may not be able to sustain their operations in the face of the cut-throat competition that is emerging.
Analysts expect many of them to start selling out by the end of the current year. Already, the sector has seen M&A deals worth $1.6 billion last year but this could be just the tip of the ice-berg.
Massive growth potential
India's current solar power capacity of 12 GW is barely 4 per cent of its total installed power capacity of 330 GW. The government proposes to increase this to 100 GW over the next five years.
But even that is way short of its full potential of about 750 GW. India gets about 300 days of bright sunshine every year and the government will want to cash in on that in the future as well.
Climate goals
There is no doubt that the boom in the renewable energy sector will help India meet its power requirements in an environmentally sustainable manner and meet its goals under the Paris climate change accord.