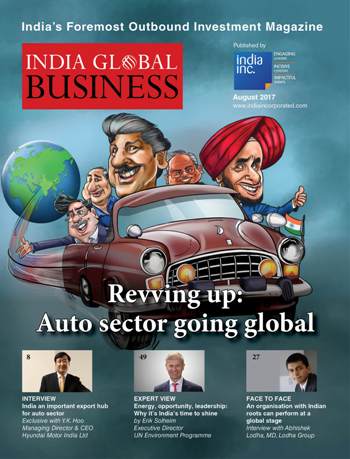 August 2017
India Inc. Staff
Y.K. Koo, as Managing Director & CEO of Hyundai Motor India Limited (HMIL), is in the driving seat of one [...]
'India Global Business' this month takes stock of India's automotive and hospitality sectors and the impact it creates around the world. A country focus on Nigeria and a region focus on the Middle East are among some of this edition's highlights.
India Inc. Staff
From a non-existent base 40 years ago, the Indian auto industry has come a long way, writes an industry expert.
India Inc. Staff
Donald Trump's ambivalence on economic and strategic issues concerning India is coming in the way of taking bilateral ties to the next level. If India and the US were Facebook friends, then many in the Indian establishment would be justified [...]
India Inc. Staff
India Inc. Founder & CEO Manoj Ladwa tracks how India has driven its auto sector on to the road of global success. Even as you read this piece, there are at least 1,500 passenger cars and 6,000 motorcycles being loaded [...]
India Inc. Staff
The Indian PM has spelt out his vision for a New India ahead of the next General Election in the country. Prime Minister Narendra Modi has, in past Independence Day addresses to the nation, announced grand flagship schemes that promise [...]
India Inc. Staff
The United Arab Emirates (UAE) has attracted a series of Indian entrepreneurs to its shores who today stand out as the perfect ambassadors for India-UAE ties. Yusuffali MA Organisation: Lulu Group Industry: Retail Place of origin: Kerala Background: Left India [...]
India Inc. Staff
Y.K. Koo, as Managing Director & CEO of Hyundai Motor India Limited (HMIL), is in the driving seat of one of the leading automotive giants in India. 'India Global Business' explores his vision for the Indian market, plans for the [...]
India Inc. Staff
A new publication and web resource on India-US relations delves into a new era of multi-dimensional bilateral ties. "The relationship between India and America has overcome the 'hesitations of history'." This was a statement made by the Indian Prime Minister, [...]
India Inc. Staff
Country's robust automobile manufacturing base is now churning out cars and bikes for diverse geographies from Latin America, Africa to East Asia and Australia. In fiscal 2016, India exported more cars across the world than China. On the one hand, [...]
India Inc. Staff
The region is a magnet for fintech growth, writes an entrepreneur behind a Dubai start-up. The UAE is known for tall buildings, large projects on sea, oil economy, trading and real-estate projects. The landscape is transformed with e-commerce start-up SOUQ.com [...]
India Inc. Staff
We have built a strong foundation for women cricketers in India, says Indian women's cricket team captain Mithali Raj. The captain of the Indian women's cricket team, which narrowly lost in the World Cup at Lord's Cricket Ground in London in July, believes her [...]
India Inc. Staff
From steel, energy and healthcare to food packaging, Indian firms make a mark across the UK and Europe. Tata Steel completes sale of UK mills The UK's Liberty House Grouphas completed the purchase of two pipe mills from Tata Steel [...]
India Inc. Staff
Acquisitions and plans for greenfield operations make up India's recent impact in the US. TVS Group firm plans overseas plant The TVS Group's flagship firm Sundaram-Clayton Ltd (SCL), a leading Indian manufacturer and supplier of aluminium cast products to global [...]
India Inc. Staff
The idea of India as an export hub has shown some promise in the last few months. Engineering exports to Israel on a high India's engineering exports to Israel have gone up by about 640 per cent, that is more [...]
India Inc. Staff
From textiles to solar energy, Indian firms continue their impact on emerging markets. Raymond sets up in Ethiopia Silver Spark Apparel Ethiopia, a wholly owned subsidiary of Indian textile group Raymond, has started the first phase of production at its [...]
India Inc. Staff
Nigeria's largest and fastest-growing cities is home to many Global Indians. Besides its reputation as a major financial centre and being known as the commercial capital of Nigeria, Lagos also has the distinction of being a historic and lively city. [...]
India Inc. Staff
Established Indian business houses as well as start-ups are investing billions in the Middle East, especially Dubai and Abu Dhabi, to leverage the global access and ease of doing business the region offers. There are only two certainties in life, [...]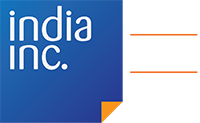 Sign-up to receive
FREE newsletters and regular
updates from India Inc.