India: An emerging global manufacturing hub for the auto industry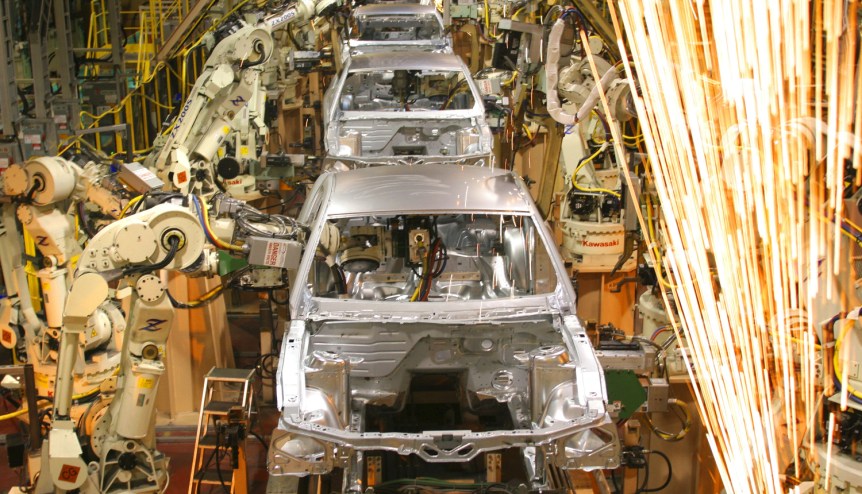 From a non-existent base 40 years ago, the Indian auto industry has come a long way, writes an industry expert.
Today, India is one of the largest auto industries in the world with an annual production of 25.3 million vehicles, significantly above conventional automotive superpowers such as the US (17.5 million vehicles) and the EU (12.6 million vehicles). The sector directly contributes $97 billion to the Indian economy with automobiles contributing $58 billion and the automotive component sector contributing $39 billion.
In fact, the Confederation of Indian Industry (CII) recently concluded a study that identified 28 (from a total of 156) manufacturing industries, across nine manufacturing sectors, that had the potential to drive double digit growth in manufacturing and in which India had the potential to be number #1 or #2 in the world. Five industries in the automotive sector were identified. These are – Passenger Vehicles, Two and Three Wheelers, Heavy Commercial Vehicles, Auto Electricals and Electronics and Automotive batteries. The government of India has acknowledged the importance of this sector and included it amongst 13 priority sectors in its plans for Make in India 2.0
The Indian automotive sector is estimated to have a potential to generate up to $300 billion in annual revenue by 2026, create 65 million additional jobs and contribute over 12 per cent to India's Gross Domestic Product.
Over the years, the Indian automotive sector has become a dominant force with a large number of companies investing in India to cater both to the domestic and export markets. While the late 1990s/early 2000s witnessed a spurt in auto investments in India, there is a renewed wave of interest which is visible. Recently, Kia Motors Corp signed an MoU with the state of Andhra Pradesh to set-up its first factory in India. The plan is to invest $1.1 billion and operationalise the factory by 2018- 2019. China's largest automobile manufacturer, SAIC Motor, plans to invest $1 billion in India by 2018, and is exploring possibilities to set up a manufacturing unit in one of three states – Andhra Pradesh, Maharashtra and Tamil Nadu. Isuzu motors also recently set up its manufacturing plant in Andhra Pradesh.
In terms of export volume, a total of 3.4 million vehicles were exported in 2016-17 accounting for 14 per cent of vehicle production. Segment-wise, India exported 2.3 million two wheelers, 750,000 passenger cars, 271,000 three-wheelers and 108,000 commercial vehicles. In 2015, India surpassed even China in the export of passenger cars. According to senior officials at Hyundai Motor India Ltd: "India is a key market for the company, not only in terms of volumes but also as a hub of small products for exports to 92 countries".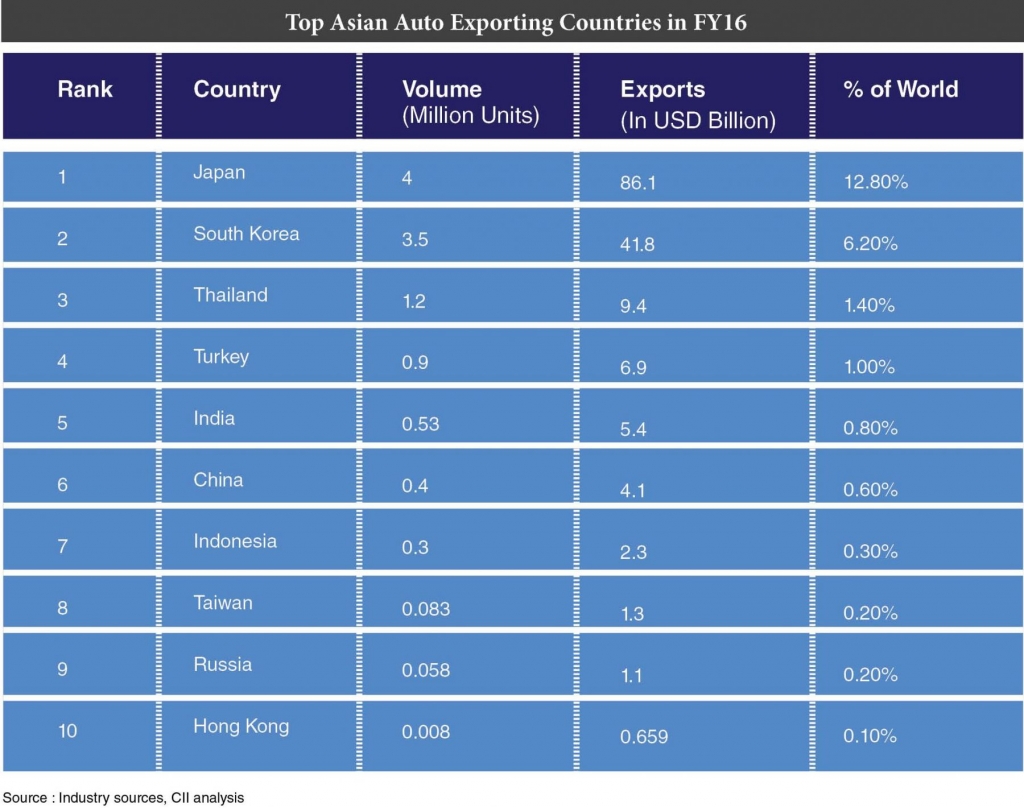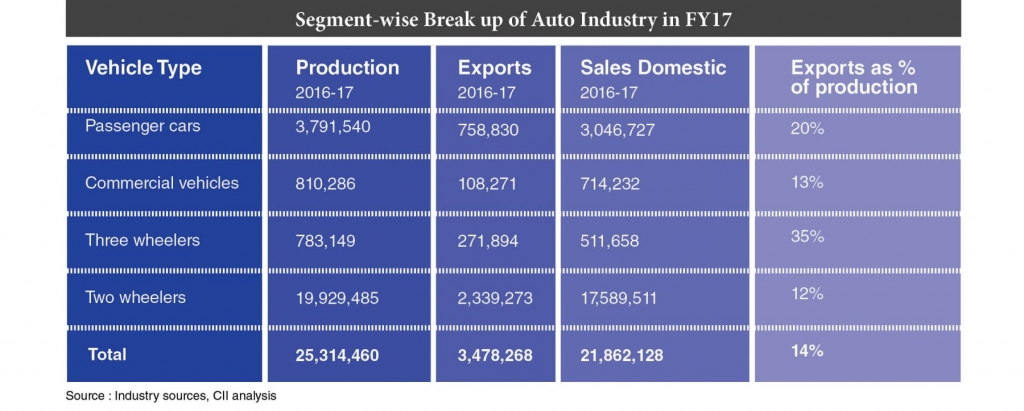 In 2016-17, 26 per cent of the total automotive components turnover was exported. The top export destination was the United States of America accounting for 23 per cent of total exports.
The Indian auto sector boasts of a highly mature and competitive supply eco-system. To catapult the industry to a new level, a discernible shift is taking place with several auto companies leveraging their capabilities to set-up design and technology centres for the world in India. For example, Ford Motor Co. plans to invest $195 million to build a global technology and business centre in Chennai, Tamil Nadu, which will be designed as a hub for product development, mobility solutions and business services for India and other markets. Several Original Equipment Manufacturers (OEMs) such as Suzuki have over the years also systematically developed their Tier I, II and III suppliers.
Several global component players have also formed joint ventures (JVs) with Indian players to supply to their parent company. Suzuki Motorcycle India Pvt Ltd has started exports of its 'Made-in-India' flagship bike 'Gixxer' to its home country of Japan, which will be in addition to current exports to countries in Latin America and surrounding countries.
Cummins has plans to make India an export hub for the world, by investing in top components and technologies in India. Although General Motors (GM) ceased sales operations in India in 2017, it continues to use India as a manufacturing and export base for other countries.
India's strong auto value chain is also promoting OEMs to focus on next generation platforms and solutions. JustRide, a self-drive car rental firm, has raised $3 million in a bridge round of funding led by a group of global investors and a trio of Y Combinator partners, which will be utilised to amplify JustRide's car sharing platform JustConnect and Yabber, an internet of things (IoT) device for cars that is based on the company's smart vehicle technology (SVT).
Domestic players are also increasing their global footprint by acquiring international brands. Mahindra and Mahindra acquired Italian firm Pininfarina and bought majority stake in SsangYong and UK-Based Motorcycle Maker BSA Company. Tata Motors acquired Jaguar Land Rover (JLR) a few years ago.
Together, these shifts indicate that the 'Make in India' story for the Indian auto industry has much steam left. In fact, the government of India aims to make automobile manufacturing the main driver of the 'Make in India' initiative, as it expects passenger vehicles market to triple to 9.4 million units by 2026, as highlighted in the Automotive Mission Plan (AMP) 2016-26.
Recognising the pivotal position the auto industry plays for manufacturing in India, the government of India has undertaken a number of measures to give a fillip to the sector. These include allowing 100 per cent foreign direct investment (FDI) under the automatic route and a proposal to introduce a new Green Urban Transport Scheme with central assistance of about $3.75 billion. The plan is to create a framework for funding urban mobility projects at the National, State and City level with minimum recourse to budgetary support by encouraging innovative financing of projects.
The Indian government is also significantly focussing on green mobility. The government formulated the National Electric Mobility Mission Plan 2020 (NEMMP) in 2013 articulating a vision to enable adoption of electric vehicles. Subsequently, a pilot scheme called Faster Adoption and Manufacturing of Electric and Hybrid Vehicles (FAME) was launched in 2015 to encourage the gradual induction of reliable, affordable and efficient electric and hybrid vehicles (EVs) in the country. Several companies have responded to the Indian government's initiative to go green.
Given that the sector has become one of the most important manufacturing sectors, contributing more than 45 per cent to manufacturing GDP there is significant focus and emphasis being given to the industry. With both supply and demand side factors being extremely favourable, the Indian automotive industry's path towards becoming an automotive super power seems to be on the right track.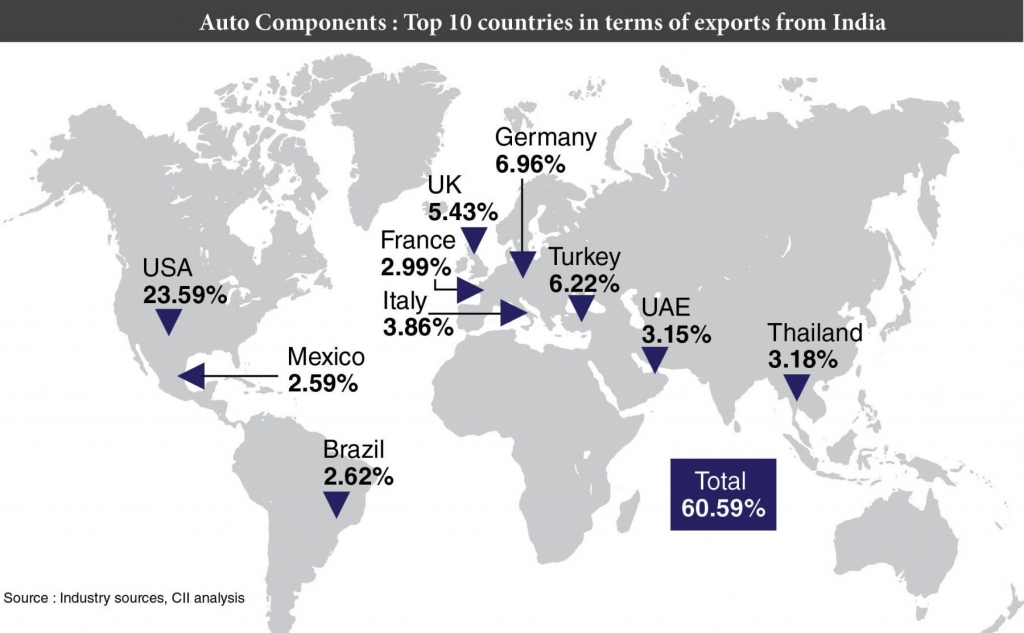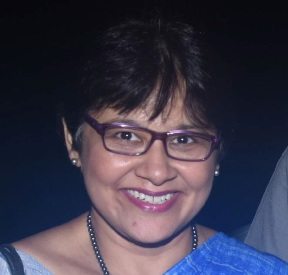 Ratika Jain is Executive Director – Manufacturing, Defence & Aerospace, MSME, at the Confederation of Indian Industry (CII). She is responsible for overseeing the industry vertical at CII, covering key sectors such as automotive, among others.