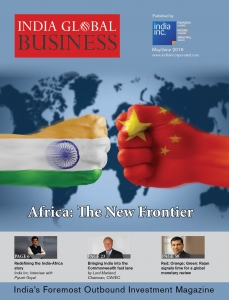 May-June 2016
India Inc. Staff
India's minister for power, coal, new and renewable energy, Piyush Goyal, has often been referred to as among the most energetic ministers in the Narendra Modi Cabinet. As someone who thrives on meeting India's energy targets before time, he is now keen to move the debate towards how India can play a leadership role within the context of Modi's International Solar Alliance (ISA).
'India Global Business' caught up with the minister during a recent visit to London, where he spoke about redefining the Africa story and affordable energy access for every citizen of India and the world.
In keeping with the 'India Global Business' theme of highlighting Indian investment presence across the globe, this edition brings you a special Africa focus. India is now the undisputed fastest growing economy of the world and it is the right time for it to take over the reins of power in its own neighbourhood. Africa, with its vast market and development needs, offers the perfect landscape for India's own global leadership ambitions.
India Inc. Staff
The secret of success for Indian companies on a global stage lies in very human instincts, according to India Inc. [...]
India Inc. Staff
India and Britain share a partnership that has evolved over time to encompass nearly every aspect of the political and [...]
India Inc. Staff
India Inc. CEO lays out the sharp contrast between India's benign partnership and China's projection of hard power in Africa [...]
India Inc. Staff
Sanjeev Gupta is being dubbed the UK's new "man of steel" after he emerged as a potential saviour of jobs if he [...]
India Inc. Staff
The organisation charged with promoting trade and investment between Commonwealth countries has had a turbulent history but it may have [...]
India Inc. Staff
Thailand is among India's top-most trading partners in South Asia and yet a free trade agreement (FTA) between the two [...]
India Inc. Staff
Investments from India into the UK rose by nearly 65 per cent in 2015, establishing India as the third largest [...]
India Inc. Staff
The Indian ICT industry has been a flag-bearer for the country, especially in the UK and Europe. NIIT Technologies, as [...]
India Inc. Staff
With more than 100 Indian companies active in the region, Malawi offers a much wider market for India in the [...]
India Inc. Staff
Prime Minister Narendra Modi's visit to the US in June will have as much to do with strengthening the ties [...]
India Inc. Staff
Naushad Merali is one of the most successful entrepreneurs in East Africa. The Kenyan-born Gujarati takes pride in his Indian [...]
India Inc. Staff
The life-saving role played by Indian pharmaceutical firms in poorer countries of Africa is one of the real global success [...]
India Inc. Staff
The Export Import (EXIM) Bank of India has had a robust presence in countries in the African continent, which it [...]
India Inc. Staff
As Prime Minister Modi plans his latest visit to the US, a Washington D.C. based Indian industry expert lays out [...]
India Inc. Staff
As the debate around Britain's membership of the European Union (EU) enters its final few weeks before the June 23 referendum, our expert columnist flags up the reasons why India must take on a more decisive leadership role of another important collective – the Commonwealth.
India Inc. Staff
Sudhir Ruparelia is among the wealthiest businessmen in Africa, with an estimated net worth of $800 million. The Ugandan-born entrepreneur [...]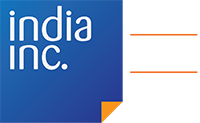 Sign-up to receive
FREE newsletters and regular
updates from India Inc.