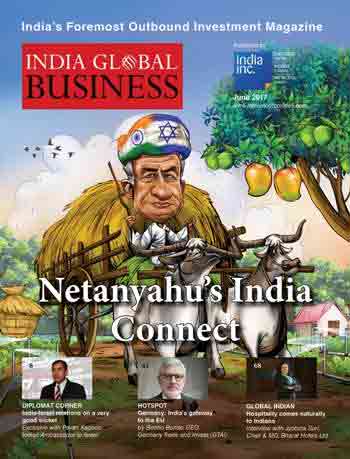 June 2017
India Inc. Staff
When Indian Prime Minister Narendra Modi visits Israel in July, not only will he be bringing the otherwise warm relationship [...]
This edition of 'India Global Business' weighs up India's relations with Israel in the context of Narendra Modi's visit to the country – the first by an Indian Prime Minister. A Sector Focus on the education sector and an analysis of the recently concluded general elections in the UK are some of the other highlights.
India Inc. Staff
Two Indian projects made the cut among six worldwide winners of this year's prestigious Whitley Awards, dubbed the Green Oscars for their celebration of animal and bird conservation in developing countries. Two Indian activists were singled out for their work [...]
India Inc. Staff
The Indian PM's visit to Washington will be crucial to determine how much the US President is in a mood to listen. The Indian political leadership has, since Independence, rooted for a multi-polar world. Now, with Donald Trump's US voluntarily [...]
India Inc. Staff
Politically and strategically, Israel is India's most trusted ally in West Asia, writes a political senior columnist. Twenty-five years ago, in 1992, India and Israel formally established full diplomatic relations and exchanged ambassadors. In 2003, Ariel Sharon, Israel's prime minister [...]
India Inc. Staff
When politicians misjudge the public mood and gamble, the end result can be politically catastrophic. In that sense, the UK election results are nothing short of a political earthquake – the second one to hit the UK in 10 months. [...]
India Inc. Staff
The Indian Prime Minister was on a packed tour of Germany, Spain, Russia and France in May/June and has returned with a slew of agreements and promising pacts for the future. When Prime Minister Narendra Modi arrived in Berlin at the start [...]
India Inc. Staff
Prime Minister Narendra Modi's policy of renewing and redefining India's millennia-old civilisational bonds with the Middle East are bearing concrete fruit in the form of strategic alliances and investments in India's infrastructure sector. Mention the Middle East to an Indian [...]
India Inc. Staff
A leading consultant in the field delves into India's move towards embracing good corporate governance. Good corporate governance is becoming a priority across the world. An OECD report to G20 finance ministers and central bank governors in 2015 begins as [...]
India Inc. Staff
Prime Minister Modi's historic visit to Israel has set the course for core areas of collaboration between the two countries, writes India Inc. CEO Manoj Ladwa. Historic, as we said last week, is a much misused word these days, but [...]
India Inc. Staff
India is among the major success stories of the 'BRICS and Emerging Economies University Rankings 2017', with 27 institutions making the top 300. The definitive rankings for the emerging economies, compiled annually by 'Times Higher Education', reflects India's efforts to be counted [...]
India Inc. Staff
Anuj Rakyan is the founder and Managing Director of Raw Pressery, India's first cold-pressed juice company. From an idea born out of his kitchen to being on the cusp of taking India's raw and unprocessed products global, the 37-year-old shares [...]
India Inc. Staff
One of the European Union's (EU) leading economies sets out what makes it the right gateway to Europe for Indian companies. Prime Minister Narendra Modi was only in Berlin for 24 hours on May 30, but the wake of his [...]
India Inc. Staff
The US withdrawal from the Paris Climate Accord will not have much impact on the fight against global warming as India and others take the lead in embracing renewable energy. Just as US President Donald Trump's repudiation of the Trans [...]
India Inc. Staff
The love for foreign education among upwardly mobile Indians is not new, but with the economy prospering and domestic education not keeping pace with aspirations, it has turned into a near obsession. Every year, more than 250,000 students venture out [...]
India Inc. Staff
India has historically had close economic ties with the Arabian Peninsula, especially the Gulf region along its eastern shores, writes a banking expert. The first historically recorded maritime trade route in the world was, in fact, between the Indus Valley [...]
India Inc. Staff
India's strong economic fundamentals, low inflation and interest rates on a declining trend are ideal for bond investors, writes a financial markets expert. London & Partners, the Mayor of London's official business development company, has long been focusing on attracting [...]
India Inc. Staff
When Indian Prime Minister Narendra Modi visits Israel in July, not only will he be bringing the otherwise warm relationship between the two countries out of the closet, he will also be marking the 25th anniversary of the establishment of [...]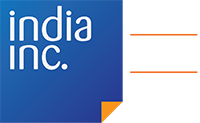 Sign-up to receive
FREE newsletters and regular
updates from India Inc.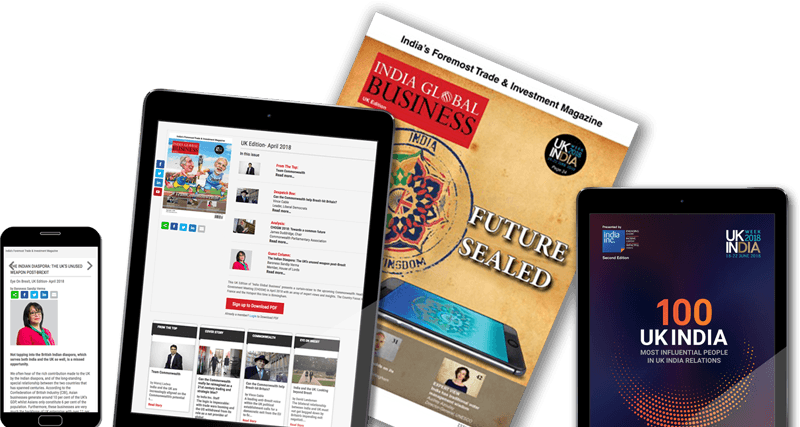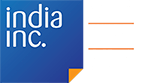 Sign-up to receive FREE newsletters
and regular updates from India Inc.