Why India leads the race to manufacture a COVID-19 vaccine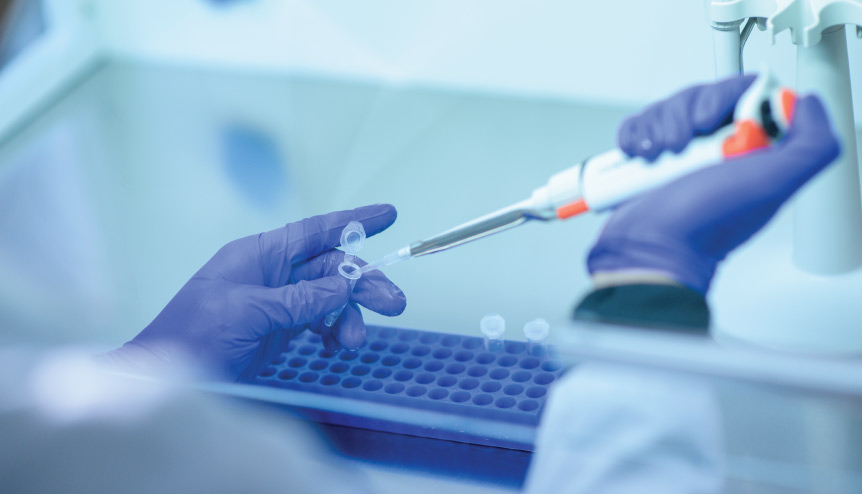 The Indian government has not only allocated millions of dollars to support initiatives to develop a vaccine against the novel coronavirus disease, but also set up cross-industry collaborations, fast-tracked clearances and resolved import delays to ensure work gets done at unprecedented speed.
It's close to midnight at the pitch-dark 150-acre campus of Serum Institute of India in the western Indian city of Pune, but Dr Umesh Shaligram and his team of scientists are in no hurry to call it a day. The labs and offices of the institute are buzzing with activity even as the bustling metropolis in the Indian state of Maharashtra prepares for yet another night under lockdown to battle the Covid-19 outbreak.
Related stories: India is a world leader in producing vaccines
In search of complementary UK-India Covid-19 solutions
In the labs, Dr Shaligram and his team are racing against time to find a commercially viable way of battling the outbreak – and the result could not only help Pune or India but the entire human race: Serum Institute, the world's largest manufacturer of vaccines by volume, is working on several candidates for a vaccine against the novel coronavirus, as well as attempting to develop its own. It's usually a little after midnight that Dr Shaligram, the head of research and development, gets a quick WhatsApp message. His response is equally prompt – outlining the progress made during the day, the unexpected hurdles faced and any action that needs to be taken in the immediate future.
Unique collaboration
But this is not a typical debriefing for his private employer – rather this is Dr Shaligram's hotline with Dr K Vijay Raghavan, Principal Scientific Advisor to the Government of India and Prime Minister Narendra Modi's point person for the dozens of Covid-19 vaccine projects running around the country.
"Any delays, you just tell them… The Indian government has been doing everything it can to fast-track clearances, and resolve import delays and other issues. We have begun to see approvals come through in days, even on a Sunday night, for trials and things like that," Shaligram told Reuters in a recent interview, noting that some of these processes earlier took up to 6 months to be cleared.

This unique collaboration is a true indication of the strategic nature of the race to develop a Covid-19 vaccine that the whole world is waiting for. It's also a barometer of the critical importance with which India is pursuing and closely watching the divergent developments from all the Covid-19 vaccine projects running in the country.
Allocation from PM-CARES fund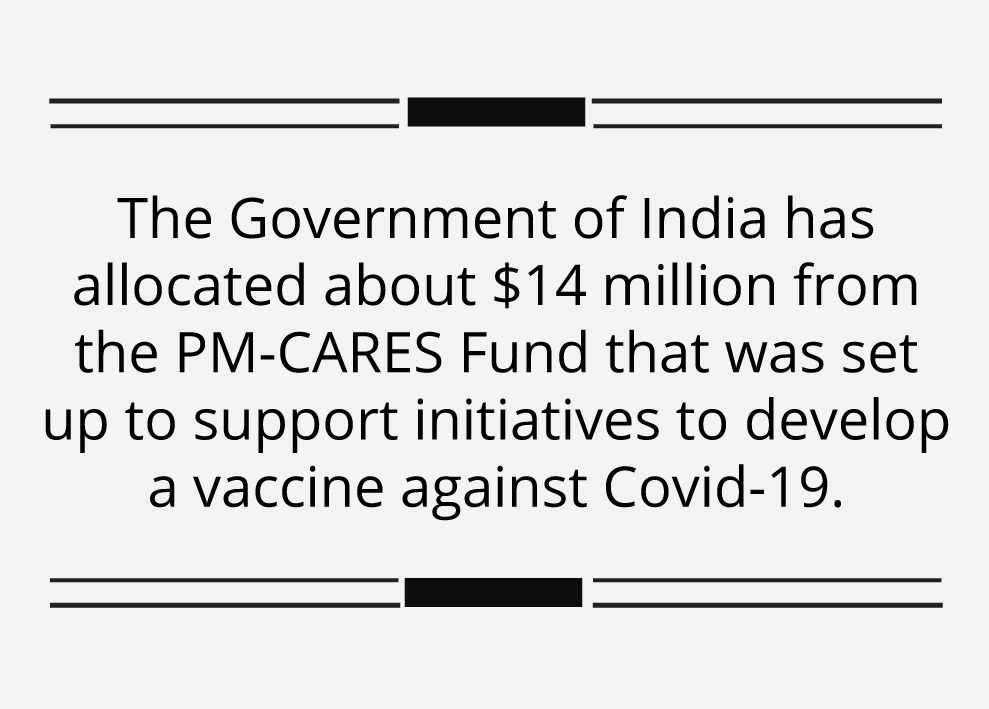 The Government of India has allocated about $14 million from the PM-CARES Fund that was set up to support initiatives to develop a vaccine against Covid-19, according to Dr Vijay Raghavan. With more than 100 vaccine attempts being developed worldwide and around 30 of them in India, it's quite clear that the race to find and manufacture a vaccine is very likely to pass through the doors of an Indian company.
When US Secretary of State Mike Pompeo announced in April that the USA and India were jointly developing a Covid-19 vaccine, it hardly surprised the epidemiological community. India is among the largest manufacturer of generic drugs and vaccines in the world and is home to several major vaccine makers, making doses against polio, meningitis, pneumonia, rotavirus, BCG, measles, mumps and rubella, among other diseases. Serum Institute itself supplies some 20 vaccines to 165 countries around the world. While nearly 80 per cent of its vaccines are exported, at an average cost of 50 cents a dose, they are some of the cheapest in the world.

Massive manufacturing capacity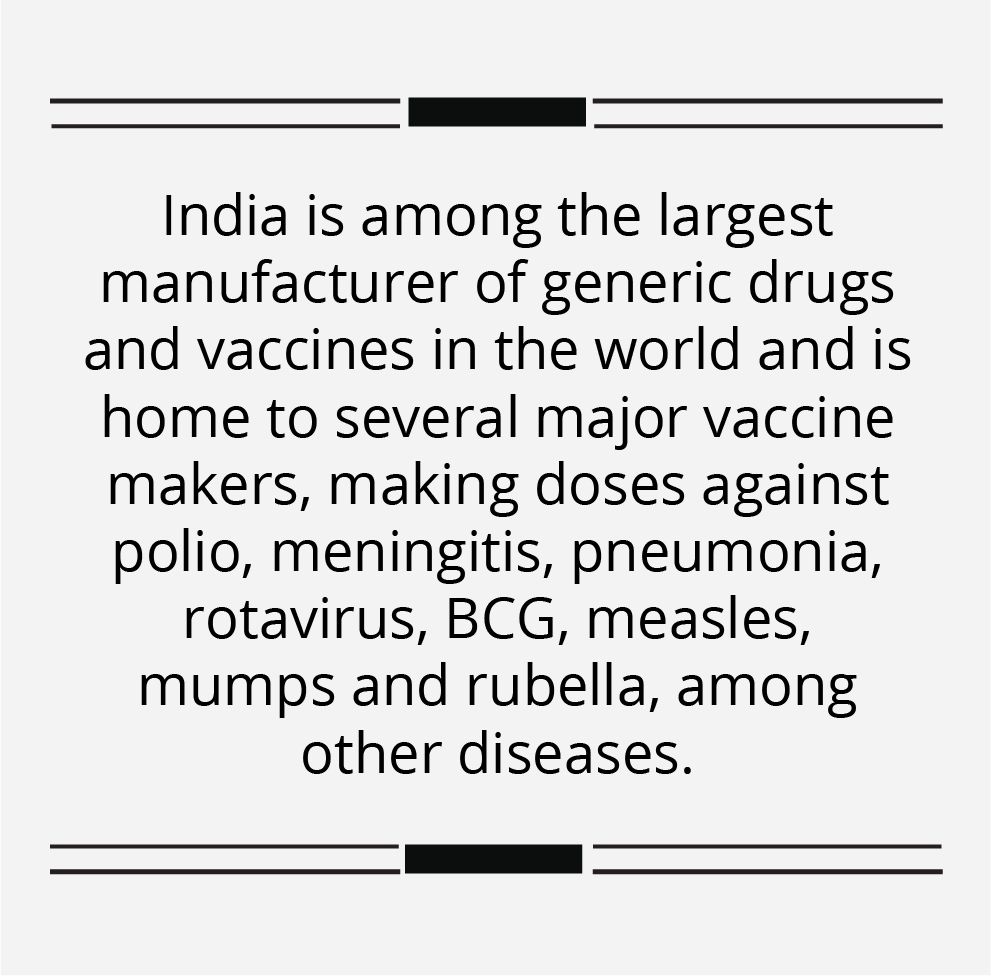 This massive manufacturing capacity is what global pharma giants and university researchers are eyeing as the best possible solution to scale up a viable Covid-19 vaccine. "The credit must go to entrepreneurs and pharmaceutical companies who invested in quality manufacturing and in processes that made it possible to produce in bulk. The owners of these companies have also had the goal of doing good for the world, while also running a successful business and this model is a win-win for all," Soumya Swaminathan, chief scientist of the World Health Organization (WHO), told the BBC.
That set up has also enabled strategic healthcare partnerships between India and other countries – something that the Modi government has worked to fortify amid the pandemic. The USA and India, for instance, have run an internationally recognised joint vaccine development programme for more than 30 years and have worked on stopping dengue, enteric diseases, influenza and TB in their tracks.
Plethora of projects
It's a natural corollary that the current vaccine development efforts in India include projects where it is participating in global attempts and partnerships among academia and industry. At least 10 vaccine projects are getting support, both monetary and regulatory, under the DBT-BIRAC (Biotechnology Industry Research Assistance Council) consortium, while research teams from IIT-Guwahati, Indian Institute of Chemical Technology, CMC Vellore and private companies such as Zydus Cadila, Biological E, Auro Vaccines and Bharat Biotech are in various stages of developing the vaccine.
While most of the attention regarding vaccines typically goes to the pharmaceutical developer, India quietly plays a key role in manufacturing 60-70 per cent of all vaccines sold globally with the Serum Institute playing a lead role, said Adar Poonawalla, chief executive of the company.
The BCG advantage
One of the inherent advantages that India enjoys in the race for a vaccine is the revelation that countries without universal policies of BCG vaccination have been more severely affected compared to countries with universal and long-standing BCG policies. BCG vaccination has been part of the national immunisation programme in India and a majority of Asian countries for decades, and the study from New York Institute of Technology researchers has helped reinforce the hope that a recombinant-BCG vaccine could help thwart Covid-19.
Serum Institute, for example, is currently working on three candidates for COVID-19 – including the testing of its recombinant-BCG vaccine in Phase 3 clinical trials at several locations across India, playing a pivotal role in the development and commercialisation of COVID-19 vaccines.
"BCG vaccination is already part of the compulsory schedule for children in India. If the BCG trials for COVID-19 are successful, the vaccine can be extended to a wider population in the fight against the pandemic effectively and save lives," said Krishna Srinivasaraghavan, Pharma Analyst at analytics company GlobalData. "Serum Institute of India has invested $100m for setting up a COVID-19 vaccine manufacturing unit in India. SII is highly active on three fronts – development, partnerships and manufacturing capabilities to supply COVID-19 vaccines," he added.
Rush for trials
According to Global Data's Pharma Intelligence Center, 19 trials are being conducted globally at various locations to test the use of BCG vaccine against COVID-19, especially focused on healthcare workers. These include a Phase 3 ongoing trial being conducted by Murdoch Children's Research Institute (BRACE trial) in Australia, and trials are also being planned in India by JIPMER in Phase III.
Whether a Covid-19 vaccine is derived from BCG affiliates or comes from an entirely independent research, what works in India's favour in the race for a vaccine is that a number of Indian companies are already established key players in the global vaccine industry. In addition, with its relentless focus on frugal innovation, India will be the only country to sell a Covid-19 vaccine at the lowest possible price due to its mass production ability – and reasonable price would be the only factor in assuring the Covid-19 vaccine's widespread access across the world. "The world is looking at India," Dr Krishna Ella, chairman and managing director of Bharat Biotech, told news agencies. "With Covid-19 being a unique challenge, team work and global partnerships will be crucial in bringing forth a safe and effective vaccine available to all."
Investments with a solid future
An indication of the scale and scope of possible investments in this fast-growing Indian sector in the face of a global pandemic came on Friday when MoneyControl reported that Serum Institute plans to raise around $1 billion globally with Goldman Sachs, Citi and Avendus Capital engaged as advisors, as it looks to mass-produce billions of doses of COVID-19 experimental vaccines.
According to sources, one of these arrangements includes a critical licence to mass-produce an experimental COVID -19 vaccine by University of Oxford and British drugmaker AstraZeneca, which has entered the final stage of clinical trials. "This is a big project of national importance and Serum, a national vaccine champion, is trying to address a global pandemic. They are looking to rope in suitable investors/partners to fund this novel project and raise nearly billion dollars in lieu of a minority stake in the company," one of the individuals privy to the developments told the news portal.