UPI could become first Made in India brand to take the world by storm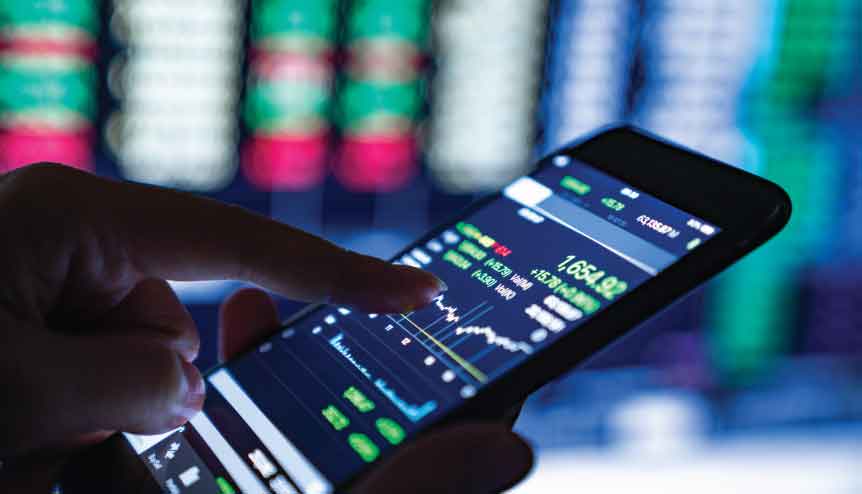 India is bidding to set up a real time payments system in Myanmar. If it succeeds in face of the stiff competition from MasterCard and Visa, it could open the floodgates for rolling out this payments system across other Asian markets such as UAE, Singapore and Malaysia.
This could be the big breakout moment for Indian fintech as well as Brand India. The National Payments Council of India (NPCI) is bidding to set up a real time retail payments system in Myanmar.
NPCI International and US-based fintech company Euronet recently submitted their joint bid to the Central Bank of Myanmar (CBM), which has received a grant from the World Bank for this project.
Read more:
'Can we help the not so wealthy behave like the wealthy?'
India-Singapore collaboration on fintech set to grow
Israel has emerged as a hub for deep-tech start-ups
UPI – India's innovation for the world
2020 – The outlook for Indian start-ups
A successful bid will provide a massive boost to NPCI's ambitions to take its Unified Payment Interface (UPI) international. It will also be the first big win for a Made in India technology platform designed in India and owned by an Indian company.
Single-window mobile payments system
According to Investopedia, UPI "is a smartphone application which allows users to transfer money between bank accounts. It is a single-window mobile payment system developed by NPCI".
UPI is an immediate real-time payment system that helps in instantly transferring money between the two bank accounts through a mobile platform. This idea was developed by NPCI and is controlled by the Reserve Bank of India (RBI), India's central bank and Indian Banks' Association, the apex trade body representing Indian banks.
"The interface … works by transferring money between two bank accounts along a mobile platform… The system is said to be a safe and secure method of transferring money between two parties and eliminates the need to transact with physical cash or through a bank…," Investopedia says.
UPI puts India in global leadership position
UPI has allowed India to steal a march over other countries in the field of fintech – ahead even of developed countries like the US and most European nations where more traditional methods such as card payments and cheques are still the dominant form of payments and funds transfer.
This is also one of the few areas where India is ahead of China, which has AliPay and Wechat, which are similar products but they are not as simple to use as UPI.
Also, "unlike China, we have given equal opportunities to both small and large domestic and foreign companies," Dilip Asbe, CEO of NPCI told the media.
Stiff competition from MasterCard, Visa
The NPCI International-Euronet bid, however, will face stiff competition from entrenched global payments giants such as Visa and MasterCard, which are also believed to be interested in the Myanmar project.
More to read:
Indian Start-ups: A test of resilience and agility
Challenges and opportunities in India in turbulent times
Indian millennials are reimagining old orders
upGrad launches schemes to make higher education accessible to Bharat
Technology key to financial well-being in post-Covid world
What will help UPI, which was launched in 2016, is the glowing reviews and support from a range of international biggies. It has quickly become India's most popular digital payments platform and surpassed two billion transactions last month, thanks to its open architecture that allows interoperability among all participating payments apps, including Google Pay, Amazon Pay, Walmart's PhonePe and India's homegrown payments solution app Paytm.
Google writes to US Fed to learn from UPI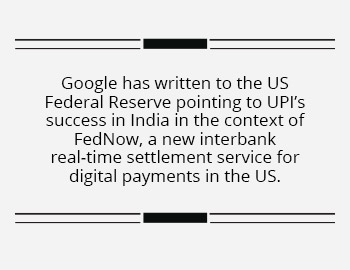 In fact, Google has even written to the US Federal Reserve Board pointing to UPI's success in India in the context of FedNow, a new interbank real-time gross settlement service for faster digital payments in the US.
In fact, Google has even written to the US Federal Reserve Board pointing to UPI's success in India in the context of FedNow, a new interbank real-time gross settlement service for faster digital payments in the US.
It detailed how it had worked in close coordination with NPCI to build Google Pay for the Indian market. "UPI was thoughtfully planned and critical aspects of its design led to its success.
Open system helps seamless transfers
"First, UPI is an interbank transfer system (with 143 member banks). Second, it is a real time system. Third, it is 'open' — meaning technology companies can build applications that help users directly manage transfers into and out of their accounts held at banks," Mark Isakowitz, Vice President, Government Affairs and Public Policy, US and Canada, Google, wrote to Ann Misback, Secretary, Board of Governors of the Federal Reserve System.
Still more to read:
India-Singapore collaboration on fintech set to grow
Fintech is making a dramatic impact in India
Dubai International Financial Centre to support fintech start-ups with India
Is the UK or India the leader in fintech?
India's fintech sector gaining momentum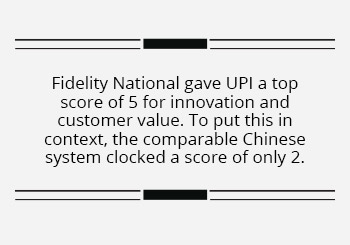 Google added that it has used its learnings from its engagement with UPI to offer the Federal Reserve to suggestions on how to "support real-time low-value and high-value payments, use standardised messaging protocols with extended metadata, and provide clear standards for an Application Programming Interface layer that enables licensed non-financial institution third parties to access and submit requests into this payment system".
UPI has also received fulsome support and validation from other influential and respected quarters as well.
Fidelity gives it top score
Fidelity National, which tracks about 40 government-run payments systems internationally, gave UPI a top score of 5 for innovation and customer value. Just to put this score in context, the comparable Chinese Internet Banking Payment System clocked a score of only 2. The parameters tracked were round-the-clock availability, speed of settlement and level of support received from the regulator.
Apart from Google and Fidelity National, UPI has also been singled out for praise by the Bank for International Settlements.
If the NPCI-Euronet bid is successful in Myanmar, the demonstration effect will facilitate it to take UPI to other Asian markets like UAE, Singapore and Malaysia.