UK-India Week Announcement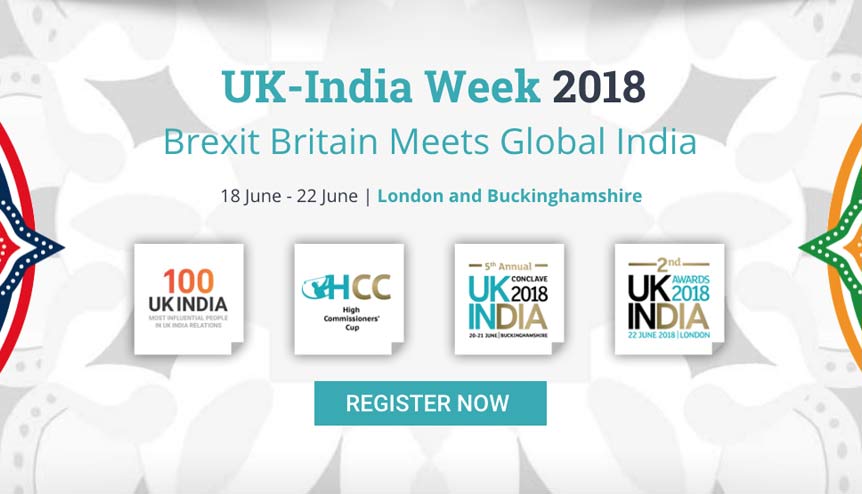 UK-India Week 2018: Action-packed programme to accelerate global partnership
May 14, 2018
India Inc. has launched the programme for its inaugural UK-India Week, to be held in London and Buckinghamshire between June 18 and 22.
A series of events with high-profile speakers and influential guests have been planned during this period to celebrate the strong partnership between the UK and India. The aim is to create a strong actionable agenda which can act as a catalyst to promote opportunities for future collaboration between the two global powers.
"In a time of redefinition around the world, the UK and India remain closely-connected. UK-India Week is a catalyst to unleash the potential for business and cultural exchange between these two global powers and to spur them to further tackle global challenges together," says India Inc. CEO & Founder Manoj Ladwa, the force behind the UK-India Week concept.
"As economic partners, the UK and India can be more than just transactional partners – they can have a transformational impact throughout the world. Together they can forge even deeper partnerships on research and education, unleash the potential of the next generation, collaborate on new technologies and unlock new funding for growth. For those who want to be a part of these discussions and high impact networking, UK-India Week will be unmissable," adds Ladwa, the editor of 'Winning Partnership: India-UK Relations Beyond Brexit'.
UK-India Week will feature a series of events and symposia organised by India Inc. This includes its 5th annual UK-India Leadership Conclave, a landmark event to identify ways to grow and transform the strategic partnership between 'Brexit Britain and Global India'.
UK-India Week will launch with the release of the second edition of 'The 100 Most Influential in UK India relations'. This index honours and celebrates the achievements of individuals making a huge impact in strengthening the bilateral relationship between the UK and India.
In addition, UK-India Week will feature the High Commissioners' Cup, a first-of-its-kind day-long golf tournament that will bring together key diplomatic and business figures from across the Commonwealth, in aid of HRH Prince Charles' British Asian Trust.
UK-India Week's events and proceedings will close with the prestigious UK-India Awards, which will celebrate and recognise innovative and ground-breaking individuals, in the UK and India, and organisations that are making a significant impact on this global partnership.   Bringing together over 400 senior leaders from the world of business, politics, diplomacy, arts & culture, the Awards will showcase the very best of collaboration between the two countries at a glittering gala ceremony.
The UK-India Awards are adjudicated by a panel of business and political leaders including:
Lord Marland, Chair, Commonwealth Enterprise & Investment Council
Barry Gardiner MP, Shadow Secretary of State for International Trade
Rt Hon. Priti Patel MP, former Secretary of State for International Development
Sunil Bharti Mittal, Founder & Chairman of Bharti Enterprises
Barkha Dutt, Author & Broadcaster
Edwina Dunn, CEO, Starcount
Detailed UK-India Week 2018 Programme :
'100 Most Influential in UK India Relations' (18 June): This index, launched at the opening reception of UK-India Week, honours and celebrates the achievements of individuals making a huge impact in strengthening the bilateral relationship
The High Commissioners' Cup (19 June): An invitation-only, one-day golf tournament that will bring together key diplomatic and business figures from across the Commonwealth, in aid of HRH Prince Charles' British Asian Trust
The 5th Annual UK-India Leadership Conclave (20-21 June 2018): The landmark event for growing and developing the UK and India's strategic relationship, this year focusing on the road ahead as Brexit Britain meets Global India
The UK-India Awards 2018 (22 June): An award ceremony to celebrate the bold and unique partnership between the UK and India, recognising the innovative and path-breaking UK and Indian individuals and organisations that are making a significant impact on this global partnership
*For further details and to register your interest, click here