UK-India Tech Partnership: Potentially paradigm-changing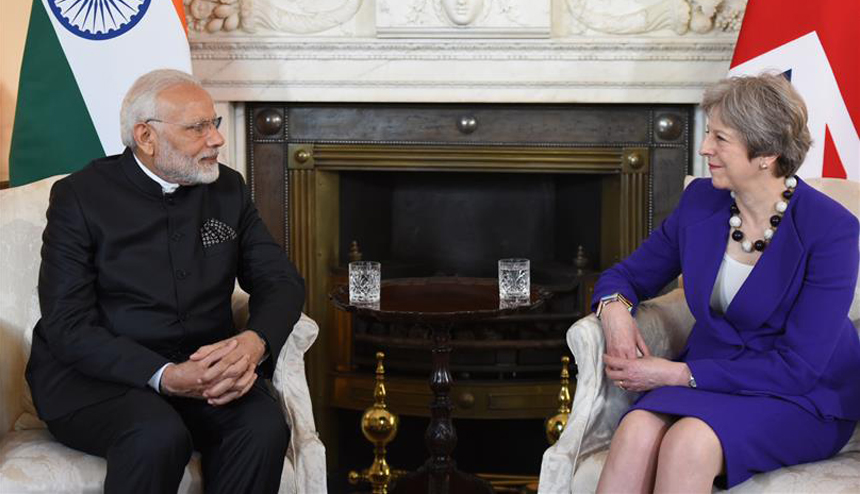 The alliance between the tech sectors in the UK and India has embarked on several path-breaking initiatives that can generate billions of dollars of revenues and generate millions of new jobs, not only in the two countries but also elsewhere in the world.
India's IT industry is, arguably, the most famous component of its $2.6-trillion economy. Apart from being a $160-billion sector, or more than 6 per cent of India's GDP, it has played a massive role as an enabler of India's emergence as a global economic powerhouse in recent decades.
The Narendra Modi government's flagship initiative Digital India is not only pushing digital and financial inclusion in India, it is also opening up billions of dollars of business opportunities for vendors, contractors and consultants in the US, Europe and the rest of the world.
The industry has also become India's calling card in many parts of the world – from the US to the UK and the rest of Western Europe to Africa and beyond.
Traditionally, the US and, to a lesser extent, Japan, South Korea and even Germany have been India's partners in this sector. The UK has been at the periphery of this booming sector in India. But that may be changing.
UK-India Tech Alliance
Indian Prime Minister Narendra Modi and his British counterpart, Theresa May, agreed in May to establish a UK-India Tech Partnership, on the lines of the hugely successful UK-Israel Tech Hub, to bring together companies, venture capitalists, universities and other stakeholders from the two countries to cooperate in the field of IT and other tech services that can, potentially, boost the two economies by billions of pounds and create thousands of jobs over the next few years.
Commenting on this partnership, UK's then Digital Secretary Matt Hancock said: "Our world-leading digital economy is booming, worth more than £116 billion a year and employing more than two million people… We're determined to see this incredible success continue, and this ambitious UK-India Tech Partnership will bring together some of the best minds working in tech to unlock its future potential and deliver high-skilled jobs and economic growth in both countries."
Wide-ranging collaboration
Under this partnership, Indian and British companies will be provided a platform to collaborate on a wide range of new and emerging technologies, develop symbiotic and mutually beneficial relationships and develop exchange programmes for professionals to work and learn in each other's facilities.
The first pilot will focus on the Future of Mobility, augmented and virtual reality, battery storage and low emission transport. The Indian hubs for these pilot projects will be Bangalore and Pune. Companies operating in these verticals from across the UK will be encouraged to participate.
On successful completion of the project, more regions in the UK and India will be included and the partnership scaled up.
India's big digital push
This initiative comes on the back of what is arguably the most ambitious flagship scheme of the Modi government to push digital penetration and literacy in India to create jobs and deliver governance to the remotest corners of the country.
The Digital India initiative connects rural areas with high-speed internet networks. Digital India consists of three core components:
– The development of secure and stable digital infrastructure
– Delivering government services digitally
– Universal digital literacy
Facilitating an E-nabled India
India is already among the fastest growing markets in the world for online commerce. Besides pushing this important generator of business and employment, Digital India will also facilitate many of its other flagship schemes as well as e-education, remote healthcare services and the delivery of scholarships and other government subsidies to people across the country.
According to the government website, the salient features of the initiative are:
National e-governance plan to bring all people-facing government services online and provide a platform to share inputs on policy and governance-related issues. Included within this sub-set is a multilingual mobile app for all available operating systems such as Android, iOS and Windows that provides access to over 1,200 central and state government services as well as  pay taxes, and access information on health, agriculture and travel, book railway tickets and apply for and receive birth certificates, police clearance, passport and other utility services. It also allows users to digitally sign documents using Aadhar authentication among various other services.
Then, Digital India also facilitates back-end digitisation that allows the use of data analytics to track and nab tax evaders. This is creating substantial opportunities for IT companies to build the required systems. And the digital literacy mission will cover 60 million households.
Broad-based alliance
The range and depth of the initiative is vast and provides massive scope for companies in the UK to collaborate with their Indian counterparts to launch mutually beneficial products and services on the backbone of Digital India.
In particular, the two leading technology trade associations in India and the UK, Nasscom and TechUK, have agreed to work together to bring together companies, leaders and innovators to fully realise the potential of the partnership.
Julian David, CEO of techUK, says: "This is an incredibly important partnership and something tech businesses from both countries have been driving for. The UK and India are leaders in the development and use of digital tech, and there is a huge amount we can learn from each other and big opportunities to join forces in innovation."
Fast visas
Under this partnership, the UK government has extended the Super Priority Visa scheme to Bangalore and Pune, which will facilitate the receipt of visa decisions for eligible professionals within 24 hours.
The UK-India Tech Partnership perfectly complements not only the Digital India Initiative but also takes forward its goal of emerging as a global high technology manufacturing location, with support from British companies that can leverage India's frugal engineering skills and its highly trained but relatively cheap manpower base.
The Africa angle
One factor that hasn't received enough attention in this India-UK partnership is the complementary positions the two countries have on the question of reaching out to Africa.
This has been one of the cornerstones of Modi's foreign policy outreach. Juxtaposing India's partnership model of cooperation with the more exploitative investment and mineral extraction models pursued by China, Modi has spearheaded a multi-billion dollar thrust by Indian manufacturing and services companies in Africa.
Tata, Airtel, AV Birla Group, Cipla and Infosys are among the hundreds of Indian companies that have invested billions of dollars in this continent.
Modi has committed to support Africa's development by harnessing India's IT and tech prowess in the fields of public service delivery, education, health, digital literacy and financial inclusion.
All these goals are part of the Digital India initiative. There is a huge potential for the UK, which has centuries-old ties with Africa, and India to cooperate in this field and expand India's non-exploitative outreach to the 54-country continent.
In this context, the Fourth Indo-Africa ICT Expo 2018 in Nigeria in May this year could offer a template for Indo-British cooperation in Africa. The theme of the conference was Digital Transformation in Africa and India.
The focus was on improving digital competence, spreading digital literacy and bringing about a digital transformation in all aspects of society by embracing technology which can connect everyone at a nominal cost and in a very simple easy-to-use manner.
The conference looked at opportunities in the skilling and education sectors and especially on how the intervention could be made seamless by harnessing the potential of digital learning platforms on the lines of the Digital India initiative.
Another theme discussed was cyber security and how this was increasingly become more important in today's environment when some countries are misusing the power and reach of the internet to undermine domestic institutions in host countries in order to spread their own hegemony.
Significantly, under the UK-India Tech Partnership, there is a proposal to set up a cyber security cell in India with British government support and British personnel, who are more experienced in this line of work than their Indian counterparts.
Going glocal
While cooperating in India, the UK, Africa and elsewhere, British companies can also learn a lot from India. The most important lesson will, of course, be in finding frugal solutions, often referred to with the local term of jugaad.
But a more culturally sensitive lesson that Indian companies  can share with their British companies is in going "glocal". Indian IT services majors such as TCS, Infosys and Wipro, among others, have built large global operations that, while being run out of India, employ significant numbers of local talent in the host countries.
For example, Indian companies have created more than 100,000 local jobs in the UK and almost half a million such employment opportunities in the US, thus, enriching the local communities and participating in the development of the local and national economies of the countries in which they operate.
Strengthening ties for the greatest common good
Prime Minister Modi rode to power on the strength of his evocative vision of Sabka Saath Sabka Vikaas (development and prosperity for all). He has expanded his domestic slogan to the sphere of his foreign policy as well, as is evident from the way he has changed the paradigm of India's engagement with Africa, Central Asia and the CLMV (Cambodia, Laos, Myanmar, Vietnam) sub-group within the 10- nation ASEAN.
Shorn of the exploitative thrust of similar outreaches by China, this promises a win-win partnership for all stakeholders.
The UK-India Tech Partnership may want to take a closer look at this template and spread it far and wide. But even without it, the alliance can completely change the face of technology in the UK, India and many other parts of the world.