UK gets down to the business of visas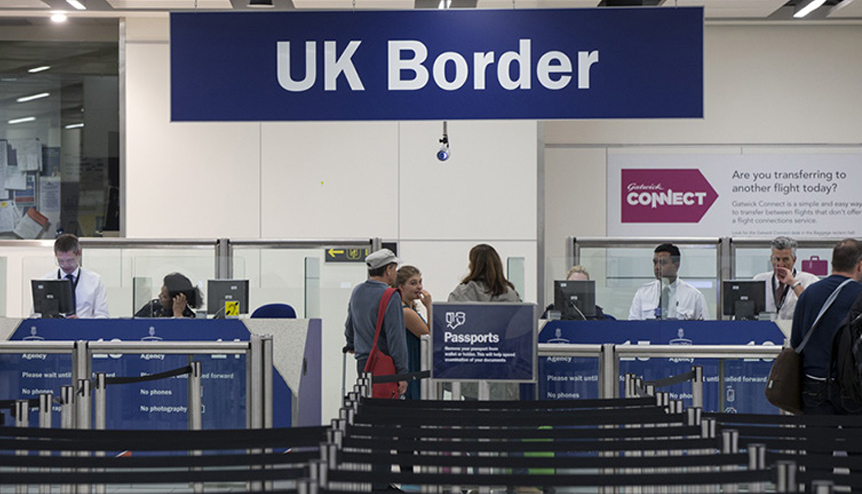 The new points-based system for professionals and students is the biggest shakeup of the UK's immigration policy in decades, which comes with a level playing field promise that should address India's concerns around fair access – for its market and its people.
Highlights:
Free movement of people has been an area of focus for the UK especially when it comes to partners like India and the EU.
Post the UK's exit from EU, Home Secretary Priti Patel introduced a new points-based immigration system.
The new points-based system ticks many of the boxes on India's future free trade agreement checklist.
Three years ago, Indian Finance Minister Nirmala Sitharaman, then Commerce and Industry Minister, had made global headlines when she candidly declared: "The UK seems to want access to the Indian market, the UK seems to want Indian investments, but the UK does not seem to want Indian talent."
That was certainly the perception at the time, with figures of Indian students applying to UK universities in freefall and companies finding it difficult to bring in skilled professionals on a temporary basis as the UK clamped down on intra-company transfers. The message that a rapidly growing Indian economy sent out loud and clear was that any prospect of a future free trade agreement and greater market access with the UK would have to be tied in firmly with fairer access for Indian students and professionals.
Brexit shackles
The issue was played up quite effectively by the camp of Brexiteer MPs and ministers, who championed the cause of the UK's exit from the European Union (EU) in the June 2016 referendum. The message sold to voters was that once freed from the shackles of the economic bloc's restrictive freedom of movement rules, the UK would be able set its own visa regime that would allow skilled professionals from countries like India easier access.
"Once we take back control of our borders and Vote Leave, we can have an immigration system that is fair to all and allows us to bring in the brightest and the best from across the world," said Priti Patel, then minister for employment in former British Prime Minister David Cameron's Cabinet, just weeks before the crucial Brexit referendum.
Fast-forward to 2020 and Patel, now in the Cabinet frontline as Home Secretary, announced: "We're ending free movement, taking back control of our borders and delivering on the people's priorities by introducing a new UK points-based immigration system, which will bring overall migration numbers down.
"We will attract the brightest and the best from around the globe, boosting the economy and our communities, and unleash this country's full potential."
The brightest and the best
Attracting "the brightest and the best" is a phrase that has clearly stood the test of time in this context and it is inevitable that Indians will be at the heart of that. Despite Brexit constraints, the UK already issues more skilled work visas to Indians, accounting for 52 per cent of all such visas granted under the current Tier 2 system globally. The Tier 4 student visas have also registered a reverse swing in recent times as better visa policies are put in place, with a 63 per cent hike in such visas last year.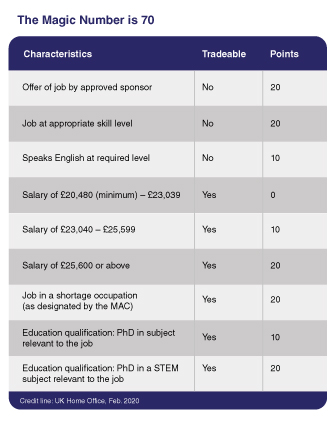 "The new system will benefit not just qualified professionals from India but also large number of Indian students in the UK universities," believes Baroness Usha Prashar, Chairperson of the Federation of Indian Chambers of Commerce and Industry (FICCI) UK – the Indian industry body lobbying for a fairer visa regime over the years.
"Majority of the Indian businesses in the UK require skilled manpower. The new point-based immigration system coupled with the lower salary threshold is a positive move. This has been a long-standing demand of FICCI members," she said.
The views were equally echoed by the Confederation of Indian Industry (CII), which welcomes the new system for its focus on skills, salaries and knowledge of the English language.
"For business, it's essential that the system retains flexibility for employers, particularly those bringing in highly-skilled workers on short-term assignments to support UK plc's growth and transformation. It will also be important to ensure salary thresholds are not a deterrent to finding staff with the right specialist skills from around the world," said Jim Bligh, Chair of the Confederation of Indian Industry's (CII) UK-India Business Forum (IBF).
The magic number
And some flexibility is built into the system, which has options for tradable points for salary levels. The magic number of points required to apply under the new system will be 70, accrued in increments of 20 or 10 based on qualifications, professional skills, English language proficiency and a job offer from an approved sponsor. The salary-level requirement has been set between £20,480 and £25,600 or above, down from a previous minimum threshold of £30,000.
"We intend to create a high wage, high-skill, high productivity economy," notes the Home Office in its policy statement, which will take the form of an Immigration Bill to be passed by Parliament for the new rules to be enforced from 1 January 2021.
This is where the UK government's claim of a new "firm and fair" system comes in, with EU nationals to be on par with non-EU nationals at the end of the Brexit transition period on 31 December 2020. It means a very clear clampdown on low-skilled workers from Europe free to come and work in the UK so far, resulting in some industries ringing the alarm bells over staff shortages.
Patel's response to those alarm bells has been a categorical message for employers to move away from relying on "cheap labour" from Europe and invest in retaining staff and developing automation technology.
Looking ahead
Further details of how the new system will work once it is operational from January next year will unravel over time, but the early signs are certainly promising from a UK-India point of view. The Indian government's only access requirement has been for a level playing field for skill transfers. And, alongside a new fast-track visa for scientists and doctors as well as a renewed Graduate route for international students to be able to access a two-year post-study work visa, the UK government's new points-based system does tick many of the boxes on India's future free trade agreement checklist.
Flexibility will be key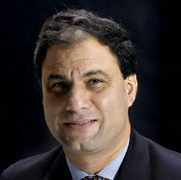 "Getting a new immigration system right on day one will be critical for economic growth and the UK's global reputation as it forges a new path outside the EU.
Firms recognise and accept that freedom of movement is ending, and have sought a system that is both open and controlled, valuing people's contribution beyond their salary while retaining public confidence.
Several aspects of the new system will be welcomed by business, particularly abolishing the cap on skilled visas, introducing a new post-study work visa for overseas students, and reducing the minimum salary threshold from £30,000.
Nonetheless, in some sectors firms will be left wondering how they will recruit the people needed to run their businesses. With already low unemployment, firms in care, construction, hospitality, food and drink could be most affected. Firms know that hiring from overseas and investing in the skills of their workforce and new technologies is not an 'either or' choice – both are needed to drive the economy forward.
"So careful implementation across all UK nations and regions will be required. A regularly reviewed shortage occupations list, with promises of further flexibility, will be vital for the effectiveness of the new system. Above all, the government must work with employers and employees – especially smaller firms – to ensure they have the time to adapt to new policies and practices."
Lord Karan Bilimoria
Vice President, Confederation of British Industry (CBI)