Trump's trade brinkmanship can damage strategic ties with India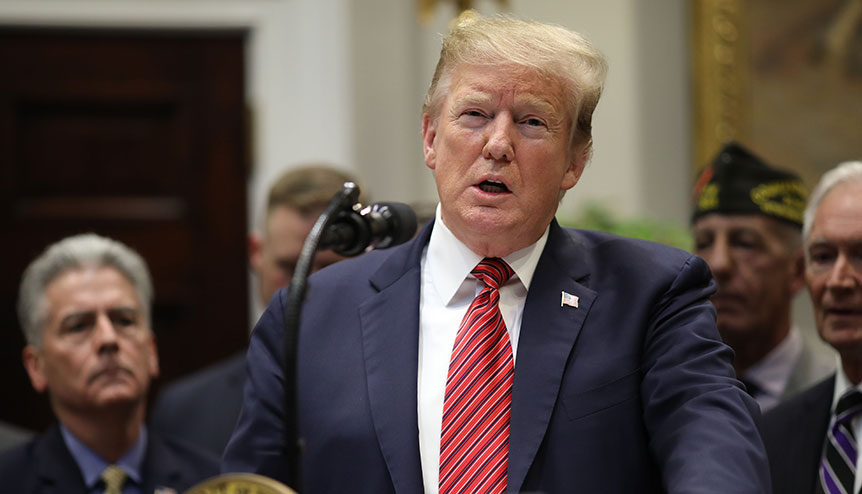 US President Donald Trump wants to decouple trade ties with India from Washington's strategic relationship with New Delhi but his heavy handed approach to trade negotiations is unlikely to yield results without mutual give and take.
At the recent G-20 Summit in the Japanese city of Osaka, US President Donald Trump told Indian Prime Minister Narendra Modi: "… We have become great friends and our countries have never been closer. I can say that with surety…"
This bonhomie was missing in a tweet the US President put out shortly before his arrival in Japan. "I look forward to speaking with Prime Minister Modi about the fact that India, for years having put very high tariffs against the United States, just recently increased the tariffs even further. This is unacceptable and the tariffs must be withdrawn!"
His reference was to the recent Indian duty hikes on 28 US export items in response to the US imposition of tariffs on Indian steel and aluminium exports and the withdrawal of preferential trade access for Indian products. He has followed this up with another tweet on July 9, saying: "India has long had a field day putting Tariffs on American products. No longer acceptable!"
This comes just before fresh trade talks between US Assistant Trade Representative Chris Wilson and Deputy Assistant Trade Representative Brendan Lynch and their Indian counterparts in New Delhi in July.
No wonder India's new External Affairs Minister S. Jaishankar and new Commerce Minister Piyush Goyal have had to hit the ground running. Their first major challenge, within hours of taking oath as ministers in the Narendra Modi government 2.0 on May 30, was to firm up an Indian response to the unilateral move by the Donald Trump administration to withdraw Generalised System of Preferences (GSP) concessions to India.
GSP allowed India to export about 2,000 items to the US without paying any duties.
The Trump administration had decided to withdraw GSP benefits to India from March 2019 but following interventions from senior members of the US Congress, had kept the decision in abeyance till the end of the Lok Sabha elections in India. Trump finally issued the order to "terminate India's designation as a beneficiary developing country effective June 5, 2019" a day after the new Modi Cabinet was sworn in.
With Trump approaching re-election season next year, he's taking off his gloves to unveil his iron fist – to appeal to his protectionist domestic constituency. The decision of Indian Finance Minister Nirmala Sitharaman to raise import duties on several items including auto parts and alloy steel in the Budget she presented on July 5 has almost certainly raised his hackles further.
Upping the ante
Diplomats and trade analysts said Trump's latest tweet may be designed to apply more pressure on India ahead of the latest round of trade talks.
But India has played down the growing differences on trade. Briefing the media recently, Raveesh Kumar, spokesperson of India's External Affairs Ministry, said: "I think it is important to understand that in any relationship, which is multidimensional like India and the US, there are bound to be certain differences, there are bound to be perspectives where we share a different approach.
"How we handle it is the key and flowing out of that meeting what we agreed was on all these issues we will continue to talk."
He added that Modi and Trump had discussed trade issues at the meeting in Osaka in June but didn't divulge any further details.
Improving balance of trade
The withdrawal of GSP benefits to India, under which India exports about $5.7 billion worth of goods to the US – about 10 per cent of its total exports to that country – may actually be the tip of the proverbial iceberg.
Trump, who seems to view every bilateral US relationship through the prism of trade, has been railing on for over a year about allegedly sky high Indian tariffs on Harley Davidson motorcycles and a slew of other US products.
Then, the US President's complaints on the balance of trade between the two countries also seems unjustified when one considers that India's surplus has been falling consistently over the years – from $24.4 billion in 2016 to $22.3 billion in 2017 to $21.3 billion last year. In fact, India is the only major trade partner with which the US's trade deficit has shrunk this consistently.
Section 301 a bigger threat
News agency Press Trust of India (PTI) quoted an unnamed senior White House official as saying: "There's concern that recent restrictions adopted by the Indian government on e-commerce and data localisation have negatively impacted US companies and the overall investment climate."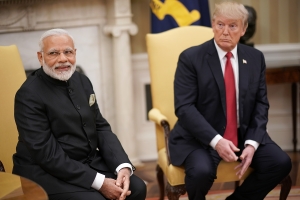 There are reports in the US media that US Trade Representative (USTR) Robert Lighthizer may take action against India (and a few other US allies) under Section 301 of the US Trade Act, 1974 for allegedly discriminatory tax and trade treatment of US companies.
Section 301 allows the USTR to impose sanctions, hike tariffs and take other unilateral actions in response to unfair trade practices adopted by a US trading partner. This could open up everything, including the trade package… dairy, medical devices and agricultural products, among many other things.
A Special 301 report released by the USTR in April said India remained on its Priority Watch as the country "lacks an effective system for protecting copyright and unfair trade practices in pharmaceutical and agricultural chemical sectors".
The US administration is now seeking to decouple the strategic and economic relationship with India, as it has done with many of America's allies, to gain better, swifter, and bigger market access. And India wants pretty much the same into the US. So, on the face of it, they just need to sit down and get the deals done. But that's easier said than done.
Thin end of the wedge
Trade tensions have been building up with the US over the past couple of years, ever since Trump was elected to the White House.
Last June, the US had announced import tariffs on steel and aluminium exports from India. At that time, India had announced that it would levy retaliatory tariffs but has refrained from doing so to give negotiations a chance.
But the US had repeatedly rebuffed reasonable counter-offers from India.  The last of these offers was made as recently as March 2019 under which India would provide easier market access for US pork, cherries, apples and alfa-alfa hay in return for Indian exports of mangoes and grapes.
Both sides had agreed to this proposal but could not find any meeting ground on the US demand for removal of price caps on cardiac stents and rules for imported dairy products.
Under Indian laws, all imported dairy products have to be certified that the animals have never been fed anything containing "internal organs, blood meal or issue of ruminant origin".
The US rejected the Indian offer of accepting US certification to this effect as the costs would have been prohibitive without a guaranteed market share, which the Indian side was unwilling to accede.
Then, Washington is seeking concessions that are several times higher than the duties it will forego if it restores GSP benefits. The US team that has been negotiating with India for more than a year, has sought tariff concessions of about $3.2 billion in return for restoring $190-240-million GSP benefits to India. The Indian side has rejected this demand.
Indian dilemma
Jaishankar, a highly respected former Foreign Secretary and former ambassador to the US and China, and Goyal, a formidable negotiator who is credited with turning India's power sector around, who form the core of the Indian negotiating team, are unlikely at this point to adopt any retaliatory measure and raise tariffs on US exports to India.
That's because GSP benefits are not mandated by any international or bilateral treaty. It is a voluntary US measure to help developing countries and a unilateral benefit offered by Washington. But any additional tariffs on US exports could fall foul of India's commitments under the World Trade Organisation (WTO) treaty.
With India launching satellites, holding a nuclear arsenal, and now engaged in programmes to build space-based defence systems, it has clearly set out its stall for developed world aspirations. But it continues to grapple with developing world problems such as ensuring clean drinking waters, electricity, and housing for all its 1.3 billion citizens.
So while it is a fact that India is still deserving of benefits under GSP for many reasons, the opposite is also true. And this is where Trump is unwilling or unable to appreciate both the context and long term harm his tactics can cause to the bilateral relationship.
America First aimed at Trump's domestic constituency
By picking trade fights with almost all of the US's important allies – Canada, Mexico, the European Union and now, India – Trump is trying to burnish his domestic strong man image before next year's Presidential election in the US.
And even as he tells his constituency  that he is waging an all-out war on their behalf, Trump's America First diplomacy is imposing a strategic cost on the US and its allies.
It started with H1B visas
Early in his tenure, Trump tightened the norms for issuing H1B visas, the main entry pass used by Indian IT companies to relocate IT professionals to the US, and banned work permits for the spouses of such visa holders.
This sniping comes on the back of Trump's long-held grudge at India's trade surplus with the US and its allegedly loose intellectual property rights (IPR) regime that enables its generics drug industry roll out cut-price versions of off-patent drugs originally developed by US drug majors.
Geo-political allies
A look at the defence sector, however, tells a different story. The US recently sold India 22 Apache attack helicopters, which it does only to its closest allies. Over the past five years, the US has also replaced Russia as India's largest defence supplier, signalling a close strategic clinch.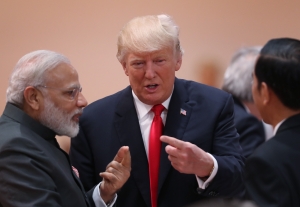 Then, it has just agreed to supply India with six Westinghouse AP-1000 nuclear reactors for a power station being planned in the south Indian state of Andhra Pradesh.
This will involve very sensitive technology that countries which possess it transfer only to their most trusted allies.
Then, the a few days after India became only the fourth country in the world to declare its anti-satellite weapons capacity, the Pentagon defended New Delhi's right to develop the capacity to defend itself against attacks from space.
This reaction, coming from the US Defence Department, showed the distance the two countries had travelled since the days when such a test would have been greeted with unbridled hostility and opprobrium.
The US is also likely to waive sanctions on India for acquiring the Russian S-400 Triumf missile system.
Convergence of interests
The convergence of strategic interests, most notably on global terrorism, the rise of China and the importance of maintaining peace and stability in the Indo-Pacific Region sits uneasy with the series of disagreements on trade.
Both countries have worked hard, especially since Modi came to power in 2014, to overcome the baggage of the previous decades when India and the US invariably found each other in opposite corners on almost every issue of mutual interest.
While the quite unnecessary muscle flexing on trade by the Trump administration is not yet threatening to undo the gains of the last 20 years, it is reverting Indo-US ties to a zero-sum game that serves neither side well, especially given the almost total alignment of the world views of the two countries on the most important foreign policy and strategic issues facing them.
Mature reaction
India has so far not reacted in a knee-jerk manner to the US provocations. But Trump's all-or-nothing hard line approach may be blocking possible avenues for a negotiated settlement of the trade dispute.
Time to appoint an Indian Trade Representative
Jaishankar and Goyal are formidable negotiators but the fact remains that the Indian bureaucracy has little institutional memory on such matters. The Commerce Ministry, which primarily deals with foreign trade-related issues, has mostly generalists in its ranks.
The US side, on the other hand, is represented not by its Commerce Department but by the USTR whose full-time job is to track trade related issues involving the US.
While the USTR is a specialised body, Indian officials have the disadvantage of negotiating with professionals who have a longer institutional memory than that of bureaucrats, however brilliant, with fixed terms.
And just as Prime Minister Modi has made a small beginning by deciding to induct domain specialists in senior positions many ministries, this may be a good time to start a debate on the issue of appointing an Indian trade representative to deal with issues such as the dispute with the US.
Negotiations the way forward
The trade talks in July will set the tone for what is to follow. The strategic relationship seems to have weathered the trade storm for now – as was evident from US Secretary of State Mike Pompeo's talks with Jaishankar in New Delhi in the last week of June. But a give and take approach to trade from both sides and a climb down from Trump's all-or-nothing doctrine will help.
Otherwise, Trump's myopic brinkmanship could cause serious long-term damage to a relationship that was beginning to look stable after decades of animus and turbulence.
India and the US cannot, after all, be strategic allies and part of "the defining partnership of the 21st century" while being at loggerheads on trade.