The UK provides a compelling offer for Indian businesses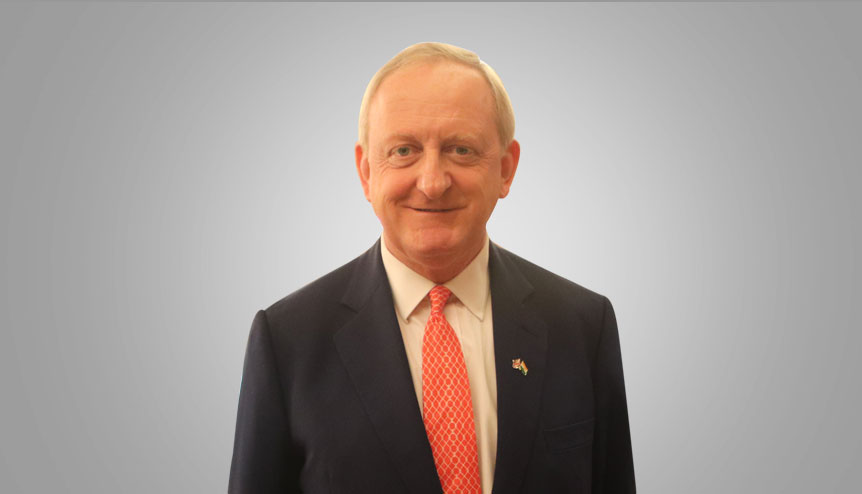 The Lord Mayor of the City of London reflects on the opportunities for collaboration between the UK and India within the digital sphere as he leads a major fintech delegation to India.
As a businessman who has travelled to India no less than 20 times over three decades, it was fantastic to return to the country as Lord Mayor of the City of London, and principle ambassador for the UK financial and professional services sector.
Last week I visited three cities – Delhi, Hyderabad and Mumbai – as the head of a delegation of UK firms. Over this time, we have learnt a lot, but more importantly, we have seen huge areas of potential for further UK-India growth.
One thing that struck me was the sheer scale and pace of innovation taking place within the private sector. During a presentation by the head of PayTM, we heard the incredible story of the company's growth from small start-up to giant fintech. Now boasting 500 million active users and an array of products, the firm is a prime example of first-class Indian innovation, with plenty of potential to grow even further. Elsewhere, the biggest group in India, TATA, continues to grow, and in a meeting with Chairman Natarajan Chandrasekaran, I was impressed by their amazing digital vision for the future. PolicyBazaar, India's largest online insurance marketplace, is also steaming ahead with its expansion plans, and I had the pleasure of chatting to them about the future of the sector in India.
That's not to say there isn't room for foreign expertise in the Indian market. As a world leader in financial and professional services and fintech, the UK continues to provide a compelling offer for India in many areas and is well placed to act as a knowledge partner to fill gaps in know-how and skills. But in the face of increasingly advanced innovation and competition in India, it is clear that UK companies need to think carefully about where they fit, and UK Plc needs to be structured in its overall approach when seeking Indian partners.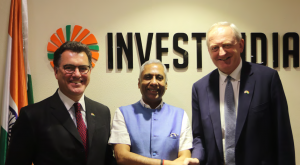 Another important takeaway from my visit is the keen focus from the top to deliver on the campaigns and initiatives of Prime Minister Modi and his government. In New Delhi, I met with the Secretary at the Department of Economic Affairs, Atanu Chakraborty, who was hugely encouraging about the future of economic reforms in the country. This positivity was reinforced during a meeting with think tank NITI Aayog, where I gauged some real forward thinking on government priorities, including health, renewable energy and agriculture, and where the UK can assist in these areas. Outside of the capital I also met with representatives from the state governments of Telangana & Maharashtra – both competing to attract the best talent, the best companies and create the best ecosystem, and both providing compelling offerings to UK companies wanting to enter the Indian market.
What also came across in all my meetings was a clear commitment from those I met to make a success of the Gujarat International Finance Tech-City (GIFT City). While growth in Modi's visionary new city has been slow, it's obvious to me that this is a project that the government is committed to, and I expect to see many more initiatives with regards to GIFT in the near future, particularly after the high-speed rail link has been built.
Going forward, the City of London Corporation that I represent will, of course, stay abreast of developments in GIFT and across India through our long-standing representative office in Mumbai. But we will also continue to work with organisations like Invest India to accelerate trading ties in financial and professional services. A prime example of a key player in the Indian market driving the foreign direct investment agenda, I hope in the future we can work more closely together, especially in the area of fintech.
I also hope we continue to build on our relations with several trade associations, including the Data Security Council of India, CII and DCB Banks, all of which are hugely ambitious conveners with an international outlook. There is plenty of appetite for partnerships with industry, in areas from cyber security and fintech, to promoting direct learning and collaboration, and my advice for any budding UK partner is to hone in on the specifics in the market you want to deliver.
Of course, I gave this same advice to members of my hugely impressive business delegation, each of which has an existing India story that I hope my visit has helped to accelerate. In areas as diverse as cyber security, insurance, biometric verification and payments, each delegate flew the flag for UK Plc and provided a glowing glimpse of the massive potential UK fintech has to offer India. I, for one, look forward to further stories of success over the following months from my delegation, but also companies across the UK. At the City Corporation, we stand ready to support all firms entering India.
Alderman Peter Estlin is the the Lord Mayor of the City of London, and a principle ambassador for the UK financial and professional sector.