The pandemic may open new doors for India-Japan ties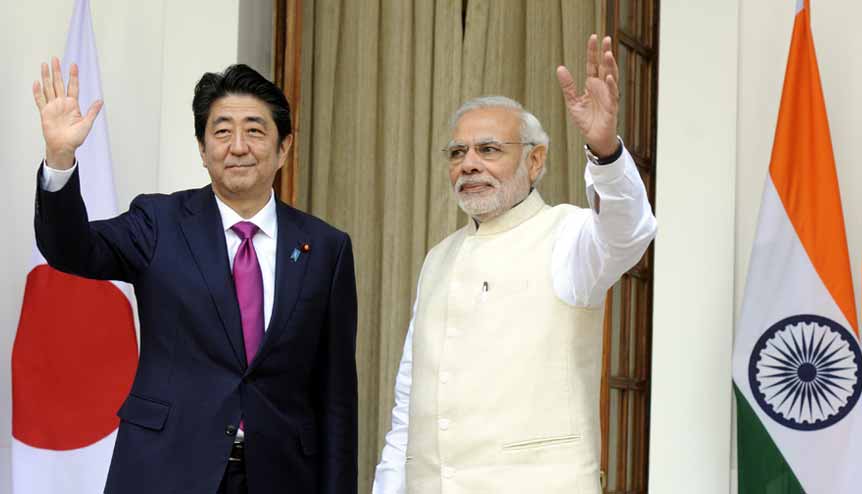 The increasing paranoia regarding China opens up several avenues for India and Japan to build a stronger bilateral partnership.
Highlights:
Japanese PM Shinzo Abe announced a corpus of $2.2 billion to help Japanese firms relocate their supply chain network from China.
India tweaked its FDI policy to include China in the list of countries where any investment would need the government's approval.
The Gujarat government is preparing a bouquet of incentives to attract Japanese firms looking to shift from China.
The spread of the coronavirus outbreak, the greatest pandemic the world has seen in over a century, is likely to change the world order, altering relations between nations irreversibly. Some may drift apart, and others may conjoin. In the case of India and Japan, it may only push the two nations even closer. It could all be at the behest of China, which increasingly finds itself isolated on the world stage.
Looking at post-COVID ties
On 10 April, when the heads of the two nations – Prime Minister Narendra Modi and Japanese premier Shinzo Abe – held a telephonic discussion on the situation arising out of the pandemic, one of the key points was how the two countries can work together to find solutions to issues that will crop up in the post-COVID-9 world.
"The India-Japan Special Strategic & Global Partnership can help develop new technologies and solutions for the post-COVID world – for our peoples, for the Indo-Pacific region, and for the world," Modi said later in a tweet.
No further details of what that means were shared but less than a week later, Abe announced a corpus of $2.2 billion (240 billion yen) to help Japanese firms decouple from China and relocate their supply chain network elsewhere. That immediately puts the focus on India where Japanese companies have a stronghold in sectors like automobiles and consumer durables.
Shutting off China
The paranoia with China is not one-sided either. India too tweaked its FDI policy to include China in the list of countries where any investment would need the government's approval. The idea was to thwart any attempt by ambitious Chinese companies to take over Indian firms that may be in a spot reeling under the economic fallout of the pandemic and in a spot of bother. At the same time, it gives encouragement to other nations including Japan, to fill in the void especially in the start-up space where China is a big investor.
"It is an opportunity for others to step in as fear psychosis about China is at a crescendo," said an industry veteran who works with a consumer durable firm. "India is looking to reduce its trade deficit with China and restrict investments from the country. Japan is also looking at getting rid of some of its engagements with China. It makes perfect sense for both to look at each other."
Relations between the two countries have been on an upswing in the last few years even though numbers do not reflect that. Bilateral trade stood at just over $17.63 billion (2018-19), which put Japan well outside the top 10 countries that conduct most business with India. But the ties are deepening. India has been one of the biggest beneficiaries of Japanese development aid for several decades and billions of yen have translated into projects of critical importance for India including the Delhi Metro and the upcoming $90-billion New Delhi Mumbai Industrial Corridor.
A new Indo-Japan order
Japan is also one of the largest FDI investors in India accounting for over $25.2 billion (Rs 193,000 crore) or 7.2 per cent of overall FDI inflows into India.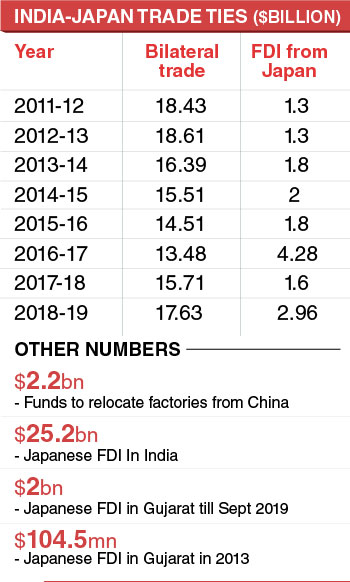 The pandemic is sure to weaken the Indian economy and a number of companies would be in dire need for technology and capital once the crisis is at an end. Every other economy will also have its struggles and there may not be many with extra cash, but Japan could be one of them. Which is why multiple states in India have already reached out to it seeking investments. The Gujarat government, for example, is preparing a bouquet of incentives and sops to lure Japanese firms looking to shift from China. It also has a dedicated Japanese park that has several supplier companies that make parts for these businesses.
The state has already received sizeable investments of over $2 billion (Rs 15,700 crore) from Japan and has factories from passenger vehicle market leader Maruti Suzuki and two-wheeler giant Honda. It was a mere $104.5 million (Rs 800 crore) in 2013.
"We are offering incentives and subsidies for manufacturing units across 30+ sectors. With excellent roads across the state, we have port connectivity with 48 large ports handling over 450 million tonnes cargo. With 17 operational airports and airstrips with two international airports, we have smooth air connectivity," says Manoj Das, the state's principal secretary.
Out of the debris of the pandemic, the sun may just rise for the India-Japan partnership.