The Indian CEO: From values to value-creation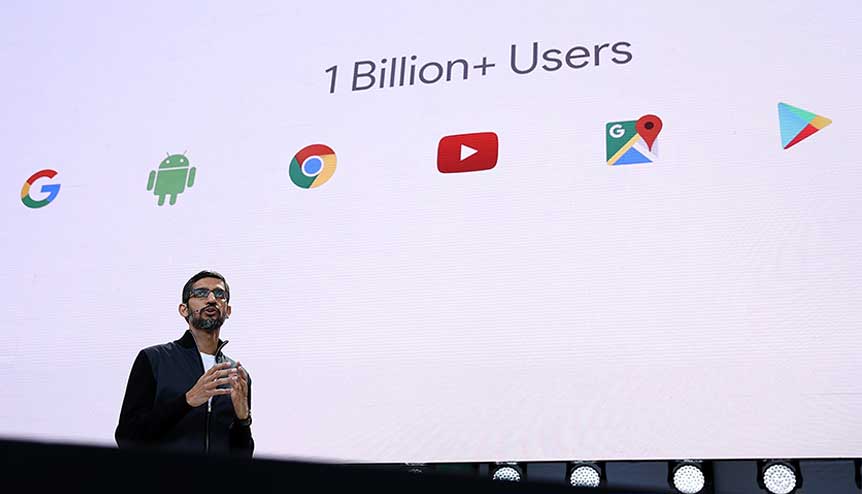 Do Indian-born chief executives operate with a different corporate DNA and value system? This is a frequently-asked question as more than 30 per cent of Fortune 500 companies today have Indians as their CEOs. We dive deep to figure out what is the source of their competitive advantage and how the world stands to benefit from their collective experience in this climate of great uncertainty.
What's common between IBM, Deloitte, Microsoft, MasterCard, Novartis, Google and Adobe? Of course they are undisputed giants of their respective industries – but each of the companies above is also led by a CEO who was either born in India or is of Indian origin. In fact, 30 per cent of Fortune 500 companies today have Indians as their CEOs.
So Arvind Krishna of IBM, Shantanu Narayen of Adobe, Sundar Pichai of Alphabet – the parent company of Google, Satya Nadella of Microsoft, Punit Renjen of Deloitte, Vas Narasimhan of Novartis and Ajay Banga of Mastercard thus have a thread of common heritage binding them in an increasingly fragmented corporate workplace, besides their obvious individual brilliance.
As their number swells in the USA and around the world, it begs the question: Is this merely a case of Indian exceptionalism or do CEOs of Indian origin bring something different to the corporate boardroom that sets them apart? What's so different in the DNA of the Indian chief executive?
Playing for the long-term
Industry experts and analysts agree that more than exceptionalism, Indian-origin CEOs bring a certain value system that is unique in its approach and pays handsome dividends for a company in the long-term. According to Harbir Singh, Professor of Management at Wharton, there are several attributes that are responsible for the rise of this particular breed of CEOs. One of them is their concern for people and the organisational culture that embodies their value system – and the genesis of this might only be possible from an Indian context.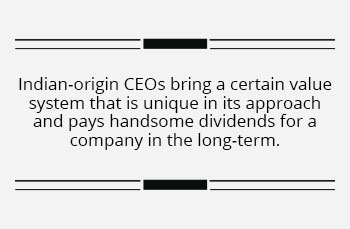 The reason why Indian CEOs tend to focus more on internal issues involving people is that India, unlike the US or other developed countries, has no safety nets such as unemployment benefits or social security for employees once a company lets them go, Singh explains. "In the US, CEOs often see shareholders or the board as their primary constituency. In India, CEOs need to focus on employees because of the safety net factor." As a result, such companies ensure that there's a deep-rooted culture of investing in employees – whether in India or in the USA.
Such a value system also goes a long way in making the corporate culture of such companies compassionate and inclusive to individual needs. Satya Nadella, who has been credited with turning around the fortunes of Microsoft, is one of the most vocal supporters of the importance of empathy, including how it helps drive innovation in any company.
Indeed, while the CEO is responsible for the day-to-day running of a company, his or her leadership also drives value-creating cultures and most often makes the difference between organisational success or failure. According to Larry Ackerman, the father of identity based management; "The most powerful cultures spring naturally from the identity of the organisation – the value-creating core of the enterprise."
Navigating post-Covid challenges
As the world struggles to get back on its feet amid the Coronavirus pandemic and businesses stare at a devastating commercial landscape, the spotlight will thus firmly be on the Indian CEO to see how they navigate the current set of challenges and steer their companies out of global choppy waters.
It's a scenario that most of them are ready for.
Former PepsiCo CEO and corporate legend Indra Nooyi – who strongly boosted its fortunes by shifting the cola giant's focus to healthier products – is famous for her refrain that adaptability is a central skill for CEOs. "In uncertain environments, it isn't any specific asset, intellectual property or competitive position that matters most. Rather, being adaptable and nimble are the characteristics that will separate the winners from the losers over the long term," she once said in a speech in Washington, DC.
Rooted in India's social milieu
Along with adaptability, authentic passion for their trade is also something that binds such CEOs. "What I'm trying to do is harmonise what I deeply care about, my deep interests, with my work… I view Microsoft as a platform for me to be able to pursue my own passions. And that gives me a lot of meaning, and that, to me, is the ultimate form of relaxation," Microsoft CEO Satya Nadella told the Australian Financial Review in an interview.
The roots of such values and practices stem largely from the social milieu of India. In 2009, Harbir Singh along with his colleagues Peter Cappelli, Jitendra Singh and Michael Useem, interviewed senior executives at 98 of the largest India-based companies to discover how they drive their organisations to high performance. The findings have a large bearing even on Fortune 500 companies run by Indian-origin CEOs.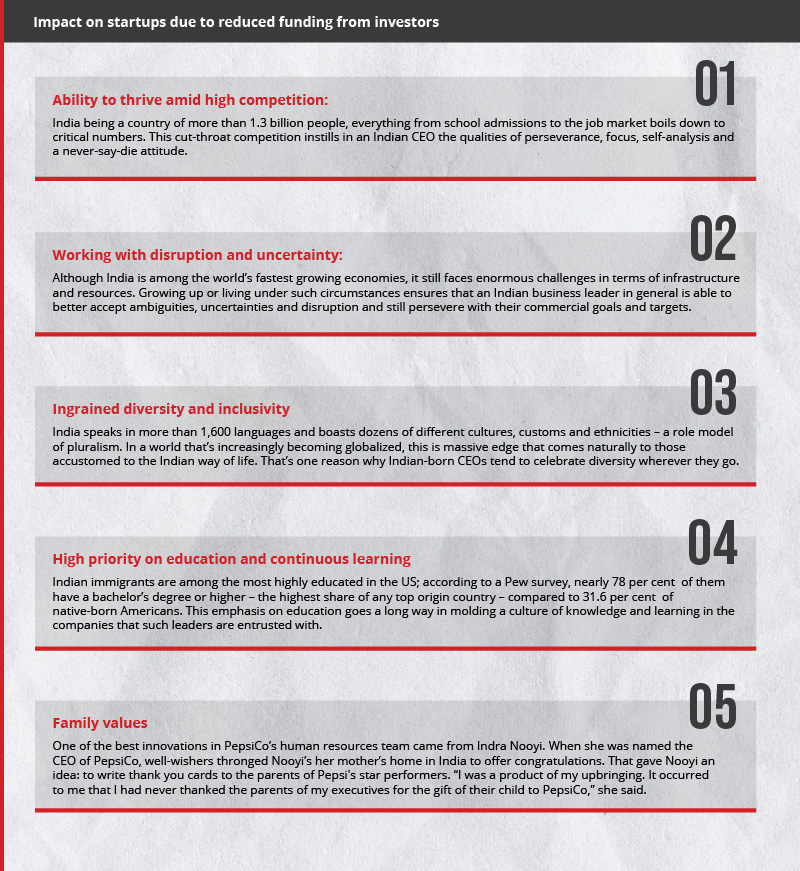 "In conversations with leaders at Infosys, Reliance Industries, Tata, Mahindra & Mahindra, Aventis Pharma, and many others, a picture emerged of a distinctive Indian model. None of the people we interviewed suggested that their companies had succeeded because of their own cleverness at strategy or even because of the efforts of a top team. They didn't mention skill in financial markets, mergers and acquisitions, or deal making – talents that Western CEOs often claim underpin their companies' performance. Almost without exception, these leaders said their source of competitive advantage lay deep inside their companies, in their people," said the study, published a year later in the Harvard Business Review.
Focus on frugal innovation
Former HCL CEO Vineet Nayar even pushed bar a notch higher with his dictum "Employee first, customer second" – a call that became the company's motto.
Along with a relentless focus on people, it's also the background of fierce competition (most of these CEOs have studied at the prestigious Indian Institutes of Technology where the admission rate is below 2 per cent ), population-induced complexities, frugal innovation, ethnic diversity and strong family values combined with the challenges of uncertain infrastructure that makes the typical India-pedigreed CEO the poster child of resilience and empathy in successfully running any company in any corner of the world.