The decade of aspiration, acceleration and assertion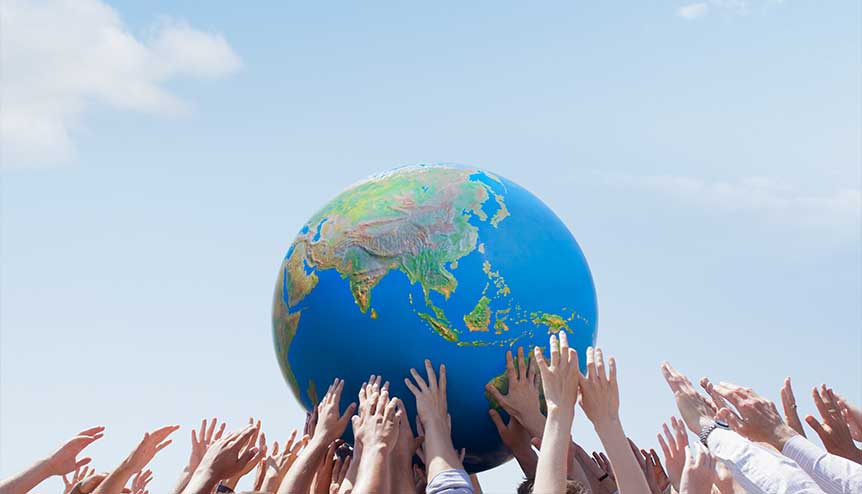 The 2020s promise to be a decade with a difference. For one, many incipient trends – from a rise in aspirations to an acceleration in development to greater assertion of national identities – will come into their own over the next few years. Then, rising education levels and breakthroughs in science, technology and medicine will likely make this the most egalitarian decade in the history of mankind.
Highlights:
2020 marks a decade of aspirations – of the billions of newly empowered people who will dare to dream for the first time in their history.
The emergence of a fractured global order with a set of powerful countries drawing up their own areas of influence seems likely to mark this decade.
The growing aspirations of the globe's new middle class will accelerate progress on a variety of social and parameters across Asia, Africa and South America.
The era of Pax Americana is drawing to a close. Will the 2020s be the decade when the US's seven-decade domination of global affairs and popular culture is replaced by something else?
We don't know. Most probably, we will see the emergence of a fractured global order in which a set of powerful countries will draw up their own areas of influence, but a few common trends will emerge. The aspirations of the globe's new middle class will inform the decisions of most of the emerging players. As the number of people who fall in these new classes gathers critical mass, we will see an acceleration of progress on a variety of social and parameters across Asia, Africa and South America. These newly enriched and empowered countries will assert their national identities in ways that will throw up new opportunities as well as new conflicts.
Opportunity for India, Africa
If India is the youngest country in the world – with a median age of 29 years and two-thirds of its population under the age of 35 – Africa is the youngest continent, with a comparable demographic profile. The latter, comprising 54 countries, including more than 30 democracies, has an economy that is roughly equal to, although far less sophisticated and diversified than, India's.
India and Continental Africa are throwing up young populations connected to the rest of the world through technology and social media. They are better educated than their parents – in fact, many of them boast qualifications at par with the best in the world – and are keen to unleash themselves, and their ambitions, on the world. This explosion in the population of educated people will throw up a new set of challenges.
Achievements… quicker… faster… bigger… This is the new credo. And this trend is expected to accelerate in this decade.
How will we meet their aspirations?
Some countries will accelerate, others will decline
It won't be easy. The concept of jobs is changing. Many well-paying and respectable professions will die out as artificial intelligence, Internet of Things and machine learning become all-pervasive. But predictions of a bleak, dystopian plutocracy replacing society as we know it are too pessimistic and dire – but they are staple whenever a tectonic shift in technology has fundamentally altered the way society functions. It happened during the Industrial Revolution and has repeated itself in lesser degree several times since.
This decade, almost a fifth of the global workforce will be Indian. The spread of mobile telephony and the adoption of technology has changed the way the Indian economy functions. There is every possibility of this being replicated in Africa, parts of South America and elsewhere.
The changes that will play out this decade will disrupt life as we know it but also throw up new opportunities. Countries that can harness these technologies best will succeed in the new race that has already begun. This will result, by the end of the decade, in the acceleration of some countries and a decline in some others.
From BRICS to South-South collaboration?
In the first two decades of this century, the focus was on the BRICS. This itself was a paradigm shift as it was the first time in history that the world's economic focus shifted from the traditionally rich countries to newly emerging economies.
This decade will show us if this trend will continue – with a new and greater South-South orientation in trade, diplomacy and business. If it does, and if the spread of prosperity across more countries leads to a fall in inequality, we could end this decade with the most egalitarian world order in history.
The fight against disease
During this decade, modern science will win several more battles against diseases of the old world. But new challenges will emerge. Mental health and the treatment and care associated with it will become more important in some countries… in some others, this decade will mark the beginning of a new era in which mental illness will find greater acceptance as a legitimate ailment.
Even as medical technology achieves new breakthroughs against currently untreatable or difficult-to-treat diseases, healthcare delivery will also improve. India's Ayushman Bharat scheme, the world's largest publicly-funded health insurance scheme which promises universal medical coverage for 500 million underprivileged people, is ideally suited for rollout in Africa and other currently less developed countries after tweaking its features to account for local conditions.
Muscular assertion of national identity
The coming decade will almost certainly see a more muscular assertion of national identity. We have already seen signs of this – with the rise of leaders such as Donald Trump in the US, Narendra Modi in India, Xi Jinping in China, Vladimir Putin in Russia and several less prominent leaders in other parts of the globe.
Many analysts are wary of this as national assertion introduces a new paradigm in an already unpredictable global order. Its destabilising effect is already evident in the trade war launched by Trump on China, in Russia's somewhat reckless decision to annex Crimea, China's muscle flexing in the Asia-Pacific region and in the South China Sea and, most recently, in the US administration's risky decision to assassinate a serving Iranian major general.
India and the UK are, arguably, the only outliers in this group. Their assertion of national identify – the defanging of Article 370 by the Modi government and the unexpected Brexit vote are the two most prominent examples of this – is aimed at improving their own internal economic and security positions and not aimed at foreign rivals.
Agenda setting
And lastly, this decade will be marked by new definitions of security. Given the way global warming is going, it is possible that climate change will emerge as the most pressing security issue by the end of this decade. This will require new thinking and call for a new agenda to combat it. In this context, Modi's far-sighted initiative to set up the International Solar Alliance (ISA) can become a template for future action.
This is also likely to throw up new industries that will, doubtless, define this decade. Social media came of age and dominated the decade just gone by. Will it run its course in the decade we have just stepped into? Will it be replaced by a new way of disseminating information? Which countries will lead this next revolution?
The answers to all those questions will depend on the one issue that is likely to define this decade – the aspirations of billions of newly empowered people who will dare to dream for the first time in their history.