Smartphone companies are dialling up plans to set up a presence in India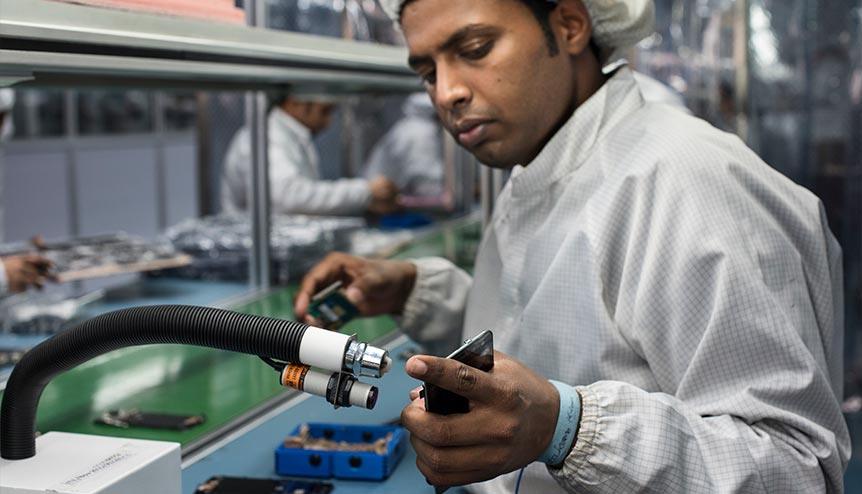 With Apple, Samsung and dozens of other firms moving significant portions of their global supply chains to India, the country could emerge as a major source of smartphone exports with global sales of $90 billion over the next five years.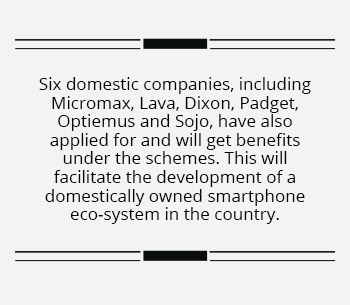 Close on the heels of Facebook, Google and a clutch of global investors pouring more than $20 billion into Jio Platforms, leading global smartphone makers Apple, Samsung and several others have committed investments of more than $1.5 billion to assemble top end phones in India for the domestic and export markets.
Have you read? Reliance's 5G ambitions provides alternative to a tainted Huawei
Why big tech is betting big on India
India is wooing investors with agility, incentives and political will
Apple, Samsung bet big on India
Apple will invest through its three contract manufacturers Foxconn, Pegatron and Wistron. Other leading global tech companies – among 22 such firms – that supply components to these companies have committed to invest in India. They include Israeli company Neolync (for actives), Austria-based AT&S and China-based Avary (for printed circuit boards), Taiwanese firm Walsin (for passives), Germany's Vitesco (for power electronics sensors) and US-based Visicon (for assembly, testing, marking, and packaging).
All these companies are investing in India in response to the Government of India's $6.6-billion production-linked incentive (PLI) scheme and two other incentive programmes – the Scheme for Promotion of Manufacturing of Electronic Components and Semiconductors (SPECS) and Modified Electronics Manufacturing Clusters (EMC 2.0) Scheme – that offer an additional $1.5 billion.
Domestic companies returning home
Six domestic companies, including Micromax, Lava, Dixon, Padget, Optiemus and Sojo, have also applied for and will get benefits under the schemes. This will, in parallel, facilitate the development of a domestically owned smartphone eco-system in the country.
Boost to domestic value addition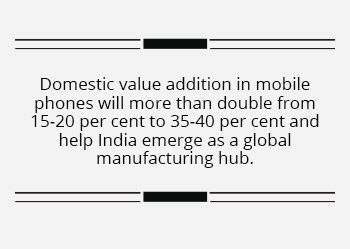 As a result of these investments, domestic value addition in mobile phones will more than double from 15-20 per cent to 35-40 per cent and help India emerge as a manufacturing hub – as opposed to an assembly location. At least 300,000 direct jobs and three times as many indirect jobs in the country could be created.
Six Indian states are competing to attract these investments. They are Uttar Pradesh, Maharashtra and the four southern states of Andhra Pradesh, Telangana, Tamil Nadu and Karnataka. Incidentally, Uttar Pradesh already hosts a large Samsung factory while Chennai in Tamil Nadu and Bangalore in Karnataka have Foxconn and Wistron factories, respectively.
World class manufacturing, World Class Jobs: World's largest mobile phone manufacturers like Apple, Samsung etc. plan to make phones worth Rs 11 lakh crore under new Production linked incentive scheme. Make in India phones are coming for the entire world.https://t.co/m5uQRdvvuq

— Piyush Goyal (@PiyushGoyal) August 2, 2020
20 per cent Apple phones to be made in India
According to Counterpoint Research, which tracks the global smartphone market, Apple is planning to shift about a fifth of its smartphone production capacity from China to India. It currently makes the iPhone XR and the iPhone 7 in India. Its partner Wistron will soon begin assembling the latest iPhone SE 2020, its most affordable, in India.  Another partner, Foxconn, has already started making the top end iPhone 11 at its Chennai plant and these are being shipped to stores across India. Producing these phones in India will save Apple, Samsung and others as much as 22 per import duties in addition to getting the incentives discussed above.

Interestingly, despite being the overwhelming market leaders in India's smartphone market – Chinese smartphone brands command an 81 per cent market share in India – no Chinese company has applied for incentives under the schemes announced by the Indian government.
The bigger picture
With Apple, Samsung and others coming to India and proving India's attractiveness as an FDI destination, the initiative to attract investors in these other sectors is expected to get a fillip. This will help India facilitate its emergence as a manufacturing hub for a wider range of products.