Nirmala Sitharaman revives demand at the bottom of the pyramid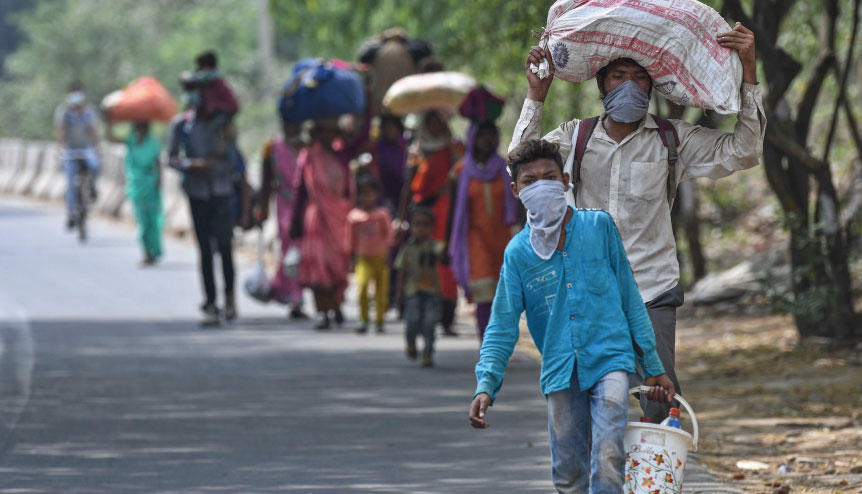 The Indian Finance Minister's second press conference reveals a clear agenda to provide relief to people worst affected by the Covid-19 lockdown and kickstart the engines of growth in the Indian economy.
Highlights:
India needs alternative sources of finance for its long-term infrastructure development and other needs.

The government must encourage large corporates to float new development financial institutions to channel household savings and foreign borrowings into productive assets.

RBI should subscribe to bonds issued by companies or set up a dedicated institution to do it and encourage banks to subscribe to these bonds.
Announcing the second tranche of the $290-billion stimulus package promised by Prime Minister Narendra Modi on Tuesday, Indian Finance Minister Nirmala Sitharaman unveiled a slew of measures to help distressed migrant workers, street vendors, tribal people, small farmers and small traders.
Related stories: Sitharaman's $75 billion roadmap
This is expected not only to address the immediate livelihoods issues and food shortages but also create demand at the bottom of the pyramid that will slowly spiral up the value chain to the rest of the economy.
She announced nine steps for these groups of vulnerable citizens – three for migrant workers, two for small farmers and one each for children, street vendors, housing and employment generation for tribal people.
Food for migrant workers
The newspapers are full of stories on millions of migrant workers walking back home to their villages – in the absence of trains and other forms of public transport till recently – often without sufficient food and water. Yet, India's granaries are overflowing with food. The Food Corporation of India (FCI), the federal government's nodal agency for purchase and storage of foodgrains alone has stocks of about 90 million tonnes of wheat, rice and un-milled paddy. In addition, state agencies have another 3 million tonnes of pulses, a staple vegetarian source of protein across the country.
To ensure food security, the government will provide migrants in India, with five kg of wheat or rice and one kg of pulses per family per month. This scheme, to be implemented by the states, will cost the federal government half a billion dollars and will benefit 80 million migrants.
One Nation, One Ration Card
India has a system of ration cards, official food grain allocation cards, which entitle holders to subsidised supplies of wheat, rice, pulses and other essentials. But so far, they were valid only in the states they were issued in. Now, using technology at the back end, these cards have been made portable across the country. As of now, 83 per cent of card holders across 23 of India's 28 states can enjoy the benefits of this portability. The remaining 17 per cent will be enrolled within March 31, 2021. This move will enable migrant workers in transit to buy heavily subsidised food from "fair price ration shops" as per their entitlement.
Boost for affordable rental housing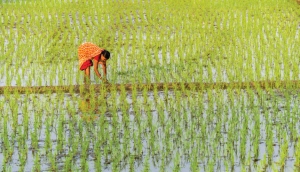 In India, a large portion of housing stock lies vacant as owners are wary of renting them out. Reason: Old socialist-era laws – a lingering legacy of India's disastrous tryst with that failed ideology under Jawaharlal Nehru and Indira Gandhi – make it near-impossible for owners to reclaim possession. This has prevented the growth of a vibrant market for rental housing in India and led to the proliferation of slums in and around urban and industrial clusters to house migrants who flock to such centres.
To address this housing need, the government is offering a set of incentives to private industries and developers to build affordable rental housing units. This will be subsumed under an existing scheme, the Pradhan Mantri Awas Yojana or Prime Minister's Housing Scheme, to provide brick and mortar houses to every Indian by 2022. State government agencies will also be incentivised to develop affordable housing.
Source: ANI
Lifeline for street vendors
Street vendors form an important part of urban India's unorganised economic ecosystem. But they have very little access to formal lines of credit and pay local money lenders usurious rates of interest for their daily financial needs. The government has unveiled a scheme to offer them loans of $140 each, aggregating to $700 million. This will ease the lives and facilitate the livelihoods of about five million street vendors, create demand at the bottom of the pyramid and provide essentials to many households that depend on these vendors for the supply of certain goods.
Employment for tribal people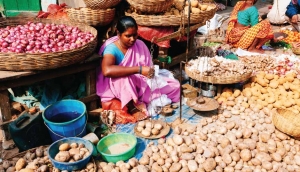 In India, businesses wanting to convert forest land for industrial use have to pay a sum of money to the Compensatory Afforestation Management and Planning Authority (Campa) fund. This authority is mandated to develop forests on barren lands to compensate for the forest land that is lost due to conversion. In reality, this mandate is not carried out in many instances, leading to the overall Campa corpus growing to more than $6 billion. The government now plans to utilise a part of this corpus to provide employment to tribal people living in forest areas in areas such as forest management, wildlife protection and other related fields.
Easy loans to small and marginal farmers
Small farmers are defined as those who cultivate land of more than 2.5 acres and up to 5 acres either as owners or tenants; marginal farmers are those that cultivate land of less than 2.5 acres. These farmers find it very difficult to access funds / credit for their inputs and often live at the mercy of the local village moneylender who charges usurious rates of interest. To help them sustain their lives and livelihoods, the Modi government is extending $4 billion in emergency lending for post-harvest and related activities.
Concessional credit to 25 million farmers
To facilitate the rural economy, the Finance Minister announced loans of more than $28 billion to the farming sector. These concessional loans will be availed by 25 million farmers and help India's rural economy, which has, so far, been left largely untouched by the Covid-19 pandemic, bounce back to life.
Other measures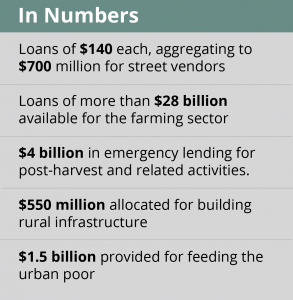 Besides these measures, Sitharaman also announced the series of steps that the government had taken during March and April, roughly coinciding with the lockdown period, to help the vulnerable sections of India's population. These include providing more than $55 billion of credit to 20 million farmers, spending $550 million on building rural infrastructure , providing $1.5 billion for feeding the urban poor, including migrants and forming 7,200 new Self Help Groups (SHGs) to make 30 million masks and 12 million litres of sanitisers, all from scratch.
Small steps, big picture
As India slowly opens up after almost two months of lockdown, it is important to ensure that various pockets of demand, across both rural and urban India, pick up in tandem, This will, over the next few weeks add up to a growing demand and feed the consumption cycle that drives the economy.
A caveat: Consumption demand will take time to return. But measures announced by Sitharaman are slowly adding up to a bigger picture that indicates a definite plan for an economic revival.