Self Reliance and Reliance are writing the great Indian story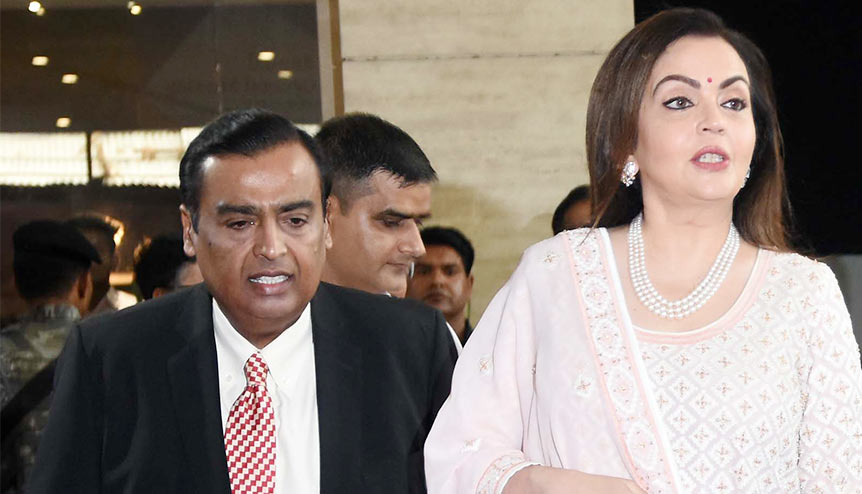 Mukesh Ambani is pushing India towards self-reliance in consumer technology even as the Government of India rolls out new schemes to attract investments from companies leaving China. These will steadily steer the country towards the goal of Atma Nirbhar Bharat.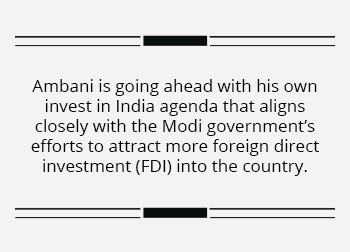 Even as the Narendra Modi government is getting ready to roll out the mother of all Make in India initiatives to attract foreign companies, especially those looking for alternatives to China, to invest in this country, western technology companies and private equity firms are pouring billions of dollars into India – or, more specifically, into one company, Reliance Industries Ltd (RIL), controlled by Asia's richest man Mukesh Ambani.
So, while the government finalises the contours of a $23-billion incentive programme to attract fresh investments from foreign companies on the lines of the spectacularly successful effort to offer production-linked incentives to smartphone makers to make India a global manufacturing hub for high end mobile devices, Ambani is going ahead with his own invest in India agenda that aligns closely with the Modi government's efforts to attract more foreign direct investment (FDI) into the country.

Read more:
Indian states step on the gas to attract FDI
Have start-up investments in India hit the great FDI wall?
FDI can technologically upgrade Indian coal sector
Right time for India to push for greater FDI inflows
India tightens FDI rules for Chinese companies
Reliance negotiating a $20-billion deal with Amazon?
Fresh from selling a 30 per cent stake in his technology venture Jio Platforms, for $22 billion to a clutch of marquee investors, including Facebook, Google and others, Ambani, according to Bloomberg, is reportedly negotiating the sale of a 40 per cent stake in Reliance Retail, India's largest brick and mortar retailer, to Amazon, the world's and India's largest online retailer.
This will, in many ways, complement the government's under-preparation scheme that will provide incentives to foreign companies to set up factories to manufacture pharmaceuticals, solar panels, specialty steel, consumer appliances, automobiles, auto components, food processing and textiles in India not only by making the country an attractive global investment hub but also by generating millions of new jobs that will, in turn, set of a virtuous cycle of demand, consumption and growth. While Reliance has denied the deal Amazon has declined to comment.
Consumer tech a gap in India's business portfolio
India may be the world leader in software development – and every major western company, from Apple to Google to Oracle to Microsoft and many others have major R&D centres here – but it has been a laggard in the global consumer technology business. Now, Ambani's RIL, which is pivoting away from its traditional oil, gas and petrochemicals business towards new age ventures like telecom, retail and app development, is filling this critical gap in India's business portfolio.
More to read:
Skill India Mission important for FDI
The changing profile of FDI: Putting money where the mouth is
2017: A year of FDI groundings for India
Role of start-ups and innovators in Atma Nirbhar Bharat Abhiyan
Atmanirbhar Bharat: An initiative to foster entrepreneurship
Western companies, by the look of it, are buying into Ambani's vision for a technology-enabled business future for India, which again, closely aligns with Prime Minister Modi's stated ambition of placing India at the forefront of developing cutting edge technology.
India closes in on $100-billion-a-year FDI target
If the under-negotiation deal with Amazon results in a transaction, RIL alone will have attracted FDI of more than $40 billion this year. That's two-fifth of the Indian government's goal of achieving FDI inflows of $100 billion a year.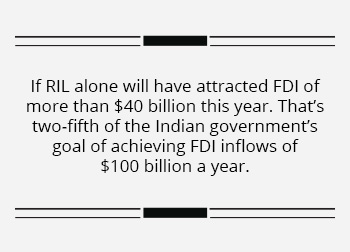 These transactions and negotiations come in the backdrop of the largest contraction in Indian GDP in history – the economy shrank a record 23.9 per cent in the April-June quarter – and the country could be headed for its first full-year GDP drop in four decades.
But hardnosed and deep-pocketed global investors like the tech behemoths mentioned above as well as PE and sovereign wealth funds such as KKR, Sliver Lakes, Mubadala and others are obviously looking beyond these numbers.
India has emerged as the 2nd largest mobile manufacturer of the world.
In the FY 2019-20, India had exported 4.15 crore mobile phones.
With new Electronics manufacturing incentive schemes we are determined to make our country electronics manufacturing hub of the world. pic.twitter.com/yC5UZhQLrB

— Ravi Shankar Prasad (@rsprasad) June 17, 2020
Modi government's efforts to attract companies leaving China
So, is the Modi government. Following the spectacular success of its $6.5-billion production-linked incentive (PLI) scheme that attracted investments from the likes of Apple (through its contract manufacturers like Foxconn, Pegatron and Wistron Corporation), Samsung and a few domestic smartphone makers, who have committed to export high end smartphones worth $100 billion from India over the next five years, the Government of India is finalising a similar scheme to attract investments in the sectors mentioned above from companies looking to leave China in the wake of the US-China trade war, the Covid-19 pandemic and its aggressive muscle flexing across the Asian landmass and its adjoining seas.
Still more to read:
Atmanirbhar Bharat also means 'Make for the World'
Post-pandemic, India will need to focus on fast-paced development for building Atmanirbhar Bharat
'Exoskeleton Structures' echoes Make in India, Make for World' vision
Domestic gaming companies must cash in on China ban
India plays the smart game by effectively thwarting Chinese investment
The eventual goal is to reduce India's dependence on China and turn the country into a global manufacturing and development hub not only for traditional legacy sectors but also emerge as the new high technology leader in Asia. In 2019-20, India imported Chinese goods worth $65.26 billion and exports goods valued at $16.6 billion, leaving the country with a trade deficit of $48.66 billion. A senior government functionary told India Global Business that the goal is to reduce this deficit to at least half over the next five years and eventually, to wipe it out completely.
Achieving an Atma Nirbhar Bharat
Reliance's multi-billion tie-ups with western technology companies will play a big role in this transition, especially if it can replicate the success model of an Alibaba, Baidu and Tencent in India. It is not clear whether RIL's plans have the tacit blessings of the Modi government, but these FDI inflows and India's bid to attract fresh investments from companies leaving China will help ensure that the Prime Minister's vision of an Atma Nirbhar Bharat (Self-Reliant India) comes to fruition.
Podcast: Play in new window | Download