Planting the seeds of green money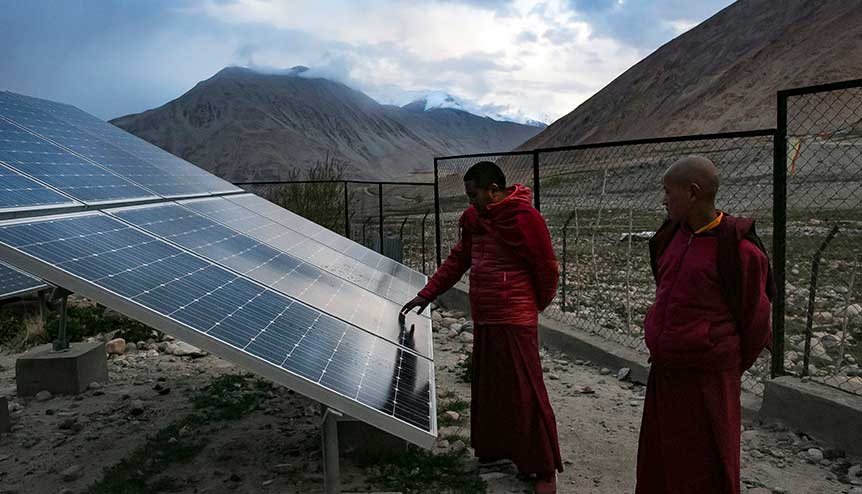 The concept of sustainability in the Indian financial system has evolved beyond the tokenism of CSR to explore mature instruments of growth. With all the lessons learnt from the Covid-19 pandemic, and as private investments gush forth, here's what it will take to push the sector into an evergreen zone.
In February this year, a few weeks before the coronavirus took a firm hold in India, the Economic Survey of 2019-20 came out with a startling piece of statistics that would continue to shine bright amid the gloom of the pandemic in the ensuing months: India had become the second-largest market globally for green bonds with $10.3 billion worth of transactions in the first half of 2019.

That ranking was a confirmation that bond issuers and investors in India continued to adopt policies and strategies linked to sustainable development goals, with the country trailing only China as the world's largest green bond market.
The rapidly maturing market for green bonds – which are debt securities issued by financial, non-financial or public entities where the proceeds are used to finance 100 per cent green projects and assets – is a clear indicator that the concept of sustainability in the Indian financial sector has evolved beyond the tokenism of corporate social responsibility to explore improved risk management, stronger revenues, reduced cost and brand enhancements in an increasingly sophisticated bouquet of products.
Also read:
Financing India's Growth—Opportunities for Infrastructure and Green Finance
Driving the future of finance in Asia
Green shoots of growth in India could prove doomsayers wrong on economic contraction
Sitharaman presents clean, green, realistic Budget
Green bonds lead the way for India-UK ties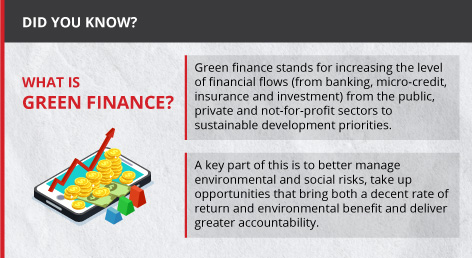 But with the long-term potential and size that it offers, there are several reasons why the Indian green finance market stands ready to outshine any other global market – though overcoming implementation challenges remains the key to its successful future.
Thanks to its rank as the fifth most vulnerable nation to the effects of climate change with 2.5-4.5% of its GDP at risk annually, India has pledged to reduce its carbon intensity by 35% by 2030 from its 2005 levels.
That's a bold but attainable goal – except that responding to it will require an unprecedented flow of finance that are simply not viable solely through government funds. To achieve the target, for instance, India needs to mobilise a total of $2.5 trillion by 2030, according to government estimates.
Stretch that by another decade, and the demand for funds gets even more drastic.
One estimate suggests that $4.5 trillion is needed to achieve India's goals for urban sustainability and renewable energy by 2040 – a figure that totally dwarfs India's fiscal capacity with its annual budgeted expenditure pegged approximately at $300 billion per year.
Senior Indian minister Piyush Goyal – then the Minister of Finance – had acknowledged the challenge in 2018, but said that finding the required finance will not be a "deterrence" for India.
"Infrastructure creation requires $4.5 trillion in investments over the next decades," Goyal had said at the Asian Infrastructure Investment Bank's annual summit, and flagged the cost of finance as an "important challenge".
Read more:
Indian financial services companies find green pastures abroad
India's Rural Electrification Corporation goes Green to raise funds
Blended finance is the answer to sustainable development
India puts all its energy behind going green
Lucrative scope for private finance
But limited public resources in financing a green future for India also means that private finance will have a major role to play in the coming decade – and that's one reason why the country has emerged as an important destination for investors seeking assets that are aligned with the Sustainable Development Goals (SDGs).
Last year, in a further bid to scale up environmentally sustainable investments, India joined the International Platform on Sustainable Finance (IPSF) – which acknowledges the global nature of financial markets which can help the sector the transition to a green, low carbon and climate resilient economy by linking financing needs to the global sources of funding.
ESG still at a nascent stage
Despite such concerted measures to push the Indian economy and infrastructure towards a clear embrace of green finance, the incorporation of environmental, social and governance (ESG) factors across corporate India still remains at a nascent stage – a gap highlighted by the Covid-19 pandemic.
"The COVID-19 pandemic has severely tested markets. Yet, early evidence in India suggests that companies that score more strongly on ESG are performing better, matching the global trend. Since the lockdown was declared in India on 24 March 2020, the NIFTY 100 ESG index has outperformed the conventional NIFTY 50 index. I estimate that the average daily increase in closing value for ESG has been 0.24 per cent, compared with 0.17 for NIFTY 50. This confirms a longer term trend, with companies in the NIFTY 100 ESG index outperforming the benchmark NIFTY 50 in 2017, 2018 and 2019," said Suranjali Tandon, Assistant Professor at the National Institute of Public Finance and Policy.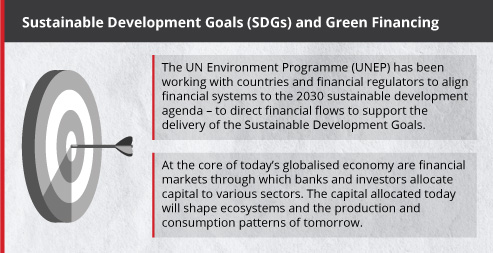 According to the United Nations Environment Programme (UNEP), while India has adopted a number of fiscal and policy measures to address key challenges, increasing green investments at a massive scale will require a more intense focus of its financial system towards green sectors.
Government agencies take the lead
With an urgent need to sensitise India's financial sector to the importance and benefits of green finance, a number of government agencies have taken the lead. While the Indian Renewable Energy Development Agency (IREDA) and the Indian Railway Finance Corporation (IRFC) contributed to the issuance of green bonds, the State Bank of India entered the green market with a $650 million certified climate bond in 2018 – with all the investments being primarily facilitated by the Climate Change Finance Unit (CCFU) within the Department of Economic Affairs, Ministry of Finance.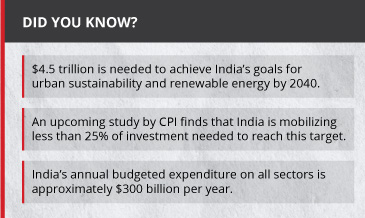 Help has also come in from beyond India's shores – the European Union's ClimateKIC accelerator today helps run JSP, a waste water treatment start-up from Chennai; Evlogia, a biodegradable straw start-up from Bangalore, and several similar green start-ups across 13 states in India, including Maharashtra, Gujarat, Tamil Nadu and Uttar Pradesh. "Raising financial resources for climate change adaptation and mitigation actions of this scale is an unprecedented challenge, but given the existential crisis, failure is not an option," said Shreyans Jain in his policy brief on 'Financing India's Green Transition' for the Observer Research Foundation.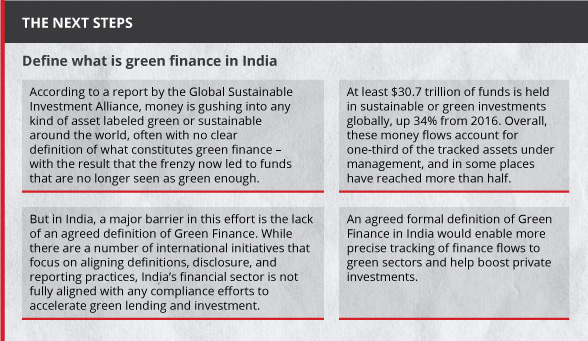 "Success will depend on how effectively policymakers are able to draw a comprehensive map for raising the requisite finance and how quickly the financial sector – both public and private, is able to respond to the needs on time," Jain said. Such an approach is vital for India given how, according to a Cambridge Study, the country fares poorly when it comes to asking companies to disclose how vulnerable their businesses are to climate-related risks.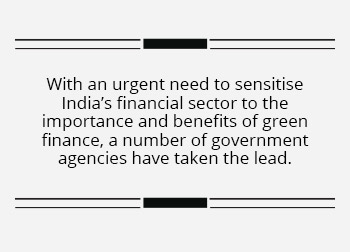 While India remains a lucrative market for sustainable investment, there is thus a growing need for the government to put together one overarching plan for the sector, with sustainable practices at the core of both economic practice and financial thinking. Only with a comprehensive plan in place will India's sustainable finance market continue to be evergreen.