Ireland is the ideal gateway for companies looking to expand in EU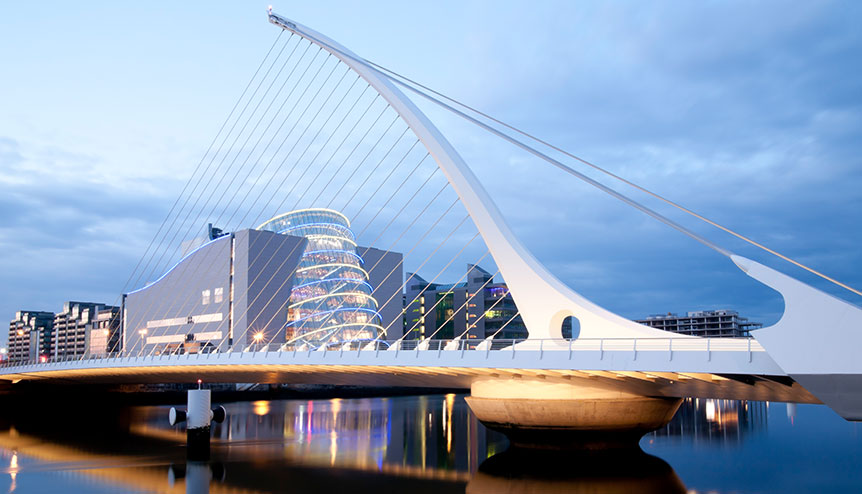 With the ongoing uncertainties surrounding Brexit, Indian companies are turning to Ireland to service their EU clients.
Over the past 70 years, IDA Ireland has evolved to become a global force in attracting FDI to Ireland. It is among the world's leading FDI agencies. Over 1,450 MNCs, supported by IDA Ireland, have invested in Ireland to service their European clients. Indian companies have been late in discovering the advantages and opportunities that Ireland offers, but now that they have, we see an increased number of companies using Ireland as their gateway to Europe. In a post-Brexit EU, Ireland will be the only English-speaking country.
The Irish economy is the fastest growing in the EU for the fifth year in a row with a GDP growth of 6.7 per cent in 2018. Overseas companies that have invested in Ireland continue to be significant exporters from Ireland, accounting for over 66 per cent of national exports. The country's main markets are the EU and the USA. These two markets have also been large markets for Indian companies. To cater to these markets, most Indian companies traditionally had a presence in the US and the UK. However, in recent times, US governmental policies have pushed more companies to look at the EU market as a lucrative market. Brexit, on the other hand, has seen Indian companies look for jurisdiction within the EU to continue to seamlessly support their EU clients and penetrate new EU markets. We now see an increasing number of Indian companies setting up an office in Ireland to service their EU clients as well as support their US presence.
Take for example Kellton Tech, an Indian company that has solidly positioned itself as a leading enabler of digital transformation globally. It set up its EMEA HQ and a development centre in Drogheda, Ireland. This with a two-pronged approach in mind: support its largest revenue generating market, the US, and grow the European market. Karanjit Singh, CEO, Kellton Tech, said: "Given that the US region contributes substantially to our revenue, the Ireland office will also be best-equipped to support US operations. The language edge and time-difference make Ireland a highly advantageous proposition for technical support, sales-enablement and accounting. We foresee a huge step-up in our hiring in near-term to support our ambitious growth plans."
Brexit has created uncertainties for businesses managing their EU business from the UK. Over 70 MNCs have set-up in Ireland as a result of Brexit including Morgan Stanley, Barclays, Aptiv, Wasdell Group S&P Global and Thomson Reuters amongst others. Uncertainty remains on the final business impact of Brexit as negotiations continue. Increased transaction costs, fears about regulatory divergence and tariffs are amongst the concerns expressed by investors that have chosen to have a footprint in Ireland to continue to seamlessly and cost-effectively service their EU clients. The English language, common law legal system, good infrastructure, competitive cost of operations, availability of talent and its demographic break-up, the OECD compliant corporate tax regime, the thriving and supportive eco-system and the pro-business government policies have all contributed to Ireland's popularity amongst companies, including Indian ones, that have chosen Ireland. Such is the growing interest amongst Indian companies in Ireland that FICCI representatives in the UK and of the Ireland-based Ireland India Business Association signed an MoU last month to engage closely to provide a boost and significant amount of opportunity to increase trade and investment ties between India and Ireland.
This month the CII led a delegation of some Indian start-ups to Dublin on an 'Indian Start-up Research mission'. The growing interest in Ireland is very evident.
Today, the top six Indian IT services companies (including TCS, Tech Mahindra, Wipro, Infosys) have large customer support centres in Ireland. With the industry shift globally towards 'digital', each of these are building 'digital pods and labs', Centres of Excellence & growing their R&D teams in Ireland. This shift is supported by the thriving ecosystem and talent base that Ireland offers. Presently, work is being carried out in the new-age growth areas of digital, AI, IOT, Analytics, fintech, bots, smart cities, E-commerce, E-payments, cyber-security, software for autonomous vehicles and mobile applications (to name a few areas). Mid-sized Indian companies are also using Ireland as their EMEA base and these include BrowserStack, NIIT Ltd and Kellton Tech to name some. Tata Motor's Jaguar Land Rover has established a Centre of Excellence and a large R&D centre in Shannon, Ireland that plays an important role in realising the company's vision for electric and automated driving vehicles. The centre develops new technologies to support electrification and self-driving features on future Jaguar and Land Rover vehicles.
Less than 10 Indian companies were operating in Ireland ten years ago and over a hundred Indian companies have established in Ireland today. The IDA Ireland team in India continue to actively support and work with over 35 companies who now have a sizeable footprint in Ireland, and they support a similar number by helping them with introductions to the eco-system.
Besides the IT and Technology sector, Ireland has strengths in the life sciences industry. As it turns out, major Indian pharmaceutical companies having operations in the UK and supporting their EU clients out of the UK are likely to be adversely affected due to Brexit. Ireland offers them the perfect solution. Ireland is home to the top 10 global pharmaceutical companies and the top global 14 out of 15 med-devices companies. These companies have multiple manufacturing sites as well as carry out other functions like supply-chain management, R&D, shared services, warehousing and packaging. Indian companies like Wockhardt, Biotech VisionCare, Unichem, SMT (India's largest stent manufacturing company) are some Indian companies with a presence in Ireland. Presently, five other Indian life sciences companies are growing their presence in Ireland and a similar number are likely to set up before the end of this year. The recent Supplementary Protection Certificates (SPC) waiver has also opened opportunities for Indian generic and biosimilar companies not having a manufacturing footprint in Europe to now consider a manufacturing base there. SPC is an intellectual property (IP) right that grants the IP owner an extension of up to 5 years on a 20-year patent term for an innovative drug. This right gives the makers monopoly for both, manufacturing as well as marketing the product in the EU. The goal of the SPC is to counterbalance the loss of patent protection that occurs during the development and clinical trials of products. The waiver will allow generic and biosimilar companies to re-evaluate their manufacturing strategies across the value chain and re-invest in Europe for manufacturing across the value chain, from Bulk Drugs to finished products.
Besides these companies, engineering companies like Crompton Greaves, Deepak Fasteners, Excel Plastics amongst others have since long had manufacturing plants in Ireland. Since 2005, Crompton Greaves has had a manufacturing presence in Ireland. They have since built strong customer relations in the region, increased their production capacity as well as their capability in the automation solutions domain and are growing strength to strength from Ireland. The Irish business forms an integral part of the Crompton Greaves' business. In recent times, there is a clear opportunity for auto companies and OEMs, investing in developing EV platforms. However, even Deepak Fasteners have been in Ireland since 2008, manufacturing, managing their distribution and providing engineering support for their global clients from Ireland.
Team IDA assists potential and existing investors establish or expand their operations in Ireland. Ireland is the right place for companies wishing to expand in the EU and the time is right now.
Tanaz Buhariwalla is Director – India at IDA Ireland, the country's FDI agency.