India's push for going green gathers momentum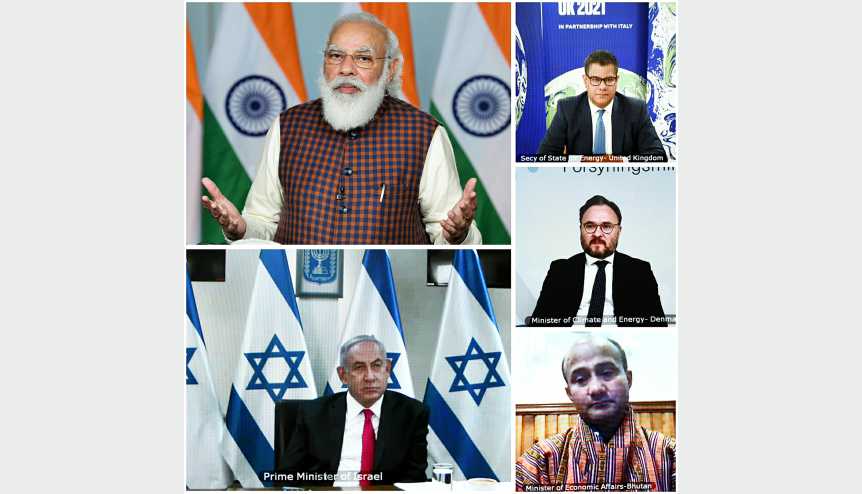 Through a combination of reforms, push for greenfield investment and innovation, India remains firmly set on its course to be the solution to a world battling climate change.
"Demand for energy in India will keep growing. There are huge renewable energy deployment plans for the next decade," Prime Minister Modi stated during his inaugural speech at the third global RE-Invest conference.
"India's green energy capacity, which encompasses solar, wind, bio-power, and small and large hydropower, is currently at 136 GW. That is expected to increase to 220 GW by 2022. These are likely to generate business prospects of the order of $20 billion a year," he said, adding that the country's green energy sector has attracted investments of $64 billion over the last six years." he said.

The 3rd Global RE-INVEST Renewable Energy Investors Meet & Expo, organised by the Ministry of New and Renewable Energy (MNRE), Government of India, themed 'Innovations for Sustainable Energy Transition' aimed to accelerate the worldwide effort to scale up development and deployment of renewable energy and connect the global investment community with Indian energy stakeholders.
Have you read?
Prime Minister Narendra Modi's new 'One Sun One World One Grid' vision
India is home to one of the world's largest clean-energy programmes
Solar power: One bright spot on India's economic horizon
India's quest for clean-air tech spawns corporate innovation
India can lead the way to greater energy efficiency, globally
Carbon capture key to unlocking decarbonisation in India
India's world-class energy service vocally local in UK
Fuel cells are key to powering India's green future
Meeting its targets
India has taken great leaps and bounds in its pursuit of green energy in the past couple of years. It has more than honoured its pledge to increase the share of power-generation capacity that doesn't use fossil fuels to 40 percent by 2030 and it is the only country to keep its emissions within the 2°C mark according to the Climate Transparency Report that released earlier this month.
The LNG push
The Indian government also invited Indian companies to spend $1.35 billion over three years on 1,000 liquefied natural gas (LNG) stations along main roads and industrial corridors and in mining areas to cut diesel consumption. "Even if the LNG vehicle segment achieves 10per cent market share in a fleet of 10 million trucks, it will have a positive impact on reducing emissions and substituting crude," Dharmendra Pradhan said at a foundation-laying ceremony for 50 LNG stations. Use of LNG in heavy vehicles will cut fuel costs by 40per cent compared with diesel and help contain inflation, he said, and urged automobile makers to look at producing LNG-compatible vehicles.
Facing the impact of climate change
India, due to its geographic location, has been one of the countries in the world to face the dire effects of climate change fairly regularly in the form of unseasonal storms, floods, drought. It has also experienced first-hand the repercussions of unsustainable development – with the country's largest metros including the capital New Delhi suffering from the world's most unclean air, with millions choking every winter due to a hazy smog arising from burning of farm stubble, coal-fired plants and car emissions.
According to recent IEA review titled India 2020, the Indian government has made significant progress in reducing the use of traditional biomass in cooking, the chief cause of indoor air pollution by encouraging the use of liquefied petroleum gas, a cleaner cooking option. India also continues to promote off-grid electrification solutions, including a shift toward using solar photovoltaics (PV) for cooking and charging batteries.
Push towards cleaner energy
Over the years the Indian government has strongly encouraged and supported its growing solar energy sector. Solar generation has already seen an increase of 23per cent from March to June 2020 since 2019 levels, boosting solar share of total electric generation from 3 per cent to 5 per cent. Solar tariffs in India fell to a record low of 2 Indian rupees ($0.0271) per kilowatt hour this week, with firms based out of Singapore and Saudi Arabia winning bids to generate power.
India currently imports over 85 per cent of its solar cell and module requirements from China, and its local manufacturing potential is negligible compared to its requirements.
However, PM Modi has stated he expects demand for domestically made solar cells and modules to increase to 36 GW in three years. "We want to make India a global manufacturing hub in the renewable energy sector." He announced in his inaugural speech at Reinvest 2020. In addition, India also plans to launch a "National Hydrogen Energy Mission."
The question of whether it will be enough remains to be seen. But as the old adage goes, if you're not part of the solution, you're part of the problem. And as one of the largest and increasingly powerful countries in the world, India remains firmly set on its course to be the solution to a world battling climate change.