India's outreach creates a new paradigm in public health security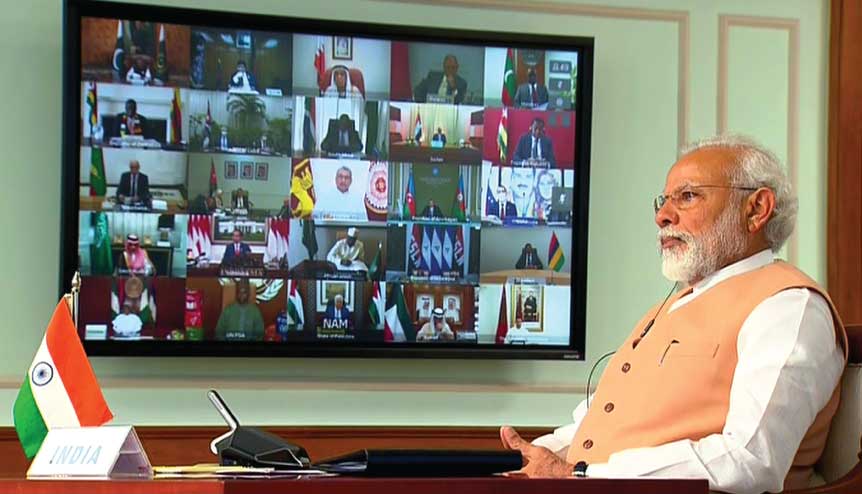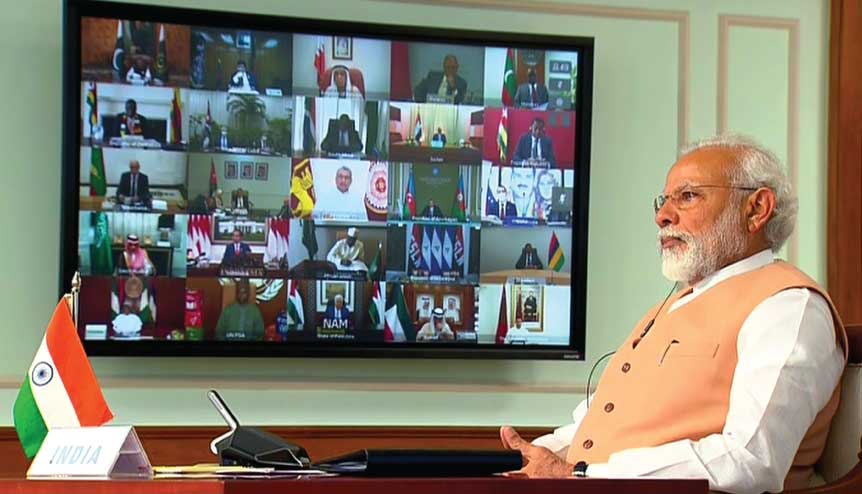 New Delhi's untiring global outreach following the coronavirus outbreak has established a basic tenet of post-Covid diplomacy: that while its response might not always be perfect, India can rise up to any global challenge and constructively help the international community. In doing so, India has shown the world that the future can be full of hope, cooperation and commitment.
India's efforts to fight Covid-19 and contain the destruction caused by the pandemic have not only won praise from health experts around the globe but also world leaders – for India has stood out for its exceptional humanitarian role during the crisis.
Related stories: Why India is ready for permanent role at the UN Security Council
Sending COVID-19 medicines to Africa part of Modi's strategic outreach effort
Besides burnishing its credentials as a $5 trillion economy of the future, India – as mentioned in the first report of this series – has convinced the international community of its ability to manage non-traditional and non-military security threats such as climate change, natural disasters and infectious diseases such as the Covid-19 pandemic.
So let's check what India managed to add to its increasingly impressive resume for laying claim to the hot seat of global diplomacy – the UN Security Council.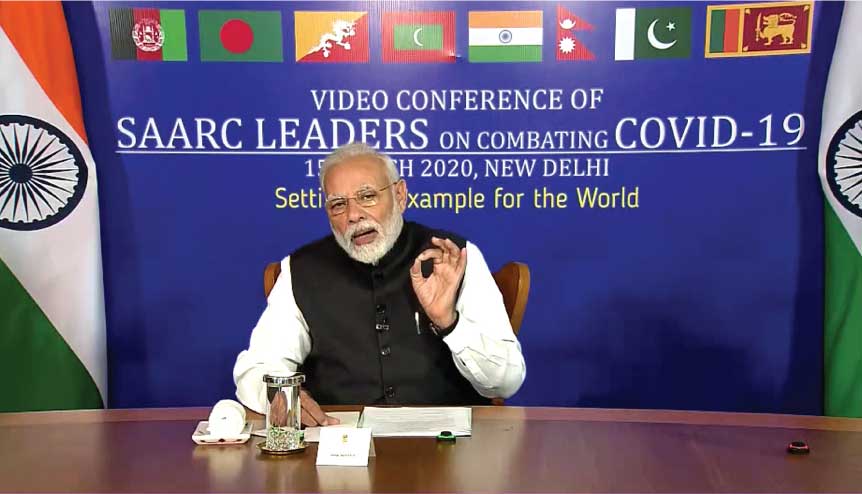 Spending more than $16 million on pharmaceuticals, test kits and other medical assistance for some 90 countries battling the COVID-19 pandemic? Check.
Proactively assembling alliances such as SAARC, NAM and ASEAN to sort out the outlines of cooperation? Check.
Successful track record of mobilising vast resources during a pandemic? Check.
Being sensitive and empathetic to the needs of its immediate neighbours and the world beyond, during the crisis? Check.
Acting as the world's pharmacy and a net public health security provider? Check.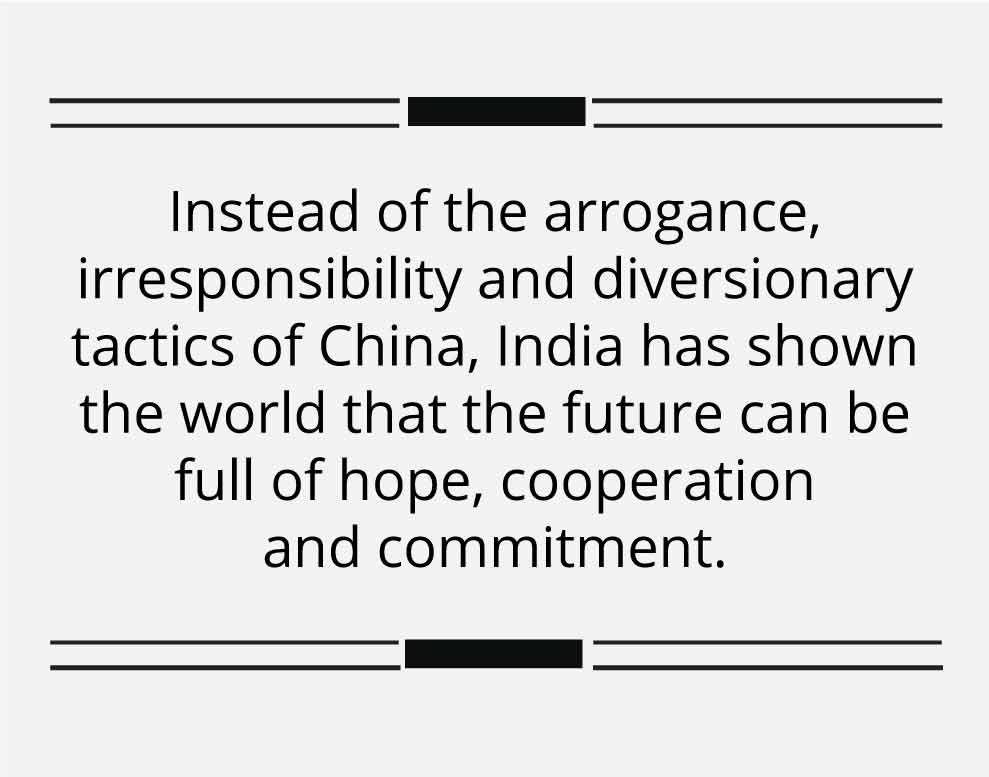 It's essentially in fulfilling that last role that India has established a basic tenet of post-Covid diplomacy: that while New Delhi's response might not always be perfectly synchronised or hyper-publicised, India can rise up to any global challenge – whether a geopolitical crisis or a health contagion – and constructively help the international community even as it fights its own internal battles. Instead of the arrogance, irresponsibility and diversionary tactics of China, India has shown the world that the future can be full of hope, cooperation and commitment.
The pathway to that future, however, is full of twists and turns – as was evident during India's pharma outreach to the world. The fact that India managed to rush multi-millions of Hydroxychloroquine (HCQ) tablets to far-flung corners of the world to treat Covid-19 is well established and celebrated – and we will examine in details India's gigantic contribution shortly. But first, some facts and context are critical to understanding that outreach, its results and the eventual reaction of the international community.


The facts:
India is the world's largest generic drugs manufacturer, and exported drugs worth more than $17.3 billion in 2017-18.

It manufactures 70 per cent of the world's hydroxychloroquine (HCQ), according to the Indian Pharmaceutical Alliance.

Indian drugs on average cost 33 per cent less in comparison to their western counterparts.

The context:
With the current spate of HCQ being delivered to nearly 100 countries, the rapid pace of India's generic drug supply has been proven to match the sharp increase in global demand – and has even got validation from foreign governments. Combine that with the geopolitical unease of some countries and a similar discomfort of more aggressive pharma lobbies – and it's not difficult to understand why the WHO was forced to pause the trial of HCQ as a potential treatment for Covid-19, based on bogus data published in the world's two most reputed medical publications, the Lancet and the New England Journal of Medicine. Those studies were eventually retracted following the Surgisphere data scandal, and the WHO has since then advocated the resumption of the clinical trials surrounding HCQ, while India has lifted export restrictions on the drug.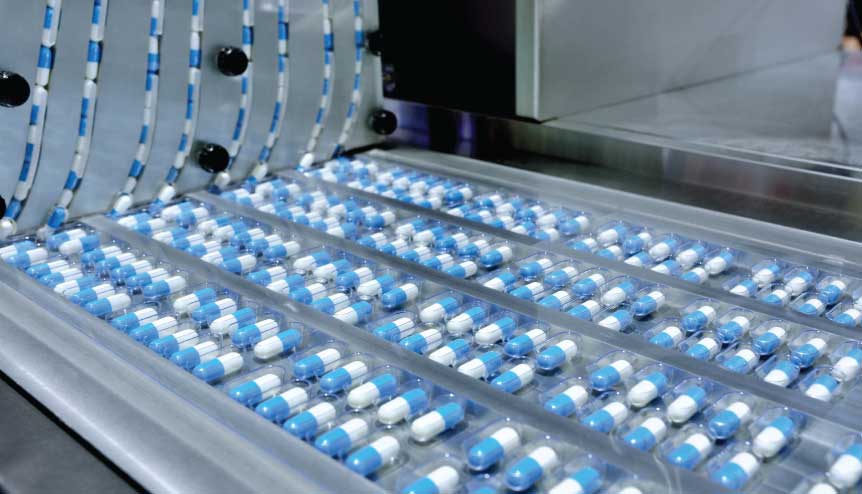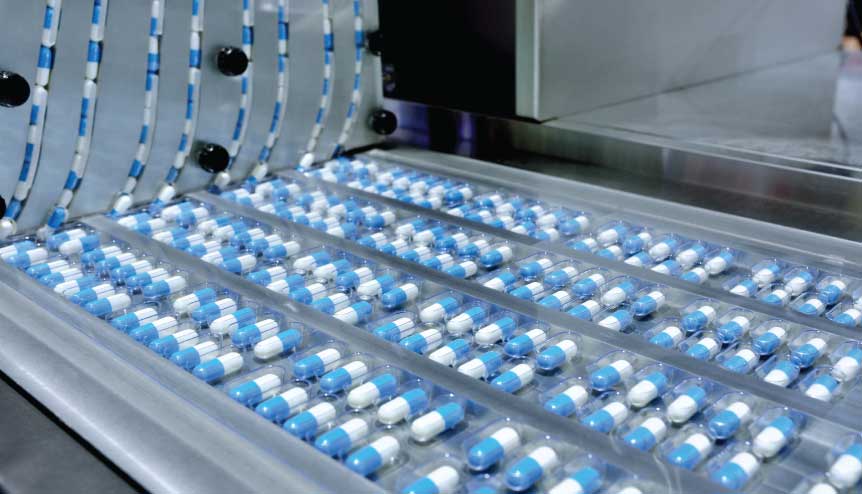 As a result, 12 manufacturing units in India are producing more than 15 million HCQ tablets daily – enough to supply to the entire world during the pandemic.
But the episode is reminiscent of the decade-long disparities in access to affordable HIV/AIDS treatment in the 1990s, when rich Western countries monopolised drugs and vaccine patents that made the antiretrovirals (ARVs) unaffordable for developing nations. That was until Nelson Mandela stepped in to overturn a law that restricted the import of cheap, generic versions of patented medicines in South Africa, and Indian pharma company Cipla offered to sell a combination of ARVs at just $1 a day.
A similar loop of colonial paranoia and strong-arm opposition by vested drug makers would perhaps have played out under the current scenario – but it's a testament to India's increasing global credibility that the focus has once again moved back to how its homegrown scientific innovation can heal the world.
Here is a snapshot of India's healing touch in 10 countries and regions around the world:

USA

India sent more than 50 million tablets along with nine metric tons of active pharmaceutical ingredient (API) required to manufacture this medicine to the USA, following a request from President Donald Trump to release supplies of HCQ as a possible treatment for Covid-19 conditions. While the US Food and Drug Administration identified HCQ as a possible treatment for the respiratory ailment, it was initially cautious against its use outside of hospital settings due to risks of heart rhythm problems. "Extraordinary times require even closer cooperation between friends. Thank you India and the Indian people for the decision on HCQ. Will not be forgotten! Thank you Prime Minister @NarendraModi for your strong leadership in helping not just India, but humanity, in this fight," Trump tweeted on India's decision to help the US in its fight against coronavirus.

RUSSIA
Russian President Vladimir Putin has thanked India profusely and said that it was grateful for the latter's decision to supply medicines to fight COVID-19. "We regard this decision of India as an effective step towards implementing agreements on cooperation in the fight against COVID-19," Putin's spokesperson said.

The Indian authorities' decision to provide Russia with medicines to combat the coronavirus is in line with the spirit of partnership between the two countries, Kremlin spokesman Dmitry Peskov said. "We consider our Indian colleagues' decision to be an effective step to implement the agreements on cooperation in the fight against the new infection that Russian President Vladimir Putin and Indian Prime Minister Narendra Modi reached in a telephone call on March 25," Peskov added. "Moscow understands perfectly well that India, which is also facing tough times due to the pandemic threat, has made this decision based on the spirit of partnership between the two countries," he emphasized. According to Russian Ambassador to India Nikolai Kuvashev, the medicine shipments include paracetamol and hydroxychloroquine.

BRAZIL

The Latin American nation requested India to send supplies of HCQ. In a letter to Prime Minister Narendra Modi seeking supply of hydroxychloroquine, Brazilian President Jair Bolsonaro cited a story from Indian epic Ramayana, writing: "Just as … Hanuman brought the holy medicine from the Himalayas to save the life of … Rama's brother Lakshmana, and Jesus healed those who were sick and restored the sight to Bartimaeus, India and Brazil will overcome this global crisis by joining forces and sharing blessings for the sake of all peoples." Bolsonaro later thanked Modi for helping Brazil with "timely assistance".

SAARC COUNTRIES
One of the first arc of nations to receive Covid-19 assistance were India's immediate South Asian neighbours. On March 15, Prime Minister Modi committed $10 million from an emergency fund to assist seven fellow members of the South Asian Association for Regional Cooperation (SAARC). Procurement orders were immediately placed with government agencies and state-owned companies, such as Kerala-based HLL Lifecare. The foreign ministry also provided financial aid to some countries and regional funds.
THE UAE
India sent several teams of doctors and nurses to the UAE to help the Gulf nation in its fight against the pandemic, apart from a shipment of 5.5 million tablets of HCQ for treatment of patients with Covid-19. Commenting on the aid delivery, Sheikh Abdullah bin Zayed Al Nahyan, Minister of Foreign Affairs and International Cooperation thanked his Indian counterpart Subrahmanyam Jaishankar, the Minister of External Affairs of the Government of India, and spoke highly of the ongoing cooperation between the two countries in the fight against Covid-19. Sheikh Abdullah hailed India's dispatch of medical and nursing teams to the UAE in support of the country's efforts to contain the pandemic. He praised the distinguished role played by these teams in the treatment of the virus patients and their effective participation in the 'UAE Volunteers' campaign to mitigate the fallout of the global pandemic. During the call, the two ministers reaffirmed the robust strategic relations between the UAE and India and the determination of their leadership to accelerate their cooperation across various fronts.
The UAE too sent a special aircraft of seven metric tons of medical supplies to India to help approximately 7,000 medical professionals as they combat the virus.

KUWAIT
India deployed a Rapid Response Team of medical professionals in Kuwait where a team of 15 Indian doctors and health- care professionals helped the government of the GCC nation in its fight against global Covid-19 pandemic. The decision for the deputation of Indian medical experts, which included retired military doctors, nurses and paramedics, was taken following a phone call between Prime Minister Narendra Modi, and Kuwaiti Prime Minister Sheikh Sabah Al-Khaled Al-Hamad Al-Sabah, in which both the leaders agreed for a coordinated effort against the global pandemic. Earlier Kuwait received an Indian Air Force plane carrying medical supplies.

SOUTH AFRICA
I had a good teleconference today with Prime Minister @NarendraModi. We briefed each other about the efforts that we are all making to deal with the #coronavirus pandemic. I thanked PM Modi for allowing us to import medical supplies from India. pic.twitter.com/fXuAhQKPPm

— Cyril Ramaphosa 🇿🇦 #StaySafe (@CyrilRamaphosa) April 17, 2020
As Covid-19 hit South Africa, India became one of the first countries to rush essential medical supplies during the pandemic. Prime minister Narendra Modi assured South Africa that India would provide all possible help to the African nation for ensuring supplies of essential medicines during the challenging time. "Had a good discussion with President @CyrilRamaphosa about the COVID-19 challenge, and assured India's support to South Africa for maintaining essential medical supplies," the Prime Minister tweeted following his conversation.

EGYPT
India has also stepped in to help Egypt in tackling the global crisis. Modi discussed the situation with Egyptian President Abdel Fattah El-Sisi on phone and said that India would provide all possible support to ensure the availability of pharmaceutical supplies. "Discussed on phone with President Abdel Fattah El-Sisi @AlsisiOfficial about the COVID-19 situation in India and Egypt. India will extend all possible support to Egypt's efforts to control the spread of the virus and its impact," Modi said in a tweet.

OTHER AFRICAN NATIONS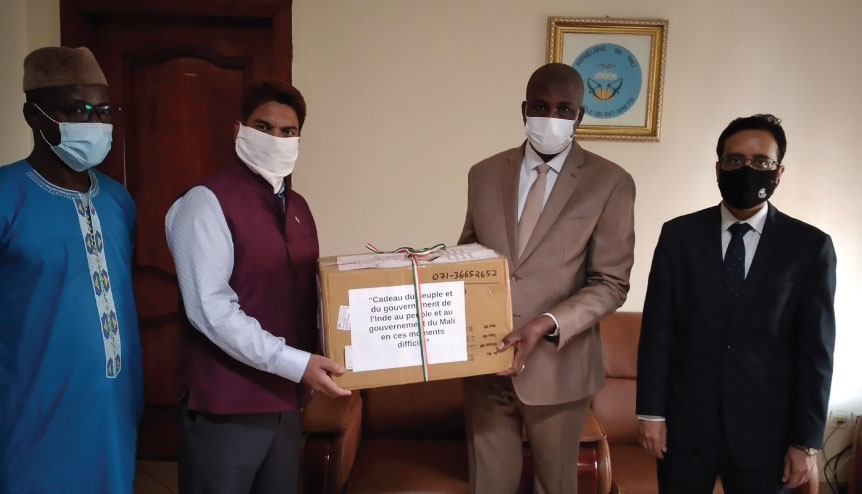 India has also sent medical supplies, including masks and other types of personal protective equipment to several African nations. An extensive list of 17 products, including essential drugs, injections and medical devices, was drawn up to send to each country. On it are 500 units of thermometers, one lakh units each of chloroquine, paracetamol and ibuprofen, and two lakh units of antibiotic azithromycin. Further, several other antibiotics, anti-diabetic, anti-cancer, anti-asthmatic and cardiovascular drugs, injections are also being sent. The countries include Zambia, Uganda, Burkina Faso, Niger, Mali, Congo, Senegal, Sierra Leone and Zimbabwe.

SEYCHELLES AND MAURITIUS
India has sent dozens of shipments of hydroxychloroquine to these two island nations, in addition to other life-saving medicines for COVID-19 complications that can help in the treatment of the pandemic in Seychelles. Of this, Mauritius received around one million tablets from India. "India is a proud partner of Mauritius and remains committed to contributing to the public health and welfare of all people of Mauritius," the Indian High Commission in Port Louis said, adding that India will continue to work closely with Mauritius in these difficult times.

OTHER INDIAN OCEAN ISLANDS
India's defence forces were enlisted to help in health diplomacy, particularly in the Indian Ocean. In early April, the Indian Air Force delivered 6.2 tonnes of essential medicines to the Maldives using a C-130 Hercules transport aircraft.
On May 10, the Indian naval vessel INS Kesari set out for the Maldives, Mauritius, Seychelles, Madagascar and Comoros, with food items and medicines, including traditional Indian remedies. India is also helping with capacity-building by offering health care training for COVID-19 management and protocols to these nations and nearly 150 other countries. It has also offered training in lockdown management to some foreign police forces. The foreign ministry official said concept papers have been invited for upgrading hospitals and vaccine centres. India has previously helped countries like Sri Lanka and the Maldives build hospitals and health care centres.
**Tomorrow: A deep dive into how India has fostered multilateral relations to forge stronger geopolitical and strategic bonds.
Podcast: Play in new window | Download