India's central role in Indo-Pacific security architecture, reaffirmed by US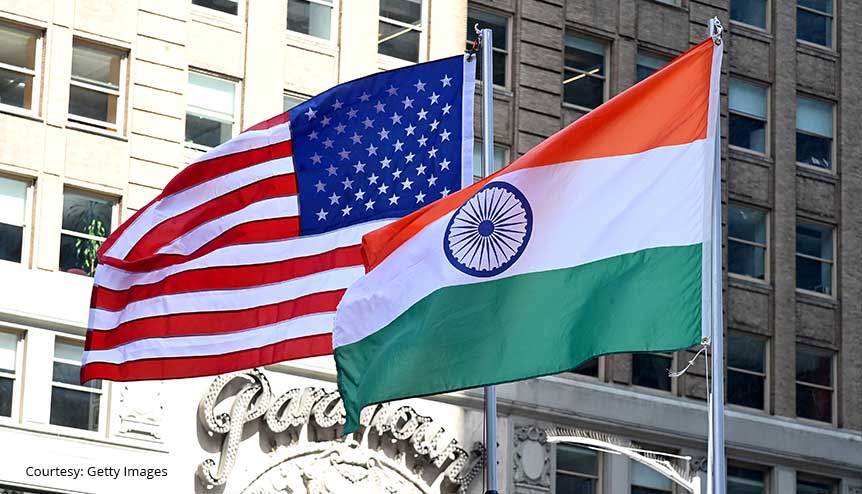 The 'United States Strategic Framework for the Indo-Pacific' document talks of building up India's capabilities and posit it as a counterweight to China. Though authored by the Trump administration, the strong strategic convergence between New and Washington is expected to ensure that the Biden administration doesn't make too many changes to it.
India plays a central role in the US's Indo-Pacific strategy, which is aimed at ensuring continued US dominance over China in the strategic, military, diplomatic and technological spheres, a recently declassified US document titled "United States Strategic Framework for the Indo-Pacific" has said.
India a counterweight to China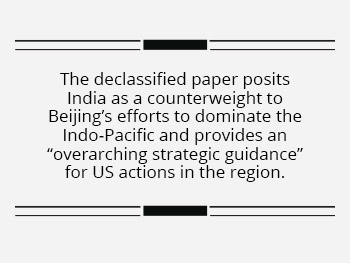 Released by US National Security Advisor Robert O'Brien, the contents, which were approved by President Donald Trump in February 2018, posits India as a counterweight to Beijing's efforts to dominate the Indo-Pacific region and provides an "overarching strategic guidance" for US actions in the region.
The goal of the strategy paper is to ensure that the US and its allies do everything in their power to ensure "the Indo-Pacific region (stays) free and open long into the future".
Though the strategy has been framed by the Trump administration, Indian diplomatic and strategic circles do not expect any substantial changes in its fine print under the Joe Biden administration that will take office on January 20.
"The US strategic community, cutting across party lines is now wary about the rise of China and its ability to challenge US authority at least in Asia and parts of the Pacific Ocean. So, even if the new Biden administration tweaks this strategy paper and makes cosmetic changes to claim ownership over it, the broad objective of containing China and the fine print of how to do it is unlikely to change," said member of the Indian diplomatic community on condition of anonymity.
Bipartisan support for stronger India-US ties
"There is broad bipartisan support in the US for closer strategic and economic ties with India, which are based on shared interests, not personal ideologies. So, we don't expect a Biden administration to make any wholesale changes to policies impacting India," a senior official in the government had told IGB soon after the US elections.
"Beijing is increasingly pressuring Indo-Pacific nations to subordinate their freedom and sovereignty to a 'common destiny' envisioned by the Chinese Communist Party. The US approach is different. We seek to ensure that our allies and partners – all who share the values and aspirations of a free and open Indo-Pacific — can preserve and protect their sovereignty," the media quoted O'Brien as saying.
Chinese advances a worry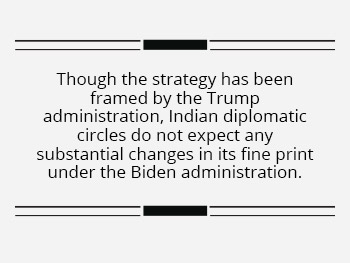 It has a number of observations, particularly about China, that Indian policy makers and defence planners will want to look at more closely given the military threat the former poses to the world's largest democracy.
Two of them, in particular, are likely to find a chilling resonance in the power corridors of New Delhi. According to a Bloomberg report, the document says:
* "China seeks to dominate cutting-edge technologies, including artificial intelligence and bio-genetics, and harness them in the service of authoritarianism. Chinese dominance in these technologies would pose profound challenges to free societies," and
* "China will take increasingly assertive steps to compel unification with Taiwan."
Two-front war
Given the wariness of Indian military and strategic planners about a collusive threat from a China-Pakistan axis and the possibility of being drawn into a two-front war stretching from Arunachal Pradesh in the east to Rajasthan and Gujarat in the West, China's technological advancements in fields like AI and bio-genetics, which can be force multipliers on the battlefield.
A senior security analyst said India will have to step up its research efforts and funding in these areas and also involve both the private sector and seek foreign collaborations as it tries to catch up with its northern rival.
Chinese designs on Taiwan hold lessons for India
The observation that "China will take increasingly assertive steps to compel unification with Taiwan" will also worry the Indian security establishment. If the US stands firmly behind Taiwan, and China gets bogged down in a long-drawn military conflict on its eastern seaboard, it might be tempted to undertake a military misadventure across the Line of Actual Control (LAC) to divert its people's attention from its failures there.
In the light of the above, Indian planners will be satisfied with US observations about India. The Bloomberg report quotes the document as saying: "India's preferred partner on security issues is the United States. The two cooperate to preserve maritime security and counter Chinese influence in South and Southeast Asia and other regions of mutual concern… India remains preeminent in South Asia and takes the leading role in maintaining Indian Ocean security."
US to accelerate India's rise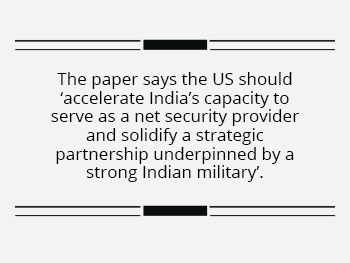 It recommends that the US "accelerate India's rise and capacity to serve as a net provider of security and Major Defense Partner; solidify an enduring strategic partnership with India underpinned by a strong Indian military".
The document adds that the US "strengthen the capacity of emerging partners in South Asia, including the Maldives, Bangladesh, and Sri Lanka, to contribute to a free and open order".
All these countries are India's allies in the region. So, there is a huge amount of complementarity in the strategic visions of the two countries.
The Indian establishment is now waiting to see what changes, if any, the incoming Biden administration makes in this strategic document.