Indian students to gain as UK rejoins the global talent race with 2-year post-study work visa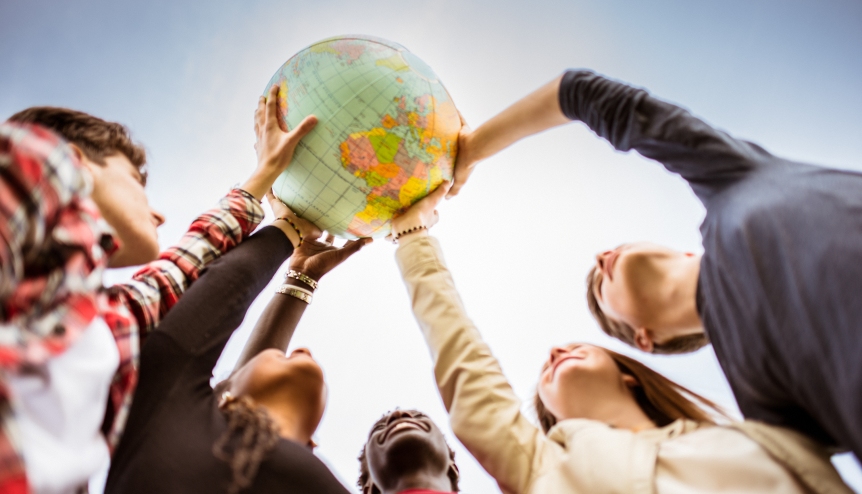 The Boris Johnson government's decision to restore the two-year post-study work visas for international students, including those from India, will provide Indian students an opportunity to live and work in the UK for two years after they complete their degrees. And yes, it will also help the UK ease a diplomatic spat with New Delhi.
After a long time, Indian students wanting to pursue higher studies in Great Britain have reason to cheer.
Reversing a key plank of then Home Secretary Theresa May's restrictive immigration policies, international students, including those from India, will be offered a two-year work visa after graduating from a British university, the Boris Johnson led government has declared.
Currently, graduates with Bachelors or Master's degrees are allowed to look for work for only four months. Starting with the 2020-2021 cohort of students, all international graduates could qualify for a two-year period to look for work as well as be employed in the UK, increasing their chances of being able to gain crucial work experience at the end of their degree.
The measure goes further than the Home Office's latest immigration White Paper, which proposed extending the four-month limit to six months and the limit for those with doctorates to a year.
It is a return to the policy that was scrapped by the David Cameron-led coalition government in 2012, when May as Home Secretary had infamously referred to the two-year post-study work visa offer as "too generous".
"The new graduate route will mean talented international students, whether in science and maths or technology and engineering, can study in the UK and then gain valuable work experience as they go on to build successful careers… It demonstrates our global outlook and will ensure that we continue to attract the best and brightest (students from across the world)," Priti Patel, UK's Home Secretary, told the British media.
This move, while not aimed specifically at Indians, will benefit students from this country, who have, in the years following May's 2012 decision, been increasingly attracted to non-traditional higher education destinations like Australia, New Zealand and Singapore.
The scrapping of the two-year work visa led to a 70 per cent fall in the number of Indian students enrolling for degree programmes in the UK – from 51,218 in 2010-11 to 15,388 in 2017-18. Last year, however, the trend turned and Indian student enrolment in the UK jumped to 21,881.
"We are absolutely delighted the two-year post-study work visa has been reinstated, We have been campaigning for this for six years and express our gratitude to Boris Johnson, Priti Patel and Jo Johnson," said Sanam Arora, Founder and Chairperson, National Indian Students and Alumni Union (NISAU).
Jo Johnson, the younger brother of Prime Minister Boris Johnson, who resigned as Universities Minister amid the ongoing Brexit crisis in Parliament, has long campaigned for the post-study visas to be extended, and in April he tabled an amendment to the immigration Bill calling for two-year work visas. He hailed his brother's recent announcement as a "brilliant move".
"The withdrawal of the PSW (post-study work) visa led to a decline in international student recruitments in the UK from key markets, notably India. Between 2010-11 and 2016-17, the number of higher education students from India more than halved," a report by the UK's All-Party Parliamentary Group (APPG) for International Students said.
The UK has traditionally been a magnet for Indian students wishing to pursue higher studies in a range of subjects such as medicine, engineering, pure science, the social sciences and law, among others.
But, as the figures above show, it has been losing its attractiveness since May's decision, which was taken to discourage immigration. It was felt that many students were taking up low-skilled jobs only to stay back in the UK.
Currently, even New Zealand attracts about 20,000 students annually from India, according to that country's High Commission in India – about the same level as the UK.
"Although 82 per cent of our Indian graduates are satisfied with their careers wherever they are working, we know that they value the opportunity to spend some time in the UK working after their degree. This visa will make it significantly easier for them to do that… The UK ranks first for international student satisfaction overall, compared to other major study destinations, but having a more attractive post-study work offer will open the UK up to even more international students. It will also allow employers in all parts of the UK to benefit from access to talented graduates from around the world," Vivienne Stern, Director, Universities UK International, told the British media.
Over the years, the UK has benefited immensely from the contributions of foreign students to its economy and society, The National Health Service (NHS), for example, has a significant corps of Indian doctors servicing patients.
Such students also contribute significantly to keeping the UK competitive in cutting edge technologies and help it preserve its prominence among the most innovative societies in the world.
A study by the Higher Education Policy Institute (HEPI) and the Kaplan International Pathways found that international students from non-EU nations contributed as much as $2.5 billion per year while those from EU nations contributed a another $1.5 billion annually as tuition fees alone.
It also found that foreign students who stay back in the UK contribute as much as $4 billion in taxes and insurance premiums over a 10-year period, thus, significantly boosting the British economy.
The report says international students are finding jobs in sectors with acute skills shortages, thus, debunking the theory that foreign graduates are taking away jobs that would otherwise have gone to locals.
Some analysts are speculating that the Johnson government's move was prompted by warnings that the looming ghost of Brexit could lead to an exodus of skilled personnel leaving British employers grappling with a critical talent gap.
The new visa rules could also have a diplomatic fallout.
The Indian government has for years wanted Britain to provide easier access for Indian professionals and students to its job market in return for granting reciprocal access for British goods to the vast Indian market. This was one of the key factors holding up the progress of trade talks between the two countries.
The Theresa May government had rubbed its Indian counterpart the wrong way by placing visa curbs on Indians wanting to visit the UK. The action of the Johnson government in easing post-study visa norms will go some way in smoothening ruffled feathers in New Delhi and set the stage for engagement on other important bilateral issues.